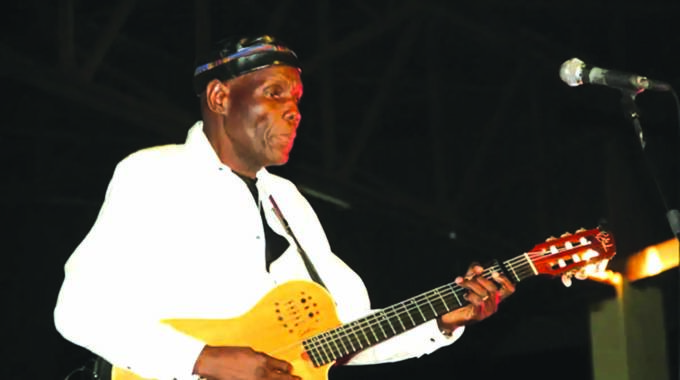 The Sunday Mail
Veronica Gwaze
SAM Mataure, who closely worked with the late Oliver "Tuku" Mtukudzi for 14 years, says the void left by the legendary musician will never be filled.
Starting off as a drummer, Mataure rose to become the Black Spirits band manager and later on the Tuku Music administrator. Tomorrow marks exactly four years since the death of the "Neria" hitmaker, who succumbed to diabetes at the age of 66.
Affectionately known as "Tuku" or "Samanyanga", the artiste had 66 albums to his credit.
As the nation commemorates the death of a musician who raised the country's flag high, The Sunday Mail Society caught up with Mataure, who went down memory lane and chronicled some of the intimate moments he had with Tuku. Throughout the interview, Mataure insisted that the void left by Tuku's death would be hard to fill.
"When Tuku died, I never entertained thoughts of finding a replacement. He is simply irreplaceable. Even if his son Sam was alive, he was not going to come anywhere near, in terms of talent," Mataure said.
He said the same applies to the late musician's daughters, Selmor and Samantha.
Mataure joined the Black Spirits in 1998 as a drummer. This was after Tuku had spotted him during his stint with Band Shato in Mutare. Mataure's first assignment with the Black Spirits was the recording of the album "Tuku Music" in April 1999 in South Africa.
"I was coming from a semi-professional outfit. With the Black Spirits, everything was now different. I was forced to quickly adjust and Tuku made me feel at home," he reminisced.
With an improved salary, his lifestyle also changed.
"Tuku took a fatherly role. He mentored us and made sure we stayed in line. He provided the guidance we so much needed at the time," he said.
In 2002, Mataure left for South Africa in search of greener pastures.
In South Africa, the Mutare-born artiste worked with the likes of Steve Dyer, Judith Sephuma, Louis Mhlanga and Dorothy Masuka. In 2006, Mataure unexpectedly got a call from Tuku, who asked him to rejoin the Black Spirits as a manager.
"I was surprised because I had never pictured myself being his manager one day. The one thing about Tuku is that he had the ability to identify talent. I guess he had seen something in me," the talented drummer said.
Without any managing background, Mataure had to figure out a lot on his own.
He had also learnt a thing or two from Debbie Metcalfe, a former Black Spirits manager.
Switching personalities
Away from the studio, Mataure notes that Mtukudzi was a quiet and reserved character, who often kept to himself.
Tuku, according to Mataure, preferred a discreet life, which resulted in people speculating. He also had a small circle of friends and acquaintances with whom he was comfortable to share his private life.
"His private life was private. I was surprised one day when he opened up to me about his first marriage."
On stage, Tuku was a different character altogether. He often transformed himself into a jovial and energetic figure.
Mataure described Tuku as a hard worker, who spent most of his time alternating between the studio and the stage.
During the small breaks, he shared rib-cracking jokes with his band.
At times, he would narrate to them his personal experiences from back in the day.
Tuku, according to Mataure, liked tea and scones, and also enjoyed dining with his band.
Strict father
Despite being an established artiste, who could afford to occasionally spoil his children, Tuku believed his children had to work hard and earn their keep.
"He was a strict father, who encouraged his children to work hard. We occasionally travelled with Sam, and someone who did not know him would assume he was an ordinary member of the band," Mataure added.
Being Tuku's manager, Mataure also experienced the ugly side that came with being close to the star.
At times, he got entangled in Tuku's controversial stories that often had to do with women and "illegitimate" children.
"Some of the stories were mere speculation. I knew how to draw the line, so, I would channel some of the issues towards the family and they would solve them privately," he said.
He also spoke about Tuku's last days and how he received the news of his death.
"The news of his death broke my heart. However, I feel he is now in a better place. After Sam died, he was tormented and never recovered," concluded Mataure.
Church service
Mataure says he is yet to fully recover from the effects of Tuku's death.
In September last year, Mataure, at the invitation of the Mtukudzi family, went to the late national hero's grave during a church service that marked what was supposed to have been Tuku's 69th birthday.