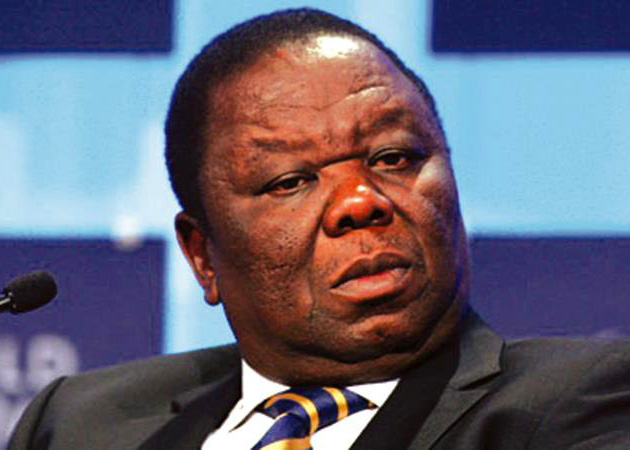 The Sunday Mail
…and avoiding a decidedly unpleasant future
For all his well-documented ignorance and blundering in the party, personal and public life, perhaps MDC-T leader Morgan Tsvangirai is not so dull after all.
At least he knows his limitations and can try to minimise further damage to his badly sullied reputation on the world stage, if given the chance. It's called cutting one's losses. More on this later.
Soon after the MDC split on October 12, 2005, I wrote an article in the Zimbabwe Independent in which I pointed out this development had fatally damaged the opposition party. On the day of its publication, I later met then spokesperson, the late Nhungu, William Bango (RIP), and Hon Jameson Timba.
Typically, Timba said my analysis was "crap". That's his word.
The more sober Bango said there had been no split in the party. He said a few disgruntled members had simply left the party and that this development would not in any way weaken the movement.
I didn't agree with this interpretation, but I believe that was because I was an outsider and too dull to understand the intricate operations of a democratic movement.
Later it was to be explained that a few "Ndebeles and some white woman" had left of their own volition. It was good riddance.
My interpretation had stemmed from the way I had observed the breathtaking pace of MDC's evolution from its formation in 1999.
Riding a groundswell of discontent against Zanu-PF fed by the economic decline and retrenchments occasioned by the Economic Structural Adjustment Programme launched in 1991 – which the Zimbabwe Congress of Trade Unions led by Tsvangirai opposed – MDC was scoring spectacular gains as an alternative future Government.
A referendum in 2000 on a new constitution which would allow Government to acquire land from whites without paying compensation stirred a hitherto not-so-political white community into action, marshalling massive financial resources on the side of MDC.
Like I have said in the past, they won the vote but lost the war. But still they went on to celebrate.
MDC went on to win 57 seats in the Parliamentary elections in 2000, by coincidence, the same number of seats first won by Zanu-PF at independence in 1980.
For such a young party, that was a shocker.
What will remain both a mystery and an irony for me, though, is the ahistorical manner in which a supposed workers' party managed to collaborate with rich commercial farmers and the corporate sector to fight on the same side against a revolutionary land reform championed by Zanu-PF.
But that's a subject for another day.
Apparently, it was that Parliamentary score of 2000 which was to be the source of MDC's strategic crisis and the cause of its split a few years later. When it was decided in 2005 to reintroduce the Senate to help temper or further scrutinise Bills passed by Parliament, MDC found itself divided on whether to field candidates or not.
There were rational arguments for and against this.
Those against, among them Tsvangirai, said a Senate was a wasteful extravagance. Those for, among them then secretary-general Welshman Ncube, argued that it was of strategic interest to participate to preserve the political turf the party had already captured.
That quarrel gave us the Pro-Senate and Anti-Senate camps.
The president of the party marginally lost the vote of the executive council but still sought to impose his will by unilaterally declaring that the MDC had voted not to participate in the senatorial elections.
Needless to state that since 2005 all the parties have been happily fielding candidates for a Senate that now has 80 members. Not only that, the National Assembly itself has swelled into a monstrosity, from 100 members in 1980 to 270 today.
Meanwhile, Tsvangirai himself has become a perennial loser in the Presidential race, starting with his failed Parliamentary bid in Buhera in 2000. The closest he came was in 2008 when he outpolled (47,9 percent) President Mugabe (43,2 percent) but could not reach the constitutional requirement of 50+1 percent votes. He went on to pull out of the run-off.
His party was neck-and-neck with Zanu-PF, giving Zimbabwe for the first time the phenomenon of a hung Parliament. From then, the party has been on a slide, getting its worst battering in last year's July 31 harmonised elections.
The sum total of it all is that outside of the ZCTU and NCA and his own party, Tsvangirai has never won a national vote. But even in his own party, not everyone is united behind him.
The party is stricken through further divisions since the 2013 electoral defeat.
Which takes me to that fortuitous meeting with Bango and Timba in 2005.
Timba said my interpretation and conclusions about the impact of the split were "crap" and Bango said the party had not been weakened because only a few disgruntled fellows had walked away.
Fast forward to July 2014, a whole year after another traumatising electoral loss to Zanu-PF.
On the eve of his trip to England last week to explain to the political masters how they lost last year's elections, Tsvangirai reportedly vowed to an MDC-T Bulawayo provincial council meeting that he would "never forgive" Welshman Ncube for the 2005 split of the party because that had cost him the presidency.
He reportedly revealed this "secret" to his members for the first time since then in a bid to stress the importance of unity. (He is facing a serious challenge from another secretary-general, Tendai Biti, who took over from Ncube.)
Ncube hit back, saying he didn't need Tsvangirai's forgiveness because he had done no wrong.
I wouldn't remind Timba that I have been vindicated. It's of no value. But Tsvangirai didn't tell his Bulawayo audience that in the unity negotiations with Ncube ahead of the 2008 elections he set conditions that ensured the talks collapsed, believing that his faction could win on its own.
He must rue his choice of advisors.
Back to the top. I opined that perhaps Tsvangirai is not so dull after all.
Initially, in his presentation at Chatham House on Friday, his topic was "The future of opposition politics in Zimbabwe".
He has been christened as the face of opposition in Zimbabwe. That means he would have had to talk about himself and his achievements and what has become of his party.
That cut too close to the bone.
He decided to modify the topic on time. He changed it to, "Zimbabwe after the disputed elections and the way forward".
Give it to him; it's a clever attempt to divert attention from himself. There is the Nikuv alibi. So he can now talk about how elections were rigged to deny him the "crossover" to State House.
He is not known for thinking about the future, so there weren't to be many insights on the way forward. He is more secure and comfortable talking to the past, "the disputed elections".
Give it to him once again; he went a step further on the itinerary.
He dodged an encounter with that cheeky and pesky Stephen Sackur on BBC's "HardTalk". He would have had to answer uncomfortable questions about the future, not the past.
That would have badly exposed him as to how he couldn't win an election. That is not good publicity ahead of an important congress in which he wants to turn himself into the president and first secretary of the party, the Zanu-PF way.
Time will be the final arbiter on whether this pilgrimage to the UK is a valediction or a validation of the man who has tried very hard from the very "Deep End" well beyond his intellectual capacity for nearly 15 years and is now being hounded by his subalterns to take a rest before he can accomplish his declared mission, to get President Mugabe out of power and take the final step to State House.
Joram Nyathi is the Zimpapers Group Political Editor.