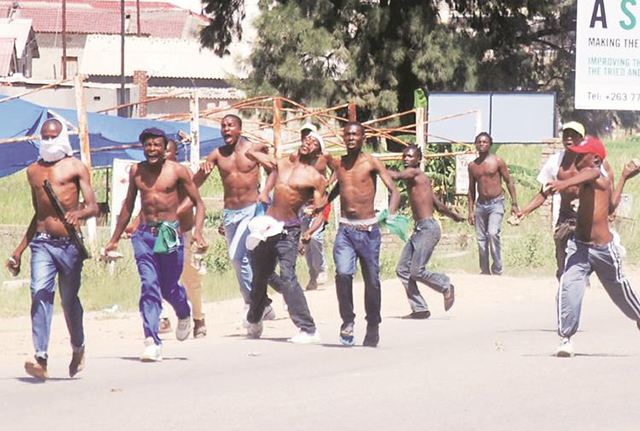 The Sunday Mail
Wendy Nyakurerwa – Assistant Editor
There is something stupendously wrong with the MDC-T-run Chitungwiza Town and Harare City councils.
Residents in these two areas can always rest assured of chaos and disgruntlement.Service delivery is just not one of the local authorities' top priorities.
There is a sharp contrast between the way they scavenge for revenue and their provision for potable water, refuse collection and good roads, among other amenities.
The zeal when approaching the two are worlds apart.
With the monthly rates coming in dribs and drabs, attention has now been turned to an easier and faster new source of income — motorists.
Even the Zimbabwe Republic Police must be green with envy at the way these two local authorities are beating them at a game that they thought they had perfected.
Engaging private companies to collect parking fees and fines from motorists is the new game trending in town.
Maybe the councils' employees are too busy chasing vendors and commuter omnibuses to the extent that jobs such as collecting parking fees has to be sub-contracted.
For Harare City, South Africa's EasiHold was given this mandate about five years ago, thereby giving birth to EasiPark, which was 60 percent-owned by Town House.
Allow me to remind you that when the EasiPark deal was brokered, there were protests from within Government, the general public and Town House itself.
This was a foreign company coming in to rake 40 percent of Harare's parking fees — a job that could easily be done by many local firms.
Then Town Clerk Dr Tendai Mahachi and Mayor Muchadeyi Masunda wouldn't listen. They defended the deal tooth and nail.
Dr Mahachi assured us that the deal would subsist for five years and then the council would assume full ownership of a "functional and modern parking infrastructure operating as a viable business enterprise".
Before those five years lapsed, Harare ate humble pie and cancelled the deal, conceding that they were not getting mileage from partnering the South African company.
EasiPark had not delivered as promised. There was no functional and modern parking infrastructure to talk about.
ln 2014, Harare turned its attentions to Park Rite Africa, which is a private company said to be owned by Zimbabweans and Israelis.
Today City Park is doing what they know best – collecting money from motorists with no meaningful development in sight.
Now it appears Chitungwiza Town Council has fallen into the same trap.
They engaged Parkrite in a five-year partnership for the same purposes. We hear that Parkrite is owned by one Clyna Trading.
Although Chitungwiza town clerk Mr George Makunde insists the marriage with Parkrite is a private-public partnership and that Parkrite is a local company, there is no clarity on the ownership.
But the ownership structure is the least of our worries in Chitungwiza's case. What is particularly disappointing is that Chitungwiza's Council is getting a pathetic 30 percent of parking proceeds, while Parkrite gets 70 percent.
Mr Makunde tells this publication that they are looking at increasing the share to 40 percent, as if that would be good enough.
There is no justification whatsoever for any company, foreign or local, to partner any local authority to do such a job and then collect a lion's share of the revenue. For what?
At the very least, these private companies should be using part of that money to fill up those nasty potholes.
But right now they are only known for collecting money, paying their marshals' salaries and … nothing else.
While the local authorities can hide behind Zinara, which is the custodian of all roads in the country, that is a lame excuse because they are responsible for all the primary roads in their jurisdiction.
But then again, while the local authorities might have meant well when they came up with these arrangements, recent events point to policies going terribly wrong.
Whereas defying the US$1 per hour parking ticket or parking at undesignated points attracts a fine of US$57 in Harare, the same offence attracts US$100 in Chitungwiza.
It is either the offending party pays all the money at one go or the vehicle is towed and detained with a US$10 storage fee applicable daily.
Understandably, a general lack of trust now prevails amongst all concerned stakeholders due to these exorbitant charges.
Residents feel short-changed because service delivery is on a continuous decline; motorists feel robbed; council employees feel betrayed.
For Chitungwiza's employees, their salaries are 18 months in arrears.
Councils bosses, who are convinced they are doing the best under the circumstances, feel let down by increasingly corrupt employees and frustrated by ballooning unpaid bills.
So tensions simmer. And they are reaching boiling point.
Only last week, kombi crews clashed with the local Chitungwiza Council over newly-introduced US$100 operating license fee.
This is a chicken-egg scenario. Is the problem emanating from defaulting residents and kombi operators or is it emanating from council itself?
This mess can only be cleaned up by going back to the root of the problem. Service delivery is what the stakeholders are looking for and that is what they will gladly pay for. Residents want running water on their taps every day. They want garbage collected every week. Motorists want good roads.
I can bet my last dollar that they would pay for a flawless service delivery system where there is transparency and accountability.
Had the Chitungwiza Town Council been putting the current US$S17,50 commuter omnibus operators' monthly permit to good use, with well-defined parking and holding bays and a good road network, we would not see such explosions of frustration.
As it stands, the city fathers are dictating the pace and every other stakeholder only has two options: shape up or ship out.
Most will — grudgingly — shape up.