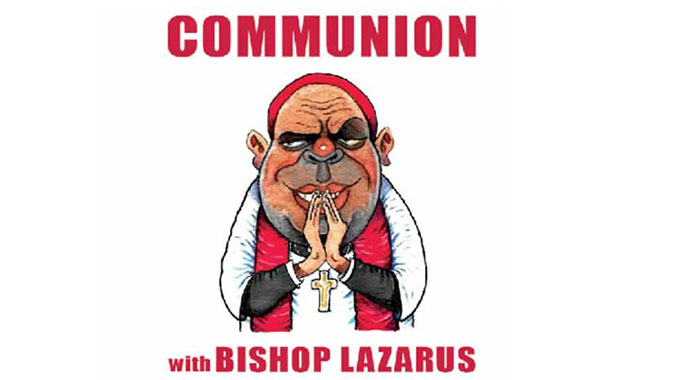 The Sunday Mail
Last week, roughly on the eve of the Day of the African Child, which typically canonises the valiant South African youth who took a stand against excesses of the Apartheid government 46 years ago, a brood of sabre-rattling yobs clad in yellow rode into the normally serene environs of Nyatsime, Chitungwiza, in cowboy style and flung open the gates of hell.
The mob, which was imported into Nyatsime in a cavalcade of lorries, started a festival of violence through which people were injured, property was destroyed and houses were torched ostensibly to exact revenge over the heinous murder of Moreblessing Ali, whom they claim to be a member of Triple C, which, however, ironically remains as structureless as an amoeba.
From the information that is emerging, she might as well have been an avowed ZANU PF member.
Now that the main suspect in this abominable crime, Pius Jamba, has been captured — alive — circumstances surrounding Ali's demise will become clearer.
The Bishop can assure you that many of those who were excitedly presumptive will have egg on face.
What ordinarily should have been an unconscionably horrible and dastardly crime committed by a monster has now been turned into a political spectacle that is being weaponised against Government and ritualised to draw sympathy for the opposition.
How unfortunate!
Overnight, Ali has since been consecrated from a relative unknown into a political martyr and her funeral has been milked for all the political capital its worth, if any.
It reminded the Bishop of a more or less similar incident in South Africa, where the daughter of EFF's former secretary-general Godrich Gardee, Hillary, who disappeared on April 29 this year, was later found dead on May 3 with a gunshot wound at the back of her head, execution-style.
Had they decided to be petty, they would have sought political mileage by coming up with all sorts of wild conspiracies to besmirch their political rivals, but that was not the case.
Consciously aware of their potential and capabilities, Julius Malema's EFF does not have to stoop so low. So, what sin did we commit to deserve such a toxic opposition, which, far from being an asset, is a liability to this teapot-shaped Republic?
Well, this is what you get from a bunch of clueless, rudderless and ideologically bankrupt grouping disguised as a political party and driven by a psychotic pursuit for political power that has to be realised by any means necessary, even if it means enlisting support from former enslavers and colonisers.
It is not surprising that Triple C's leader Nelson Chamisa has since told his supporters that he will use Ali's murder as a major talking point with regional leaders in a new futile diplomatic jaunt to highlight the purported deteriorating human rights situation in Zimbabwe.
He must be told there is no life in politics of the morgue.
You cannot conjure the spirit of the dead for good political fortune.
It's witchcraft!
Remember what Jesus said in Matthew 8 verse 22: "Follow me, and let the dead bury their own dead."
Stupid people
But, it is the continued weaponisation of youths as a destructive force — and most poignantly during a critical week the continent reflects on the invaluable role they play as positive change agents — that is most disturbing.
Worryingly, it is a pattern that is increasingly becoming all too familiar in the opposition.
We saw it on February 20, 2018 during Morgan Tsvangirai's burial in Humanikwa Village when MDC youths detained and assaulted Thokozani Khupe, legislator Lwazi Sibanda and Douglas Mwonzora for seemingly opposing Chamisa's ascendancy after the founding leader's death. We also saw it on March 4, 2018 when youths aligned to Chamisa besieged a meeting convened by Khupe at the party's Bulawayo offices in an orgy of violence that even shocked their sympathisers.
Again, we saw it on August 1, 2018 when inebriated and worked-up youths, sensing the MDC was being handed another humiliating and humbling electoral defeat by ZANU PF, stormed the capital before unleashing a wave of gratuitous violence that claimed six lives and left extensive destruction in its wake.
The Motlanthe Commission of Inquiry into the August 1 post-election violence later made a finding that the ugly scenes we all witnessed during that day were pre-planned and well-orchestrated.
An under-pressure Chamisa, however, later conveniently distanced himself from his supporters on November 15, 2018 when he called them "stupid". "It was very stupid even for people who demonstrated, to demonstrate for the results to be released. It was stupid because they then opened themselves to attacks and manipulation," he said.
"It is their right but I feel that it was not called for and that is my view." Kikikiki.
But, it must not be forgotten that the violence still continued, as determined MDC rioters turned cities topsy-turvy through egregious violence between January 14 and January 16, 2019 after Government took the bold decision to liberalise fuel prices.
So, last week's scenes in Nyatsime were yet again another episode from the opposition's playbook to obsessively seek power at whatever cost and by whichever means.
It is also noteworthy that in all these instances of graphic violence, not once has Chamisa — who calls himself a devout Christian and pastor — denounced this Stone Age political practice.
Sometimes quiescence means acquiescence.
Political fodder
The sheer transformative power of youths cannot be understated or overemphasised as it is self-evident.
The June 16, 1976 Soweto Uprising — conceived and entirely driven by students — was a turning point in the unravelling of the entrenched racist Apartheid regime, which progressively floundered and eventually collapsed 18 years later.
And, in Africa today, youths, at more than 800 million, make up 60 percent of the population.  Likewise, in Zimbabwe, they constitute 60 percent of the total population of 14,9 million. We are patronisingly told that we can leverage this youth bulge to extract demographic dividends to develop prosperous countries on the continent.
But, just as our minerals have become our curse, our youths, most of whom are unemployed as a result of the lingering legacy of centuries of looting, destabilisation and interference by the West, are now being considered handy blunt instruments that can be used as battering rams to collapse targeted regimes, particularly in the Global South.
In Venezuela, they tried to foist 30-year-old Juan Guaido as a rallying point for a youth-led putschist movement against incumbent Nicolas Maduro.
It didn't work out as planned.
Guiado now knows no peace in his motherland as he is literally being hounded for daring to invite sanctions that have impoverished and pauperised the oil-rich country.
Student- and youth-led putschist movements were previously used by America's CIA as an experiment in former Soviet States, Ukraine included, to install administrations loyal to Washington.
Suffice to say, we are seeing the same strategy unfold before our own eyes at the behest of the 44-year-old Chamisa.
We are told to give youths a chance yet their economies are led by hoary old men and women experienced in the inner workings of world politics. You do not have to think hard why this could be the case.
Have you seen how the opposition, NGOs and other interest group have been concertedly corralling youths to go and register to vote under the mistaken view they will blindly vote out ZANU PF. All that Bishop Lazi can say is that lived realities are markedly different from the illusory world of social media, and so, too, is the rough-and-tumble world of politics.
Fixing the mess
The Mo Ibrahim Foundation, formed by that British-Sudanese billionaire, once warned us about how our youths can potentially be used against us.
"If the energies and ambitions of Africa's youth continue to be wasted, they could become serious destabilising forces, threatening not only just future progress, but rolling back the gains of recent years'," it once said.
After living under the tyrannical regime of sanctions over the past 22 years, and having to ward off various overt and covert schemes to create a quisling regime in Harare, we have begun to fix the mess.
Acts 2:16-17 teaches us: "This is what was spoken by the prophet Joel: 'In the last days, God says, I will pour out my Spirit on all people.  "Our sons and daughters will prophesy, your young men will see visions, your old men will dream dreams.'"
Our young are now seeing visions and our old men are dreaming dreams.
Notwithstanding the quota system in Parliament and the policy to reserve redistributed land for youths, we have embarked on transformative projects at a pace and scale unlike at any other time in the recent past.
And our woke youths are flourishing in agriculture, mining, construction, among other spheres.
This is how you create home-grown billionaires – through an enabling environment that offers opportunities for young people who "see visions".
The Bishop always tells folk that there will come at time when Zimbabweans will look back at this epoch under a bold and visionary ED as a real turning point in the modernisation and industrialisation of the country.
After four short years of sacrifice, hard work and sweat, we are beginning to see miracles.
Long after transitory pressures on inflation and the exchange rate subside, the full glory of what we are presently doing will be there for all to see.
The enduring legacy of projects we are currently implementing will be much more durable than the shadow cast by inflation and exchange rate volatility, which we will ultimately vanquish.
We are a people making history.
Bishop out!