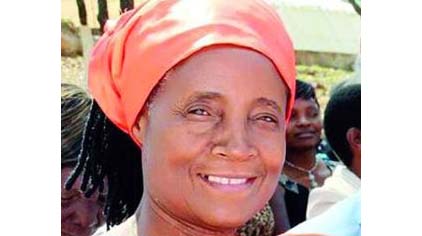 The Sunday Mail
Ellen Sanyanga
WOMEN in the arts industry are certainly among the most courageous people that we have in this country.
They have for long been subjected to all forms of sexual harassment, demeaning insults and are generally looked down upon mostly by male chauvinists, yet they still keep their heads high.
It most instances, it would have been easier for them to call it quits, but they still find the strength and valour to soldier on.
It is through these brave women that a once male-dominated arts industry now has equal representation.
The Sunday Mail Society recently had a chat with some of the female artistes that have defied odds over the years.
Chipo Basopo — who joined local arts ensemble Chipawo at the age of nine and is now currently the manager — shared her trials and tribulations last week.
"We were taught about principles and how our community perceives female artistes. So I can say we were prepared for some of the challenges," she said.
Giving up, she added, was never an option despite facing various dispiriting impediments.
She reckons it is her passion to tell the story of the African culture through play that kept her going.
"I knew what I wanted and how I wanted it to be done, I loved dancing and learning our culture and so I stood my ground even though my family did not even want me to be an artiste. I told myself no one was going to stop me," she added.
Sexual harassment
Another artiste of strong will, Pauline Gundidza — a musician and a gender, health and human rights activists — thinks that stereotypes disproportionately work against female artistes in the industry.
"We tend to be judged by the places we perform in, which is not usually the case with our male counterparts. It is important that society understands we will be in the places just to provide entertainment, which is what sustains us.
"Being a female artiste is difficult as most men are not willing to settle down with us because of the stereotyping.
"It is even worse in some instances as certain groups, including religious ones and some family members, also shun us," explained Gundidza.
Some promoters are also reluctant to support them.
"When support comes it is often conditional. You have to be principled to overcome this. Often promoters and fans see us as sex objects. Any help rendered will be calculated.
"The end result should be a romantic involvement. In short, sexual harassment is rife in this industry."
Veteran actress and producer Jesesi Mungoshi, who has been in the industry for the past 35 years, agrees.
"When a woman stands in front of a male director, he first sees a potential girlfriend before seeing an actress or potential talent behind the person," bemoaned the veteran actress.
For multiple award-winning actress Eunice Chikowore, the challenges came on three fronts — the church, family and of course the producers.
She first had to choose between the church and her passion for arts.
"Initially, my church portrayed the arts industry as immoral. The stance, however, changed with time.
"They now appreciate that art is just like any other business," revealed Chikowore.
Apart for the church, she also still has to deal with her family.
"Even her two-decades-old stint in the industry have failed to break the impasse.
"Every time I visit my parents in the village, they feel ashamed of my profession. They say it is unethical," she said.
". . . but male producers and directors are our biggest challenge in this industry because they know we depend on them to make it big, thus they always take advantage of us."