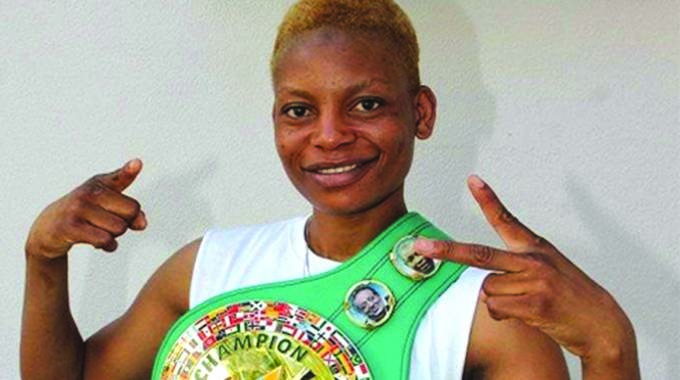 The Sunday Mail
Langton Nyakwenda
Sports Reporter
ALTHOUGH it has taken Kudakwashe "Take Money" Chiwandire almost seven years to fulfil a prediction made by a renowned promoter, the talented pugilist's recent successes have had a ripple effect on female boxing in the country.
Soon after Chiwandire's first professional bout, in September 2015, Malawian-based promoter Craig Rosseau of No Pain No Gain boxing stable, made a bold declaration.
Chiwandire beat Sibusisiwe Khumalo of Bulawayo by a unanimous decision in her first professional fight during the Charles Manyuchi Boxing Pungwe held at Chivhu Hall on September 19, 2015.
Her performance was loud enough to convince Rosseau that he had seen a gem.
"She (Chiwandire) has the potential to become a world champion," Rosseau told The Sunday Mail Sport soon after that bout.
"Today you are talking about Manyuchi (Charles) but soon you will be talking about this girl. This girl will rock the world."
Rosseau's prediction has finally come to fruition. Chiwandire was 19 back then but she is now 26 and a holder of the World Boxing Council Interim Super bantamweight belt.
Manyuchi was about to turn 25, he was still the WBC International welterweight champion and would go on to win the Silver title the following year.
He is now 32 and staring at retirement while Chiwandire has suddenly become the talk of the town for her international exploits.
Chiwandire clinched the title after defeating highly-fancied Catherine Phiri of Zambia in Lusaka on February 26, to become the first Zimbabwean woman to lay hands on the coveted green belt.
She is now bracing for her first major title defence against Zulina Munoz of Mexico at the Harare International Conference Centre on August 27.
Her achievements have had a ripple effect on female boxers in Zimbabwe.
She now represents a new breed of female pugilists capable of taking over from where the likes of Diana Makumbe and Monalisa Sibanda left.
One of them is 22-year-old bantamweight boxer — Zvikomborero Danzwa — who has been afforded a rare chance for an African title.
The Mbare-based Danzwa will fight against Mellisa Miller of South Africa for the African Boxing Union (ABU) bantamweight title, in one of the undercards to Chiwandire's main bout.
"What Kuda has done is inspiring a lot of girls out there. She gives us hope to keep fighting because we believe we can also achieve big things," Danzwa told The Sunday Mail Sport.
Apart from Danzwa, Zimbabwe still has a few female boxers trudging on like Chiedza "The Queen Tiger" Homakoma, Patience "Master" Masitara, Monica Mkandla, Revai Madondo, Sehliselwe Nhliziyo and the seemingly ageless Sibanda.
"A number of female boxers are just waiting for their chance. I have been given this chance to fight for an ABU title and I am grabbing it with both hands.
"I have told my coach this is a match I am going to win without fail. Female boxers have the capacity to bring more belts to Zimbabwe," said Danzwa.
She is training under coach Lowson Muhambi and will go into camp in July.
Boxing promoter, Clyde Musonda, is happy there will be some female contests on August 27.
Mkandla and Masitara will also battle it out in a non-title bout on the same night.
"The girls are fired up from what I have heard. The girls are inspired and looking forward to their fights.
"I have actually been receiving a number of calls from female boxers who want fights and some who want to start boxing.
"It's quite encouraging and I guess Chiwandire's recent achievement has also inspired a lot of girls.
"As Zimbabwe we should have more female boxers so that we can even arrange more fights locally," said Musonda, who also manages Chiwandire.