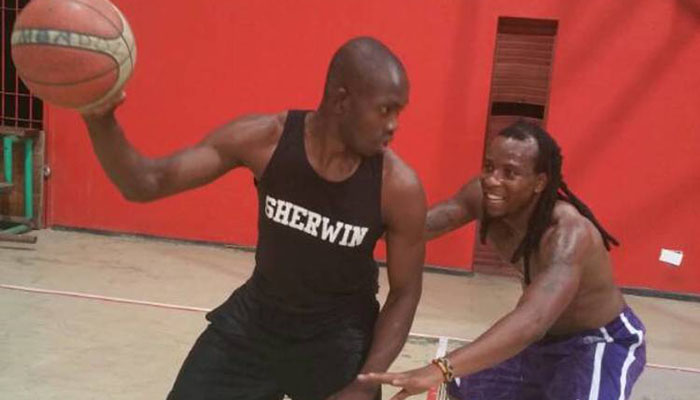 The Sunday Mail
EXPATRIATE basketball star Titus Njovu (ON LEFT SIDE OF PICTURE) might still be an unknown quantity on the local basketball scene, but it appears Harare City Hornets have great plans for their latest signing who hails from Zambia.
Hornets imported the 27-year-old small forward from Lusaka as they look to solidify their squad ahead of next month's AfroBasket Club Championship qualifiers in Botswana. Njovu joined the national champions in June and has been used sparingly, as the Hornets preserved him for the Championships.
Born on April 3, 1990 in Lusaka, Njovu comes in with a wealth of experience having played for some of the top teams in Zambia.
He also has a handful of caps for the Zambian national team.
"I started playing basketball in 2007 just after I completed my secondary education and I have played for some of the top clubs in Zambia.
"I have a handful of caps with the Zambian national team," Njovu said.
The small forward played for Spartans, Intrepid Bulls, Hawks and Matero Magic, which is arguably the biggest team in his native land.
Njovu believes his time on the sidelines is done and is now ready to repay the faith his paymasters have shown in him with a solid performance in Botswana next month.
"My time in Zimbabwe has been great, what with the pleasant people and warm weather, although acclimatising has taken a bit longer than expected.
"The biggest challenge I had when I first arrived was the language barrier.
"It wasn't easy to understand Shona but eventually the team adjusted to English so that I could understand what was being discussed.
"The plan now is to come off the bench and start working with the team in its goals to make the club a household name when it comes to club basketball in Southern Africa," he said.
The 27-year-old is familiar with the AfroBasket Club Championships having taken part on six different occasions.
"It's not my first time in such an event," he said confidently.
Njovu has already made an impression on Hornets gaffer Langton "LK" Moyo.
"Titus (Njovu) is a silent enforcer who does all his talking through his performances on the court," said the Hornets' coach.
"His 'never say die' work ethos has definitely added value to the squad and he truly is a marvel to coach as he is and will forever remain a true student of the game," he said.
The Hornets used the Swaziland Invitational Tournament and Harare Mayor's Basketball Challenge (which they won) to gauge their strength on the international stage ahead of the club championships.
They also used the two competitions to scout for expatriate talent but found none.
That was before Njovu came into the picture and the Harare giants can now look up to the Zambian for guidance and experience in Botswana and beyond.
"I know exactly what to expect in terms of the kind of competition that is there. We are already putting in the hard work to ensure that we come away with positive results by the end of the day.
"Everyone knows we are going there to represent not only the Hornets but Zimbabwe as a whole and I now consider this country to be more of a second home," he said.