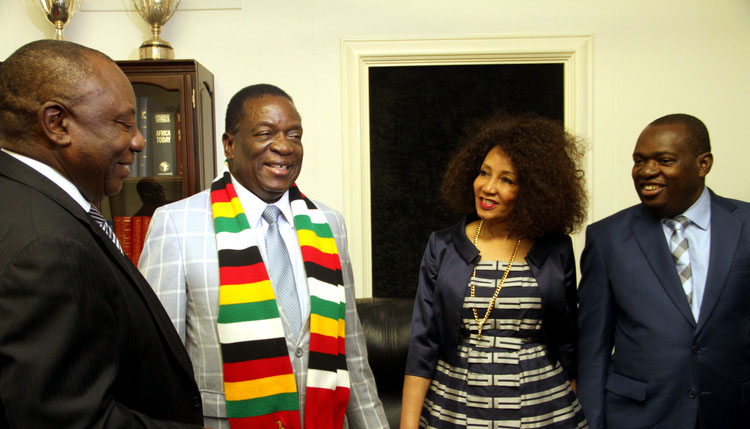 The Sunday Mail
Phyllis Johnson
THE visit to Zimbabwe by the new South African President, Cyril Ramaphosa, is part of a series of working visits with counterparts in neighbouring countries that has taken him to Angola, Namibia, Botswana and Mozambique.
President Ramaphosa is visiting his neighbours both as a new President in the region and in his capacity as of the Southern African Development Community chair.
This comes at a time of leadership changes in Sadc member states, a development which has opened up new opportunities for building new economic partnerships from long standing historical relations.
The regional integration agenda in Sadc is advancing rapidly, rooted in a policy of industrial development aimed at facilitating closer cooperation across borders, including the movement of people and goods.
South Africa experienced challenges during the recent transition in the African National Congress and government leadership but after stepping down, former President Jacob Zuma returned to his Nkandla home in KwaZulu Natal where he pledged to continue supporting party activities.
President Ramaphosa is one-month-old in office having been sworn in on February 15, 2018. South Africa was elected as the chair of Sadc at last year's Summit in Pretoria.
President Mnangagwa is a few months older in office than President Rhamaphosa having been sworn in on November 24 last year. Both were elected as substantive leaders of their respective parties, the Zimbabwe African National Union-Patriotic Front (Zanu-PF) and the ANC at party congresses in December 2017.
Before coming to Zimbabwe, President Ramaphosa visited Mozambique yesterday morning for a courtesy call on President Filipe Nyusi.
In a statement, the Mozambican President said the visit aimed "to strengthen and deepen the historical ties of solidarity, friendship and political, economic, social and cultural cooperation between the two countries, as well as assess the stage of bilateral cooperation."
President Ramaphosa is accompanied on the regional visits by his Minister of International Relations and Co-operation Lindiwe Sisulu, and the Minister of Defence and Military Veterans Nosiviwe Mapisa-Nqakula and other government officials.
He began his regional visits earlier this month in Luanda with a courtesy call on Angolan leader, President João Lourenço, who assumed office on September 26 2017.
Angola and South Africa use the same an electoral-college system, in which the President is not directly elected by voters but is a candidate of the majority party in Parliament.
Lourenço was selected by the Popular Movement for the Liberation of Angola (MPLA) to replace José Eduardo dos Santos, who had been Head of State since 1979 and remains party leader.
Angola was chosen as the first country for President Ramaphosa to visit due to the "very special and historical relationship" since the 1970s and 1980s when Angola hosted military training camps for the ANC during the armed struggle against apartheid in South Africa.
Angola is also the current chair of the Troika of the Sadc Organ on Politics, Defence and Security Cooperation. This is the system used in-between summits for a committee of leaders to meet and discuss issues that cannot wait for the annual Sadc Summit, which normally takes place in August.
While South Africa is the current Sadc chair, Namibia is the incoming chair, meaning the latter will chair the regional body after hosting the next summit.
The Namibian President Hage Geingob was elected party leader at the 6th SWAPO Party Congress in late November. He won the 2014 elections and assumed office as President on March 21 2015.
President Ramaphosa said it was a special courtesy visit "to come and renew our friendship, to consolidate it and to also look back where we have come from because we have been comrades in arms, and comrades in struggle and we move forward now as comrades in development, developing our countries".
He acknowledged the close relations between the former liberation movements that worked together "against the common enemy but because we had so many things that connected us, that bound us together.
"We had the same vision, same perspective, progressive forces, bound together by a need to develop our people. In many ways we chose each other but as countries we are neighbours that are joined together as well."
"We are all new because I have got two of my colleagues who are ministers. We just reshuffled our cabinet so you are looking at part of a new executive of the Republic of South Africa. For us this is a very very special moment and we look forward to serious engagements at a bi-national level."
President Ramaphosa said they would engage in matters related to the economy, trade, cultural connections, political relations and to deal with "issues that are obviously aimed at developing our two countries, growing our economies and when it comes to that we will know that we are doing the right thing to take our countries forward".
After visiting Namibia, President Ramaphosa went on to Botswana to call on President Seretse Khama Ian Khama.
In welcoming his South African counterpart, President Khama emphasised that "we are one people".
This was echoed by President Ramaphosa who said Batswana and South Africans were only separated by colonial boundaries.
President Khama also spoke about the uniqueness of the visit as President Ramaphosa had been sworn into office only a month earlier before he leaves office at the end of this month.
He has served as President since April 1, 2008 when his predecessor former President Festus Mogae stepped down.
The governance system in Botswana facilitates a change in Head of State between elections, thus President Khama is preparing to hand-over power to his Vice President Mokgweetsi Masisi.
Botswana also hosts the Sadc Secretariat and it is usual for the Sadc chair to embark on a familiarisation visit where he was hosted by the Sadc Executive Secretary, Dr Stergomena Lawrence Tax.
Sadc has welcomed the peaceful transition in Zimbabwe and the African Union also issued a statement welcoming former President Mugabe's decision to step down; "Today's decision will go down in history as an act of statesmanship that can only bolster President Mugabe's political legacy."