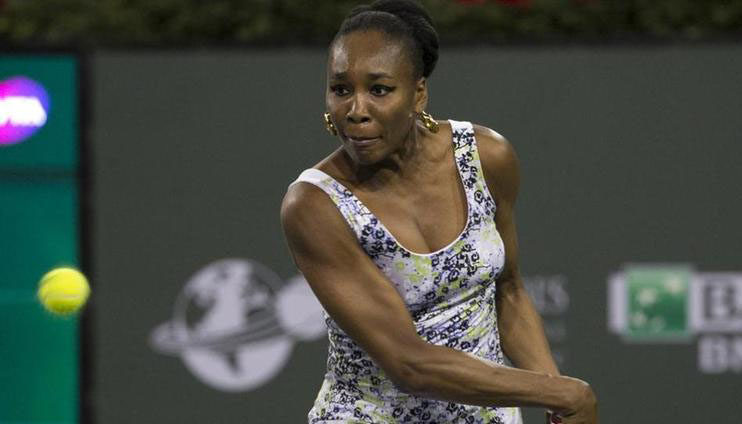 The Sunday Mail
Like spring itself, the clay-court season evolves slowly, starting with near-wintry conditions. It will peak with flowers in full bloom under warm and sunny skies in Paris at the French Open.
But before the season itself opens, multiple questions are sprouting about what the WTA has in store during the clay segment.
This year's Australian Open appeared to restore the order that had crumbled after Serena Williams left the tour as an expectant mother in February 2017.
The stars dominated in Melbourne, as the singles final featured the two top seeds.
However, after the first Grand Slam, the volatility of 2017 crept back into the game, peaking at the end of the hard-court season as Lesya Tsurenko won Acapulco, Naomi Osaka took the big title at Indian Wells, and Sloane Stephens burst out of a slump to win the Miami Open
While some promising new players are emerging – Osaka, Daria Kasatkina, Danielle Collins and CiCi Bellis among them – the established names are likely to take control.
Garbine Muguruza, Petra Kvitova, Sloane Stephens, Victoria Azarenka and Angelique Kerber all seem to be rounding back into form, and all of them are Grand Slam singles champions.
We could see a surprise finalist here, a newcomer in the semis there, but clay calls for patience, consistency and experience – the qualities of proven champions.
That said, it will be foolish to totally ignore the threat the Williams sisters, Venus and Serena, pose.
Serena remains the biggest wildcard, because at this point we don't even know where and when the new mother will play again.
But you can't ever count her out when she decides to compete, so we'll leave it at that.
As for Venus, she probably will face a struggle to leave a significant mark on the Euroclay. She's a tepid 7-4 this year on all surfaces, with no finals.
On clay, Venus hasn't been in a singles final since the Madrid Open in 2010. She was the number three seed then but was upset in the title match by France's No 24 Aravane Rezai.
Now 37, Venus has been in one French Open final, but it was a mind-boggling 16 years ago. She hasn't been as far as the quarterfinals since 2006.
She's also been cutting back her already limited schedule, leaving herself little time to groove her clay game or play her way into contention at big events.
Venus had a remarkable year in 2017, but if she's going to recapture the form that lifted her as high as No 5 last fall, she will most likely do it during the summer grass and hard-court segments.
Another veteran in contention is Simona Halep.
The diminutive, indefatigable Romanian has suffered some crushing defeats in big moments, but none as dispiriting as her 2017 French Open loss to Grand Slam finals rookie Jelena Ostapenko.
Halep has plenty of motivation and experience, having lost a very close final in the same stadium in 2014 to Maria Sharapova.
Yet Halep couldn't hold her lead of a set and a break against her 18-year-old opponent in June.
Halep went on to have a great year, finishing No 1.
Nobody faulted her for losing this year's Australian Open final to fellow WTA Grand Slam bridesmaid Caroline Wozniacki. Physically, Halep was a wreck, but she still managed to play an excellent match.
While she's won just one minor title so far this year, Halep has compiled an outstanding 19-3 record, good enough to keep her No. 1 – and to whet her appetite for more.
She's positioned to have an excellent clay season, as long as the oft-injured 26-year-old remains healthy.
Out with injury all of last spring, Stephens said in Miami that she sorely missed the clay season of 2017.
"I'm really looking forward to it," she said. "I'm super excited to get back out there. Red clay is my favourite."
Stephens seems to be turning into a player who comes up big at critical moments. She's a Grand Slam champion now.
Her cat-and-mouse tactics, clever counter-punching and excellent feel for the ball are tools that have carried her to the fourth round at Roland Garros twice in the past.
A steady diet of red clay will do wonders for her fitness and confidence.
Also keep your eyes on Elina Svitolina, who's ranked No. 4 but flying under the radar as far as hype and expectations go.
Just 23, she's a year younger than former French Open and Wimbledon champion Garbine Muguruza.
While Svitolina hasn't won the big one, she has an impregnable baseline game, keeps improving slowly and has been super consistent. She could put together a great run on clay.
And what of defending champion Ostapenko? Very few first-time Grand Slam champions have successfully defended those titles. Azarenka did it with back-to-back wins in Australian in 2012-13, but she's the outlier.
So the odds seem to be stacked against Ostapenko, who's just 20 years old and still adjusting to her newfound status – and the pressures and distractions it brings.
But Ostapenko hasn't played badly.
Her ranking was No. 47 at the time she won the French Open and was seven by the end of the year.
Now she's up to five and Ostapenko hasn't lost a first-round match since the first week of the year, at Sydney. More promising, she made the final at the Miami Open.
She's such a bold and powerful ball-striker that if she's fit she could dominate on clay, perhaps even emulate Azarenka with a successful defense of her first major title. — ESPN.