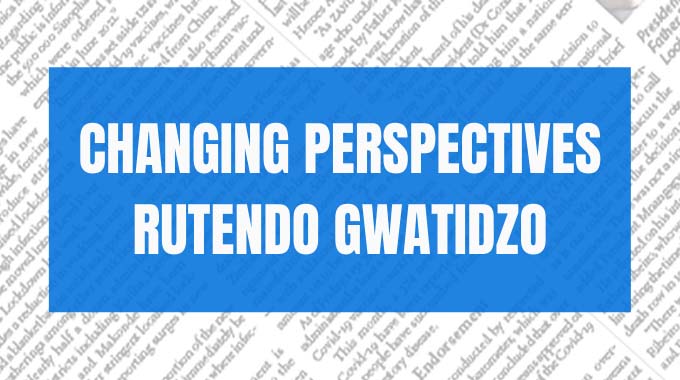 The Sunday Mail
Changing Perspectives
Rutendo Gwatidzo
As a man thinks, so is he, according to Proverbs 23:7.
If you think you are a victor, then you are.
If you think you are a loser, then you are.
If you think you can make it, then you will, and if you think you cannot make it, then you will not.
Why limit yourself then if it is just a matter of thinking?
Every successful organisation started as a thought.
All the magnificent inventions in history started as thoughts.
The mind is powerful if allowed to function to its maximum.
It is like a mirror that you can adjust to have a better view.
Advice from successful people
Let us look at what some of the most successful people in the world say regarding the power of the mind.
Michael Jordan once said: "I have missed more than 9 000 shots in my career.
I have lost almost 300 games.
Twenty-six times I have been trusted to take the game-winning shot and missed.
I have failed over and over again in my life, and that is why I succeed. I can accept failure.
Everyone fails at something, but I can't accept not trying."
Oprah Winfrey was raised by a single mother who passed on while she was 14-years-old.
When she found her first job, she was abused by one of her bosses and then got fired.
Nevertheless, she says: "Create the highest, grandest vision possible for your life, because you become what you believe."
Steve Jobs was given up for adoption at birth and he struggled to make friends at school.
He then formed Apple and was at some point booted out of his own company.
He formed another one called Next, before returning to Apple as chief executive.
Apple became very successful before Jobs died. However, he left a beautiful piece of advice.
"Your work is going to fill up a large part of your life, and the only way to be truly satisfied is to do what you believe is great work.
"And the only way to do great work is to love what you do.
"If you haven't found it yet, keep looking; don't settle.
"As with all matters of the heart, you will know when you find it," he said.
Walt Disney, the founder of Disney, was fired from his job at the start of his career ostensibly because he lacked imagination and good ideas.
He then started a business that went bankrupt.
He did not give up; he kept pushing and today Disney is a global brand.
"If you can dream it, you can do it," he once said.
Everything is possible for those who believe in themselves and work hard.
Find inspiration and take action once you know what you want.
Do not take "no" for an answer — pursue until you conquer.
Do not allow others to bring you down.
If you find yourself with people who like bringing you down, then you are hanging with the wrong crowd; change your associations.
Though the tunnel may seem long, be mindful of the fact there is light at the end, and don't give up.
Nelson Mandela spent 27 years in prison, but when he was released, he became what he had purposed himself to be.
He once said: "Everyone can rise above their circumstances and achieve success if they are dedicated to and passionate about what they do."
I list more examples of great women and men who started from where most of us find ourselves and rose to the top.
They decided not to be known as victims but victors.
The greatest battle is in your mind.
What you think about, meditate on, visualise, imagine and talk about is what you become.
See it, tell yourself that "I can" and you are halfway there.
Organisational Status
Most companies fail to make it because of the mindset of people pursuing the vision.
In some cases, it is the visionaries themselves who give up after facing hardships.
In other cases, it is probably because the team is short-sighted, lives only for today and do not plan for tomorrow.
Under normal circumstances, interest in a vision is what should drive someone to take part in an endeavour.
Nowadays, organisations are filled with people who are just after survival and do not think about leaving a legacy for the next generation.
I believe that if we all put our minds together to make the organisation work, it will work.
Before we realise it, almost everyone involved will be smiling.
Be challenged to make up your mind about what you want in life.
If you find yourself falling, just get up, dust yourself and keep moving.
Sometimes all you need is to change direction towards your goal without necessarily changing the goal.
Step-by-step, moving from A you will reach Z.
But, understand that there are different stops in-between.
We don't just become, there is a road to be walked.
Rutendo Gwatidzo is a culture and change management strategist, human resource consultant, speaker and author of the book "Born to Fight."
Contact: +263 714 575 805/[email protected]/ Rutendo Gwatidzo Official on Facebook.