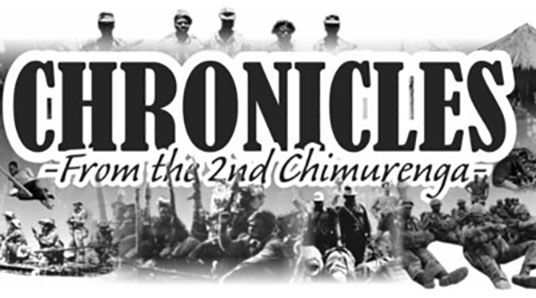 The Sunday Mail
WE continue with our discussion with Cde Nelson Ndarasika (NN), whose Chimurenga name was Godo Tambawega. In our previous instalment, Cde Ndarasika gave a heart-wrenching narration of how he narrowly survived the brutal Nyadzonia refugee camp attack by the Rhodesian forces. He concluded by telling us how he made good his escape from the camp and headed for Chimoio. This week, Cde Ndarasika narrates to our Senior Reporter Tendai Chara (TC) about the challenges survivors of the Nyadzonia massacre faced while escaping from the danger zone towards safety.
*********
TC: You told us about how you miraculously survived the Nyadzonia massacre and, together with thousands of others, you headed towards Pungwe River on your way to Chimoio. If you can continue from where you left off.
nn: We were now out of the killing field and heading towards Pungwe River.
One of the girls who had survived the attack told me that I was bleeding.
I had been hit by fragments.
The fragments were lodged into my leg until they were removed well after independence in 1983.
The Nyadzonia attack was one of the worst situations that I found myself in during the liberation war.
We had no guns to return fire and to make the situation worse, we were injured.
To further compound matters, we had not been properly trained by then.
We had only received basic training.
We should thank Cde Teurai Ropa and Herbert Shungu. Cde Shungu, whose real name was Nelson Chengeta, is alive living in Dotito, Mount Darwin.
He was one of our instructors at Nyadzonia.
We also had Cde Chigwaza, who taught us basic military tactics.
My injuries were minor when compared to those of the others.
Some had missing limbs.
We trudged through Mozambican villages as we moved towards Chimoio and the villagers were giving us directions.
The Mozambicans were very much co-operative.
After crossing Nyadzonia River, you will also have to cross Pungwe River before you get to Chimoio.
As we were moving towards Pungwe River we heard a loud bang.
The Rhodesians had destroyed the Pungwe River bridge in order to stop reinforcements from coming to the aid of Nyadzonia.
We reached the Pungwe River with the intention of crossing into Vanduzi where survivors were gathering.
I witnessed horror at the Vanduzi crossing point.
The survivors, the majority of whom were badly injured, were swept away as they tried to cross the flooded river.
I watched helplessly as four of my close friends were swept away by the river.
In order to cross the river, we had to hold hands.
But there was a deep point where one had to go it alone. It was at this point that a lot of my fellow refugees met their end.
We were in a tight corner.
We could not return to Nyadzonia and at the same time, crossing the flooded river was an ominous task. We, however, had to cross the river.
When it was my turn to cross, I swam for a few metres before I was swept away.
I vividly remember a young woman running along the river crying and shouting at me to hold on to the reeds.
I grabbed on to some reeds, but the raging river was sweeping me downstream.
At last, the young woman grabbed my hand and whisked me out of the river.
TC: Did you meet this woman who saved you and did you thank her for saving your life?
nn: Her Chimurenga name was Cde Dakarai Musindo. Her real name is Chitiyo, I do not remember her first name.
We met several times after Independence.
I heard she is now a captain in the army.
Remember, during the war we were obliged to help each other.
She is a brave woman who saved a lot of lives that day.
I am grateful to her for saving my life.
However, I could not thank her by giving her money or gifts.
I know for sure that she would never accept a reward of any sort.
After crossing Pungwe, we walked for a long distance and reached Vanduzi and we were taken by lorries to a farm which was near the Zhunda base.
We called the place Masengere because there were so many bamboo trees at the farm.
From Masengere we went to a place that we called PaDhafu, just outside of Chimoio town.
The food that we were eating at Nyadzonia was stored at this place.
Bales of clothing for the refugees were also kept there.
We were made to stay at PaDhafu because it was near Chimoio town from where we were getting treated.
We stayed at PaDhafu for a long time.
Then Cde Tenheka Zimbabwe, who was a member of the general staff, arrived and told us that there was need to establish a new camp to cater for those who had been displaced from Nyadzonia.
Cde Tenheka took me and Cde Max Magadu to Doroi where a suitable place for the new camp was identified.
We then returned to PaDhafu the following day.
At this point, all I wanted was to go for military training.
I was itching to avenge the Nyadzonia massacre. Then an opportunity presented itself for me to go for training.
That was in August 1976, when Cde Rex Nhongo visited us from Chimoio.
He had come to collect bales of clothing and he brought with him two lorries.
After loading the bales onto the lorries, I was selected, together with Cde Tick-Tock, to deliver the bales to Chimoio.
We arrived at Chimoio military training camp in the evening.
When the lorry drivers told us to return with them, we simply disappeared into the crowd.
I wanted to be trained and there was no way I could go back and miss such a golden opportunity.
TC: Why were you so desperate to get trained?
nn: As I said previously, I wanted to avenge the Nyadzonia killings.
I wanted to be trained and go to the front and fight the Rhodesians.
Also, the spirit of the war was among us; it urged us to fight.
In my case, I was not coerced or sweet-talked by anyone to join the liberation war. It was a personal choice.
I simply woke up one day and walked to the border and into Mozambique.
TC: What then happened?
nn: After disappearing into the crowd, I went on to meet Cde Martin Mucharanga, who was a member of the general staff.
I told him about my escape from Nyadzonia and he was sympathetic; he then became a sort of guardian to me.
Both the general staff and the High Command were in charge of the war strategies.
Chimoio was the Zanla military headquarters in Mozambique.
Among the top military brass that spent most of their time at Chimoio were Cdes Robson Manyika and Josiah Tongogara who, around the time I was at Chimoio, had just been released from jail.
The likes of Cdes Rex Nhongo and Robert Mugabe also at one time stayed at Chimoio military camp.
Cde Mucharanga told me that a group of recruits was going to start training in two weeks' time.
I was excited. I volunteered to be his butler because I wanted to make sure that I was among the group that was going for training next. The training finally started in September 1976.
In our next instalment, Cde Ndarasika will recount his military training and the subsequent deployment to the war zone. He will narrate events of the many battles that his detachment won and lost.