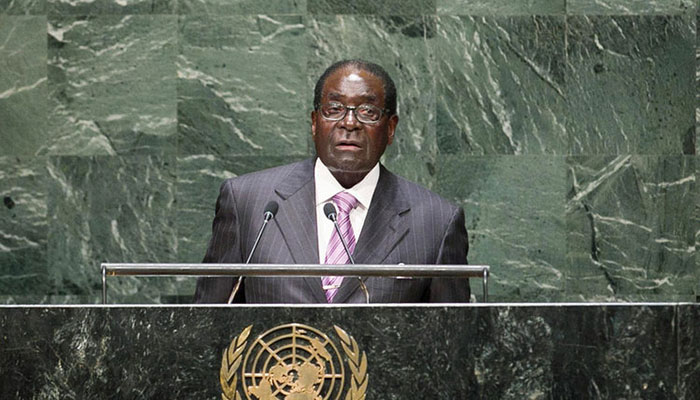 The Sunday Mail
From Munyaradzi Huni in New York, USA
There are people who are denying themselves the opportunity to be educated and to be given a critical perspective of global politics.
These people are denying themselves the pleasure of enjoying critical thought.
These people are obsessed with numbers. They are obsessed with years and they are obsessed with how a 93-year-old walks around.
It's a shame, but this is what it is.
Unfortunately, these people are focusing on trivialities when there is so much substance that outweighs their obsession with numbers and years.
Fortunately, there are deep thinking people, people of substance who have discovered that age is indeed nothing but a number.
These people are enjoying themselves and, as a result, they are keep coming to the fountain of knowledge to sip more understanding.
Malawian President Professor Peter Mutharika is one man who really can't get enough from this fountain. Whenever he has an opportunity, he makes sure he draws as much as possible from this fountain.
"I always learn so much from him. You know he has such a rich history. He is the only remaining hero of African nationalism, the struggle for independence.
"He is the last man standing. He has such a rich history of Africa. Each time I meet him, I learn so much. He gives us a perspective of where we have come from. I am always excited to meet him," said Prof Mutharika after meeting President Mugabe at his hotel.
The two leaders were in New York to attend the 72nd Session of the UN General Assembly.
Now, when a whole leader of another country, a professor, says he continues to learn a lot from President Mugabe and is always excited to meet him, what does that say about the little minds that are obsessed with numbers?
And President Mutharika was not just playing good brother to please President Mugabe. No, that's not the case because two years ago he said the same thing.
"In the whole of the African Union, I think it is clear that Comrade Mugabe is seen as a real hero. You know, when he speaks everyone listens because he has such a rich history of the struggle against colonialism. I think he symbolises that generation of very great African leaders," said President Mutharika after attending the 70th Session of the UN General Assembly.
This was despite spirited efforts to create divisions between Zimbabwe and Malawi by some prophets of doom who had planted fake stories on the social media saying President Mutharika had attacked President Mugabe.
So what is it about President Mugabe that continues to charm the Malawian leader?
What is it that makes him continue describing President Mugabe not only as a hero, but as "the last man standing"?
What does President Mutharika see in President Mugabe, with the little minds too blind to see it? President Mutharika knows President Mugabe is 93 years old.
He was also in the UN General Assembly Hall and saw that President Mugabe walked to the podium holding the rails. For goodness sake, the man is 93 years old. There was nothing amiss about his behaviour.
And then this "last man standing" spoke.
Suddenly, the UN General Assembly Hall came alive.
"Some of us were embarrassed, if not frightened, by what appeared to be the return of the biblical giant gold Goliath. Are we having a return of Goliath to our midst, who threatens the extinction of other countries?" said the President.
Fellow presidents could not resist this truth that they had failed to speak about. They cheered as if this was some football game.
"And may I say to the United States President Mr Trump, please blow your trumpet, blow your trumpet in a musical way towards the values of unity, peace, cooperation, togetherness, dialogue; which we have always stood for and which are well-writ in our very sacred document, the Charter of the United Nations," added the President.
No one was worried about his age. No one was worried about how he had walked to the podium. No one was worried about his feet. The focus was on his head and the great things contained in that repository.
President Mugabe has never disappointed. As a Zimbabwean in the hall, you felt like standing up and screaming, "That is my President!"
Unfortunately, UN protocol does not allow such rowdy behaviour, but of course we made it a point that many in the hall knew this was our President. We were enjoying the moment.
As he left the podium, several Heads of State and Government lined up to shake his hands. Some in disbelief, some in awe. Their faces said it all.
Most Heads of State and Government had avoided going head-on with Mr Trump in their speeches. Mr Trump is an unpredictable fellow and so they decided to play it safe. Cowards, if you ask me.
In the corridors, they said Mr Trump was behaving like a bully. They whispered that Mr Trump was getting out of hand.
In his speech, Mr Trump had shown that indeed a new bully was in town. He had threatened to "totally destroy North Korea", referring to the North Korean leader Kim Jong Un, as "Rocket Man".
The North Korean leader did not waste time to respond.
"I'd like to advise Trump to exercise prudence in selecting words and to be considerate of whom he speaks to when making a speech in front of the world . . .
"I will make the man holding the prerogative of the supreme command in the US pay dearly for his speech calling for totally destroying North Korea.
"Whatever Trump might have expected, he will face results beyond his expectation. I will surely and definitely tame the mentally deranged US dotard with fire."
Very strong words. Very insulting and provocative words.
Naturally, Big Brother America had to respond. Giant Gold Goliath responded saying the North Korean leader was mad.
Well, the exchange of words continued between the two and unknown to him, Mr Trump is playing in the right territory for President Kim Jong Un.
But the story is that President Mugabe had warned of what was to follow. David in the name of President Kim Jong Un is challenging Giant Gold Goliath. It's so unprecedented, but there is every indication that soon, things may spiral out of control.
When it happens, just remember the first warning came from President Mugabe.
So, while little minds are focussing on tissues, sober minds are focussing on issues.
Anyone with an obsession about age when the world is focusing on substance needs examination.
President Mugabe is 93 years old and at that age it's not a surprise that he may have difficulties in walking. For goodness sake he doesn't use a walking stick.
But as little minds are obsessed with how he walks, including putting his pictures on the social media, the world is enjoying what he talks about.
This is not surprising at all. Just check out the history of Ghana and the death of Kwame Nkrumah. It's an African thing.
People who don't appreciate their own. People obsessed with trivialities.
Just like the people of Ghana are now worshipping Nkrumah's grave, some Zimbabweans are doing everything possible to follow the same route.
It's a shame, this African thing.