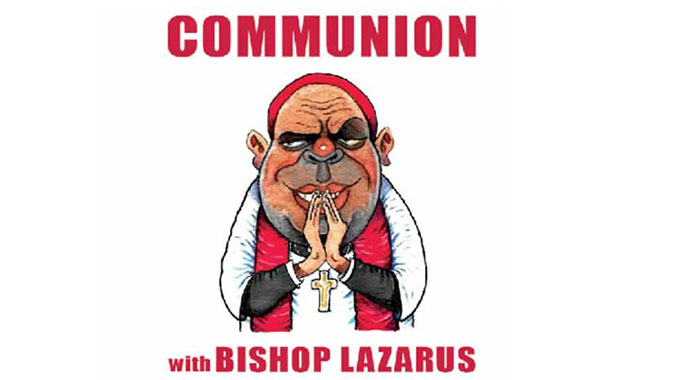 The Sunday Mail
The tongue can be a powerful weapon.
It can build and destroy. It also can excite, spite and incite.
And when a sharp tongue is mixed with potent ideas, it is easy to concoct a nuclear weapon.
All these things are not lost to the book of wisdom — the Bible.
Proverbs is very emphatic.
"The one who has knowledge uses words with restraint, and whoever has understanding is even-tempered. Even fools are thought wise if they keep silent, and discerning if they hold their tongues," counsels Proverbs 17:27-28.
However, Proverbs 18:20-21 is even more poignant: "From the fruit of their mouth a person's stomach is filled; with the harvest of their lips they are satisfied. The tongue has the power of life and death, and those who love it will eat its fruit."
It is important to keep this in mind.
Well, South Africa's African National Congress (ANC) — which is Africa's oldest liberation movement (having been formed on January 8, 1912), but incidentally one of the youngest governing parties on the continent after wresting political power in 1994 — commemorated its 109th anniversary exactly eight days ago.
As expected, the event was marked by the usual pageantry, festivities and effusive speechifying from the comrades.
However, one of the members of its national executive committee, Cde Lindiwe Sisulu, chose the occasion to launch an inquiry into the material condition of the ordinary South African, especially 27 years after Uhuru, under majority rule.
SA is presently at an inflection point.
As one of the most unequal societies on the continent, where the gap between haves and have-nots is as wide as the rift between Douglas Mwonzora and Nelson Chamisa, its struggles, as is elsewhere on the continent, have been accentuated by the coronavirus pandemic.
Do you still remember what Bishop Lazi said at the beginning of this seemingly intractable global health crisis?
We will definitely wake up to a new world order in the aftermath of the pandemic.
The signs have been showing for some time.
On July 27, 2020, the ANC government, which has been wary of supping with the International Monetary Fund (IMF) ever since coming to power, broke with tradition and agreed to a US$4,3 billion loan from the lender for the first time since apartheid — and this was an ominous sign.
In November last year, employment shot to a record 35 percent — the highest in 13 years.
But the Bishop is not fond of statistics, as they mask the dire, desperate and graphic circumstances of ordinary wananchi, who continue to be plagued by disillusionment and hopelessness despite the hope that came with independence.
It was against this background that Cde Lindiwe Sisulu penned her searing opinion-editorial on the eve of the ANC's anniversary. So powerful, unapologetic and brutally frank was her piece — peppered with potent vignettes — that it ruffled feathers, bruised egos and ignited debate on the future of suffering Africans.
"If we look around, we see a sea of African poverty," she wrote, adding: "Many years down the line, Africans manage poverty while others manage wealth . . . In South Africa, 8 percent of the population control 80 percent of the land and its resources. So, who are the real owners of the country? Meanwhile, 80 percent of the majority in the country control less than 10 percent of the market capitalisation at the Johannesburg Stock Exchange. Who is fooling who?"
But the comrade was not finished.
"Let's not fool ourselves and one another; the primary motivation for the evils of colonialism was and still is economic.
"It is organised crime, the robbery of other people's land and resources, as well as the exploitation and use of their labour. It is also about the reduction of these people to mass consumers and exclusion from the ownership of the factors of production and wealth creation."
For a moment there, she sounded like Bishop Lazarus. Kikikiki.
However, she went further by railing against the Judiciary for seemingly babysitting and minding neo-liberal interests of erstwhile colonisers, and took umbrage against political elites cosying up to capital and allowing themselves to be conveniently used to indefinitely defer fundamental reforms needed to tilt the scales in favour of the black majority, who continue to smart from centuries of exploitation and abuse.
What Cde Sisulu simply did was to throw the cat among the pigeons, and the fallout from her searching opinion piece continues.
Rabid media hounds have since been set on her. But her inquiry is not peculiar to SA, as it is relevant to swathes of Africa, which reek of begriming poverty.
As Bishop Lazi said before, Africa shares a common totem — poverty — and years after Independence, the post-colonial state is still struggling to exorcise it and extricate the majority from their unenviable and pitiable circumstances.
Doing so clearly involves overhauling the institutional structures erected by the colonial state to make the exploitation of the continent effective, efficient, systematic and durable.
There is, however, one caveat — it entails being prepared to endure the pain of upheaval that comes with revolutions.
Zimbabwe has been down this path before and was prepared to go the whole hog.
You might have forgotten how white judges, who presided over our superior courts, tried to frustrate the land reform programme at the turn of the millennium by considering it unlawful.
It had to take some prodding, including a visit by the colourful Cde Joseph Chinotimba to then-Chief Justice Anthony Gubbay for a "cup of coffee" in March 2001, to overhaul a system that was not working in the interest of the black majority, whose ancestors were dispossessed of their land under one "legal" guise or the other.
It had to take a refreshed bench led by Justice Godfrey Chidyausiku — may his dear soul continue to rest in peace — to make a ruling that the law reform programme was indeed lawful.
You see, the law was interpreted to imply that property rights only begun after independence and, therefore, it was legally contemptible to simply expropriate land from looters and give it back to its rightful owners.
What nonsense!
Where was the same law when blacks were being violated? Nxa!
So, the Bishop understands Cde Sisulu when she calls for the need to "overhaul a justice system that does not work for Africa and Africans".
But it goes beyond that.
The current world order needs to be reconfigured to support Africa and Africans to literally change their fortunes after centuries of being robbed by those who now flaunt their riches to perpetuate already existing deep-seated global inequalities.
The same way they used their muscle to hoard coronavirus vaccines during the pandemic is the same way they are now luring health professionals on an industrial scale from the continent at the expense of local health systems.
We have already begun experiencing the impact of this phenomenon, as some primary health institutions are being closed for lack of personnel.
But wither the continent?
Well, the late Tanzanian President John Magufuli was on to something when he observed that industrialisation could be the answer to create jobs and wealth for Africa.
He rightfully suggested: "Raw materials in the world markets are sold at very low prices. In addition, due to low levels of industrialisation in our region, the problem of unemployment is increasing.
"By exporting our raw materials, it means we are also exporting jobs . . . History has taught us that no country or region in the world has ever developed without undergoing the process of industrialisation. And even today, all developed nations are the industrialised countries."
We cannot continue to celebrate exporting raw materials and outsourcing expertise that ordinarily sits in our backyard.
We need to reorient our economies to empower our people.
Hopefully, the debate that has been touched off by Cde Sisulu's sharp tongue would generate more light than heat.
But it is a helpful starting point.
Most encouragingly, we might be beginning to talk about the things that matter.
Reclaiming our economies is the last frontier of our struggle.
Colonialism was always about economic power, and this is why Zimbabwe was colonised by a company, the British South Africa Company.
The renaissance of Pan-African fervour to uproot vestiges of neo-liberalism clearly shows that the last great war might have just begun.
Bishop out!