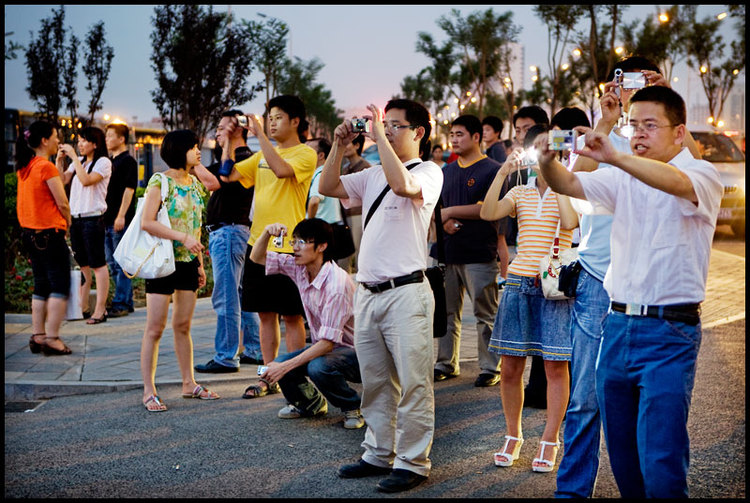 The Sunday Mail
Arrivals from Asia rise 25 percent

Restrictions for Chinese remain in force
By Darlington Musarurwa & Africa Moyo
THE six-month period to March 2014, where tourist arrivals from Asia climbed 25 percent, eclipsing the country's traditional source markets such as America and Europe, has been largely interpreted as an auspicious development that could herald a new golden era for the local tourism sector.
China, which has since evolved as the second largest economy in the world and having a 1,2 billion market, has been particularly eye-catching for policymakers.
The DNA of the new generation of Chinese tourists is proving to be irresistibly attractive: young and relatively rich middle-class Chinese citizens are now travelling frequently, spending more – a total departure from the past when they were viewed to be very stingy – and staying longer in their chosen destinations.
Destinations are now harvesting more from the new breed of tourists.
Last year, an estimated 97,3 million outbound Chinese tourists spent more than US$129 billion during their travels, outspending tourists from the world's biggest economy, the United States of America, by more than US$43 billion.
In essence, each Chinese traveller spent more than US$1 130 and this compares to some European visitors who spend less than US$500 per visit.
International tourism experts claim that nearly one in every 10 international tourists worldwide is now Chinese. There are real fears in the tourism sector that Zimbabwe, which forged an enduring relationship with Beijing during the liberation struggle in the 1970s, might ultimately fail to translate the political relations into tangible economic gains.
Despite the publicly declared "lust" for Chinese tourists, there currently exists a suffocating visa regime indiscriminately targeted at the Chinese.
Some analysts contend that the authorities fear that opening up the floodgates to 1,2 billion souls from China might have the adverse consequence of bringing in unwanted baggage — criminals escaping the clutches of the Chinese authorities.
China is presently in category ''C'' of the country's visa regime and everyone in China processes their visas in one office in Beijing, notwithstanding the fact that the Asian country has the fourth largest geographical spread in the world at 9,7 million square kilometres. It is not surprising therefore that of the 80 000 Chinese tourists that visited Southern Africa last year, the local market only got a mere 5 000 visitors.
Government believes that if it can only get 5 percent, or five million tourists, from the 100 million travellers that leave China every year, the country will be able to generate more than US$7,5 billion in tourism receipts.
The country last year managed to generate US$1 billion from the sector compared to South Africa, which raked in more than US$12 billion; and Tanzania, which banked more than US$1,7 billion.
However, Tourism and Hospitality Industry Minister Engineer Walter Mzembi indicated last week that it is possible for the country's tourism receipts to reach US$5 billion by 2020, roughly the same time when Chinese travellers are expected to double.
He noted, during the launch of the National Tourism Plan, that improving domestic arrivals was dependent on implementing the 1999 Yamoussoukro Declaration — a pledge by African countries to liberalise their skies as a foundation of growing tourism and improving intra-African trade — and relaxation of visa requirements.
At its peak in 1999, Zimbabwe had 48 international airlines landing at the Harare International Airport, making it busier than South Africa's OR Tambo International Airport.
The country has signed 50 air bilateral agreements and 16 airlines are currently flying into Zimbabwe.
The tourism ministry wants 34 more airlines to come.
Eng Mzembi is also of the opinion that Zimbabwe needs to scrap visas for the Chinese altogether.
"My view is that we should upgrade China to category 'B', which is visa on arrival or we put them on no visa at all," said Eng Mzembi.
Foreign Affairs view
Acting Foreign Affairs permanent secretary Mr Albert Chimbindi told The Sunday Mail Business last week that Government is in talks with the Chinese to facilitate the smooth flow of tourists and investors between the two countries.
"We are in discussions with China to ensure that we get more Chinese tourists and investors coming here.
"The Chinese are very important to us because they are our friends and they have a big population, so we would want them to come. More so, China was recently declared the second biggest economy in the world and we would definitely want to deal with them. . .
"Discussions don't end, remember we are not the only ones in these discussions; the Chinese are also involved and they have to play their part.
"The discussions are on a government-to-government basis; so, as we play our part the Chinese also play their part. But I have to emphasise that as the Ministry of Foreign Affairs, our core business is to advertise the country to the world so that everyone comes to work with us.
"Government has one policy of encouraging tourists and investors to come and all departments have the responsibility to advertise the country," said Mr Chimbindi.
Home Affairs take
Similarly, Home Affairs Minister Mr Kembo Mohadi indicated that Zimbabwe does not have problems with deliberately increasing the number of Chinese visitors.
He, however, said the ministry does not work in isolation but instead works with other ministries and departments to create an over-arching policy environment conducive for visitors.
"We don't act in isolation from other ministries. We are always informed by people from the Ministry of Foreign Affairs.
"But we feel that when relaxing the visa regime for the Chinese, it has to be reciprocal – they should also relax the visa requirements (for Zimbabweans travelling to China).
"On our part, we do not have problems with relaxing the visa regime if the Chinese people recommend that we do so.
"We do not have problems with having many visitors. A home that does not get visitors is not a good one," said Minister Mohadi.
He further claimed that the wholesale review of the visa regime for the Chinese was unlikely to lead to an influx of criminals, emphasising that "applying for a visa is not like applying for permanent residence; these are people with their homes and once the days they would have applied for lapse, they then go back to their country".
Despite Government's stated willingness to open up to the Chinese, Beijing officials continue to complain about the obtaining visa regime.
But, fatally, while the country continues to dither, other countries and international destinations are leaving no stone unturned to ensure that they get the lucrative piece of the new source market.
In the Netherlands, some airports offer trinkets to Chinese visitors especially during festivities marking the Chinese New Year.
Some destinations have even invested in translators to ensure that visitors have the ease of moving around, while policies have also been adjusted to accept the Chinese yuan at the same time offering payment platforms for China's main credit card, Union Pay. Such key incentives have been complemented by wholesale reforms in visa schemes across the world.
The United States of America, for example, now interviews prospective Chinese visitors online, and the visa collection points have even been put at more than 900 bank branches apart from collections from the embassy. Also, the Maldives deliberately put in place a visa-waiver scheme for this market.
There has obviously been demonstrable gains. Last year, Chinese arrivals into USA rose 22 percent, while tourists to the islands of the Maldives climbed 45 percent, contributing almost a third of the 1,1 million visitors recorded in 2013.
Assessments by experts indicated that Chinese citizens could only visit 44 countries without pre-arranged visa in 2013, compared to over 170 destinations for both the British and American travellers.
There were further studies that showed that a sizeable number of Chinese were postponing their foreign travel because of stringent visa requirements. That trend is now changing in a significant way.
Zimbabwe has tried to adapt to the changing world circumstances but there hasn't been any noticeable coordination between the public and private sector.
The Confucius institute, for instance, which facilitates linkages and exchanges between the University of Zimbabwe and Chinese universities, has since been integrated in academic structures. Since September 2007, the University of Zimbabwe offers Chinese Language and Cultural Studies as a Bachelor of Arts subject for undergraduate students.
The subject is also available to postgraduate students and students registered for Tourism and Hospitality Management as a minor.
Short courses are available to members of the public.
Markets continue to pour investments into understanding the demographics of Chinese tourists.
Over the past few years there has been an increase in recruitment of Mandarin-speaking staff, while Chinese-language websites and maps have also been launched.
Already, some international hotels are now offering Chinese television channels, menus with pictures, and congee (Chinese porridge) for breakfast. Such small details are widely regarded as key.
Aggressive and pro-active approaches are being developed.
While some markets used to wait for tourists to search for them, more and more tourism promotion authorities are seeking potential visitors out using the various Chinese search engines such as Baidu.com (the so-called Google of China) and Waibo (the application similar to Twitter).
It is estimated that more than 600 million Chinese are online; most importantly, about two-thirds use online websites to plan their itinerary. What might be of interest to policymakers is that research has shown that 80 percent of Chinese visitors consider shopping as key to their travel plans.
There is scope for the local market to benefit from these evolving trends if appropriate strategies are developed and executed, market watchers say. As the Asian country's economy and, by extension, its middle class continues to grow, outbound visitors are naturally expected to follow suit.
It is also claimed that there are slightly more than 20 million passport holders in China and as the number increases, travellers will go up as well. Recent statistics from listed hotelier African Sun in its interim financial results for the period ending March 31, 2014 seems to be encouraging.
As arrivals from Europe and Asia improved 5 percent and 25 percent recently, those from the USA and the African region declined 5 percent and 19 percent respectively.
Hope still remains that a coordinated and aggressive policy to lure visitors from Asia, especially from China, within the context of the National Tourism Plan launched last week will help to improve the fortunes of the tourism sector.