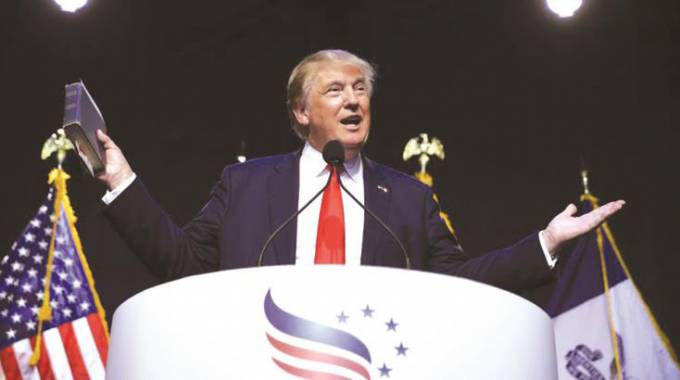 The Sunday Mail
Wendy Nyakurerwa-Matinde
Assistant Editor
The art of political persuasion is embedded in appealing to the inner being or to the attractive possibility of accessing daily needs and wants. That is why in the run up to elections, politicians will promise jobs, affordable healthcare, food and the like.
Successful politicians are good orators and listening to them is like savouring a delicacy.
Religion is built on the same tenets. Emotions are whipped up in order to appeal to the inner person through the prospects of a peaceful country, a less corrupt society, well-fed orphans and widows. Again, influential religious leaders are good orators.
And thus, religion and politics find themselves intertwined – they both sell attainable and unattainable dreams. While the line between a legitimate and an illegitimate mixture is not always easy to draw, it exists nevertheless, however blurred it is.
In this instalment for today, we focus on the "illegitimate mixture" – the political abuse of religion or the exploitation of God and faith in politics.
Apart from politicians that season their messages with the gospel to make the dish more palatable, we have also seen some drooling church leaders eagerly looking on the other side of fence.
In last year's general elections for example, we saw Apostolic Faith Mission's Dr Blessing Kasiyamhuru and Bethel Christian Party's Dr Willard Taonezvi Mugadza joining and being thrashed in the Presidential race.
The phenomenon might only be gathering momentum in Zimbabwe now but it is as old as time. The "God Strategy" as enunciated by David Domke and Kevin Coe has always been a part of politics.
In colonising Africa, Portuguese and English missionaries fought the battle of capturing the hearts and minds of the locals through religion. Everything else easily fell into place once our forefathers accepted that everlasting joy was in Heaven, not in earthly charms – humambo hwedu huri kudenga – and when you are slapped on the left cheek, kindly offer the right cheek for another slap.
In the United States, politicians also proudly employ the calculated, deliberate, and partisan use of faith as a weapon to attract voters, identify enemies, and solidify power. While the US Constitution prohibits any religious requirement for public office, almost all of the nation's Presidents have been Christians, including incumbent Mr Donald Trump who is a proud Presbyterian.
American Presidents are famous for their foreign policies, for speaking strongly on the alleged atrocities in third world countries, for blasting African countries for 'human rights violations' and then concluding their speeches with the ever-so-cliché 'God bless America'.
Jesus' main message is very simple and straightforward – help the needy, care for the sick, let there be peace and treat every man and woman as a brother and sister. In so many words, that voluminous Holy Book teaches us to love and take care of each other. The same goes for the Holy Quran, the Sruti texts, the Tipitaka, you name it.
Yet these notions have gotten convoluted along the way as politicians make religion the centrepiece of their political careers.
Now, the question that begs for an answer is whether the omnipresence of religion in African politics will eventually threaten African democracy? Does the current brand of religious politics put at risk Africa's founding fathers' vision of a democracy that protected the Church from the State and the State from the Church?
Again, could it be a coincidence that American and English politicking has found its way to African shores, with the new generation of leaders seemingly using the same modus operandi – that of charismatic preaching on the political podium. What happened to praying in private rooms, behind closed doors and far away from the public's eyes as instructed by the Holy Bible?
MDC Alliance leader Mr Nelson Chamisa prides himself in being a firm believer in Christ. Whenever he addresses gatherings, he is more than happy to remind his audience that he is a man of God, a man of character who could steer the ship in turbulent waters. He has even entered a distressed city on horseback.
Down South, they have their fair share of the young turks who are trying to swing the vote through religion. Mr Mmusi Maimane of the Democratic Alliance is a pastor who is not shy to use his evangelical faith as political leverage.
Fortunately, South African voters have noted with dismay that the great orator is still trying to discover himself, sounding like Nelson Mandela today and Barrack Obama the next day. As a result, election results that were trickling in by the time of going to print were pointing to Mr Maimane's embarrassing defeat at the recent SA polls.
But after all is said and done, who are we to judge? Let there be religion, let there be politics and let there be religious politics.
For feedback write to [email protected]