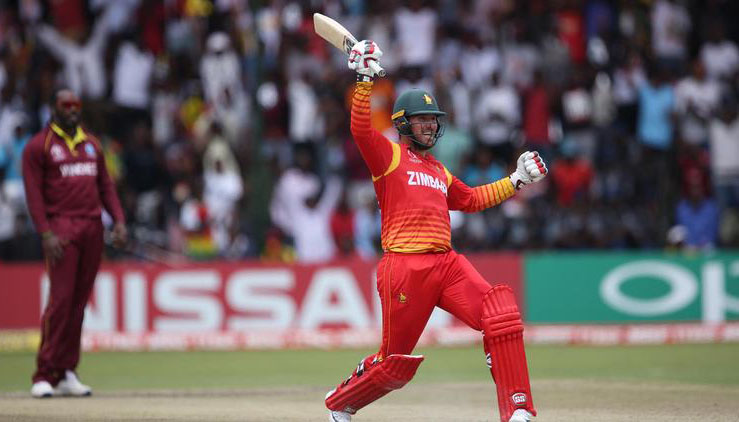 The Sunday Mail
AMID the pain of narrowly missing out on the 2019 ICC Cricket World Cup life has to go on for the Zimbabwe national cricket team.
We cannot mourn forever, we won't be in England next year even if our tears are to rival the way water flows in the mighty Victoria Falls.
We have to take it on the chin.
And in Brendan Taylor the country has a man who is the epitome of the future that we want, a future that sees national team players performing when it matters the most.
While questions are being asked about the top order Taylor, who was lured back from his County Stint with Nottinghamshire proved his class with a huge contribution during the World Cup qualifier which ends today.
The 32-year old Taylor finished the tournament as the highest run-scorer with 357 runs.
The batsman is playing so well that some are beginning to opine that "BT" has what it takes to be Zimbabwe cricket's GOAT – Greatest of All Time.
In terms of ODI runs Taylor sits on third position on the country's all-time list with 5 942 runs.
He is behind the Flower brothers, Grant with 6 571 and Andy Flower on 6 786.
Taylor's 10 hundreds have come in 180 innings in an international career that started in 2004 but was on ice for two years as BT County cricket.
Before taking that County route to play for Nottinghamshire, Taylor dazzled at the 2015 ICC Cricket World Cup in Australia, scoring 433 runs (the most by any Zimbabwean in a World Cup) in six innings at 72.16.
He scored his first hundred against Bangladesh (118*) at Chittagong in November 2009 and his highest score is 145 against South Africa in Bloemfontein in 2010.
Will one be far off to mention Taylor's name in the same sentence with the Flower Brothers and Alistair Campbell?
"I have played with people like Grant and Andy who were outstanding batters, BT is up there with those guys," reckons Zimbabwe cricket coach Heath Streak.
Streak recalls the early days of a skinny blond Taylor in international cricket.
"The one thing I remember bowling to Brandon as a youngster when he came in he just had a lot of time.
"When a kid comes in and he just looks like he has time you know he is destined for a great career," he said.
Taylor's first international cricket captain Tatenda "Tiba" Taibu concurs with Streak.
"He is obviously up there with the best in the world and in Zimbabwe.
"Without a doubt he will end up being one of the best, if not the best batsman to come out of Zimbabwe.
"We were both young though I was captain and had played for three years or maybe four years before he came in.
"We always knew that he had such talent, one of his greatest strength was that he played straight," said Taibu who was instrumental in urging Taylor to rescind his Kolpak decision.
Taylor's success is no coincidence, the guy works hard and sometimes if hard work is your weapon success will be your slave.
He also plays with his heart on his sleeve something he showed by an animated pep talk to his team mates during a drinks break when UAE where in control of their innings.
While all the talk is going on Taylor prefers to check on the stats once he is done playing the game.
"I have got a lot of cricket left in me," he said.
"Maybe it's best to judge me at the end of my career but at the moment I just staying in the present.
"I don't look into the individual stats to be honest. For me it's about how much you have contributed to the team and how many games you have contributed to winning."
However, Taylor admits that he is inspired by the two men who lead him on the ODI runs arena, the Flowers.
"They certainly have got the hard lanes in terms of what they did for Zimbabwe cricket, they are the pioneers in terms of really being ultimate professionals and working extremely hard on their game. That's why they have the numbers up there.
"They are players I certainly look up to and have certainly moulded me into a player that has had a fairly successful career for Zimbabwe.
"I am extremely proud of that, but at the end of the day they are very special cricketers in their own right.
"I just want to be my own player, offer a different style of cricket and potentially help my fellow players become better players as well," he said.