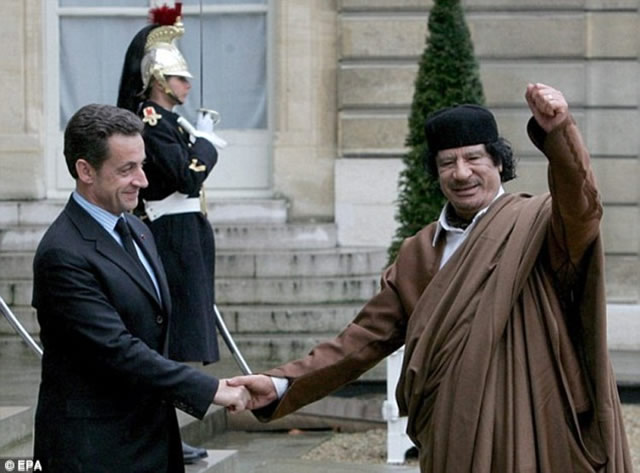 The Sunday Mail
As he was driven away from police cells in a black saloon with tinted windows this past week, the diminutive, unkempt passenger in the back seat could have been mistaken for a Parisian pimp arrested for hustling on the Champs-Elysées.
Yet this unshaven man was none other than Nicolas Sarkozy, the former French president who is facing up to 10 years in jail and a £400 000 fine after being charged with corruption and attempting to tamper with a criminal investigation.
Dubbed President Bling-Bling on account of his penchant for expensive watches and designer sunglasses, Sarkozy was released on Wednesday morning after becoming the first French leader in history to be held in police custody.
Once one of the most powerful men in the world, Sarkozy's abject humiliation was sealed in the early hours of that morning when, following 15 hours of questioning by detectives, he was hauled before an examining judge and had his rights read out.
Then, in a scene far removed from the pomp and luxury he enjoyed during five years in the Elysée Palace, he was unceremoniously charged with "active corruption", "influence peddling" and "violating the professional secrecy" of an active judicial inquiry.
Dishevelled and described by one witness as "looking like a broken man", the 59-year-old was freed on bail just before 2am.
He was then driven to the home he shares with Carla Bruni (46), the former supermodel who is his third wife.
Earlier, Sarkozy appeared on French television to denounce the way the country's judiciary has been turned into "a political instrument".
He accused investigators of "deliberately humiliating me", and said France  – "the country of human rights and the rule of law"- should not have to put up with left-wing judges who want to scupper his longed-for return to power.
Sarkozy's arrest, which made headlines around the world, marks an astonishing fall from grace for a man who loved power.
But, in truth, few in France are surprised by the allegations, which have left his plans to stand for re-election in 2017 in tatters.
For in spite of his slight stature – at 5ft 5in he's an inch shorter than Napoleon – Sarkozy has always been known as a man of enormous appetites, who spent money freely, particularly when it wasn't his own.
Indeed, as president, he famously ordered himself a £300 million Airbus A330, with a specially raised chair so he could look down on his officials.
The aircraft – which cost £50 million, but was fitted with £250 million worth of special designer features –  had an en-suite double bedroom, sealed with £1 million soundproofed doors and electric shutters for the windows.
While preaching austerity over the eurozone crisis, Sarkozy used taxpayers' cash to treat himself and Carla – a supermodel turned pop star – to a life of unparalleled privilege.
The presidential couple split their time between homes at the fabulous Elysee Palace in Paris, and three châteaux on luxurious estates outside the capital, as well as a "holiday castle" on the southern coast.
They also had access to a hunting lodge near the Pyrenees, and a brigade of guards at their round-the-clock disposal, with those over 6ft exempt from duties to avoid upsetting Sarkozy.
This magnificent property portfolio was maintained by dedicated staff, with millions in taxpayers' money going on the upkeep.
Sommeliers, cordon bleu chefs and scores of domestic staff all danced in attendance.
No wonder the former president's personal life fascinated the French.
He met his second wife, Cecilia, while officiating at her marriage to her first husband when Sarkozy was mayor of Neuilly, an upmarket Paris suburb.
At the time, he was married to Marie-Dominique Culioli, a devout Catholic from Corsica and mother of his two sons.
He was divorced for a second time in 2007, with Cecilia accusing him of behaving in a "ridiculous way, night-clubbing and singing karaoke with women until 4am.
"He's not conducting himself like a president".
Bruni, who famously declared "monogamy  bores me" just before she married Sarkozy in 2008, has stuck by him throughout his current legal travails.
Amid rumours of affairs by both Sarkozy and Carla, she had been expected by many to leave him after he lost the 2012 presidential election.
But her financial affairs will also be examined during the investigation, which centres on allegations that Sarkozy tried to pervert the course of justice as judges investigated the flow of millions of pounds of allegedly illegal cash into his election campaign coffers in 2007 and 2012.
Sarkozy cronies were said to have visited the elderly l'Oreal heiress Lilian Bettencourt, France's richest woman, to pick up brown envelopes that were stuffed with cash.
Her mansion was just round the corner from Sarkozy's home in Paris, and he was a personal friend, but he insisted he only went to see her and her late husband, Andre, "socially".
Sarkozy was cleared last year of taking advantage of an elderly woman while she was too frail to understand what she was doing, but his former campaign treasurer is one of ten people awaiting trial.
Many have questioned how Sarkozy, a notoriously controlling leader, could not have known what his loyal lieutenants were up to.
Those said to have given money to Sarkozy also include former Libyan leader Muammar Gaddafi, who was allegedly behind an astonishing £42 million donation.
Indeed, the Libyan leader claimed in 2011, as French and British jets spearheaded a military campaign that would end in his death, that "Sarkozy is mentally deficient.
"It's thanks to me he became president.
"We gave him the funds that allowed him to win".
The Gaddafi claims were dismissed at the time as the ranting of a deranged man.
However, soon after the alleged donation, Gaddafi was allowed to pitch his Bedouin tent in the centre of Paris for a state visit with Sarkozy.
Now Sarkozy faces a long period under investigation that could lead to a sensational trial, a fine of £400 000 and a jail sentence of up to ten years.
This is not the first time he or Carla have been in trouble over cash.
The former first lady came under scrutiny after millions from an AIDS charity to which she was an ambassador were paid to a close friend in the music industry.
She admitted the money had been paid to Julien Civange to promote her work, but denied that it came from public funds.
Carla made a great deal of money as a supermodel in the '90s.
She is also said to have inherited money from family in her native Italy.
Yet how the lavish lifestyle she enjoys with Sarkozy is funded has never been made public.
However, there is no suggestion of any wrongdoing on her part.
Sarkozy is, like his personal friend Tony Blair, available for hire as a private speaker, and is involved in lucrative investment funds, but his exact worth is not known.
What is certain, however, is that he and Carla have always styled themselves as members of France's glamorous super-rich.
But it is sleaze, rather than glamour, which may prove Sarkozy's legacy.
He is said to have offered an attractive job in Monaco to a judge named Gilbert Azibert in return for inside information about the progress of the investigation into the Gaddafi funding.
It is alleged Sarkozy phoned him constantly to ask what was going on in the inquiry – information to which he, as a potential defendant, was by no means entitled.
French prime minister Manuel Valls yesterday indicated that there was compelling evidence against Sarkozy, saying: "This situation is serious; the facts are serious."
The case was launched after judges looking into the alleged financing of Sarkozy's 2007 election campaign by Gaddafi obtained unprecedented authorisation to tap Sarkozy's phones.
Suspecting he had been bugged, Sarkozy is said to have used a dedicated mobile phone for secret conversations with judge Azibert.
The investigators reportedly made their breakthrough only when they discovered the existence of the second telephone – and bugged that as well.
Sarkozy, who was immune from prosecution while in office, has always insisted that he is innocent.
But Saif Al-Islam, Gaddafi's son, has repeatedly called on "this clown Sarkozy" to hand back the money given to him by his father.
Now being held by rebel militia in a mountain jail, Saif said: "We funded his election campaign – we have all the details and are ready to reveal everything. Give us back our money."
Rumours about Sarkozy and Gaddafi striking a deal intensified when a French website published documents alleging that 50 million euros were given by Gaddafi to one "NS" (Nicolas Sarkozy) for campaign financing, laundered through bank accounts in Switzerland and Panama.
The deal had allegedly been struck in 2005, and was negotiated by an arms dealer connected to the French government.
But Sarkozy led calls to overthrow Gaddafi during an uprising in 2011 – and French jets were used to strafe Gaddafi's convoy as he tried to flee, leading to his capture and death.
One Libyan rebel fighter, who reputedly fired the shot that killed Gaddafi, was subsequently airlifted by private jet to hospital in France after being captured and tortured by unknown assailants.
Time will tell what other secrets emerge from Sarkozy's colourful, controversial life.
But for now, the strutting peacock with the supermodel wife is facing the gravest crisis of his career. – Daily Mail.