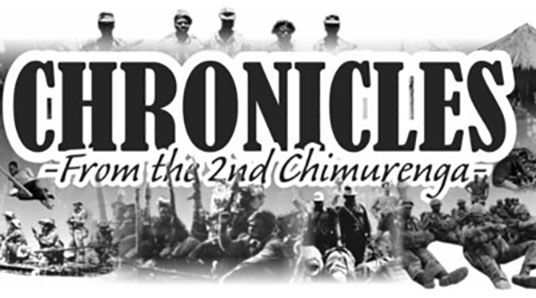 The Sunday Mail
WE conclude our discussion with Cde Jacqueline Mukanganyama Tutani (jt), who took an active role during the hard-fought war of liberation, as a fighter, war materials courier and senior medical officer. Read on as she narrates her gripping story to our Senior Reporter TENDAI CHARA (TC) which includes her experiences during the last days of the bitterly-fought liberation war. Cde Mukanganyama Tutani, whose Chimurenga name was Lavender Pirai, will also discuss with us the part that she took during the early days of the land redistribution exercise.
*****
TC: Last week, we ended our discussion with you narrating to us some of the challenges that your group faced as you transported, on foot, war materials from bases in Mozambique to the war zone in Gaza Province. Kindly continue from where you left off.
JT: Like I said previously, we were in a very tight corner. At the war front, the enemy was hunting for us as if it was hunting for game. There was no safe place for us. The routes that we used to ferry the war material were littered with landmines and the water sources were poisoned. Ambushes were common and we were losing so many comrades. We could not simply abandon the war and return home, that would be tantamount to committing suicide. During the war, sell-outs were killed there and then.
TC: From Praia Beach where did you go?
JT: The intelligence that we gathered indicated that the Rhodesian army was planning to attack our base. It was then decided that we return to Xai Xai. We, however, stayed briefly at Xai Xai as we were moved further to Doroi, in Manica province. Doroi was a transit camp. When I arrived at Doroi, I became very sick. I would occasionally feel dizzy and would sometimes collapse and lose consciousness. The effects of the chemical warfare agents were taking a heavy toll on me.
Cde Mupunzarima, who was a member of the General Staff, decided that since I was not fit to conduct physically demanding assignments due to ill-health, I was assigned to a group of cadres that was compiling what we called the Three Check-ups. The group was compiling the personal details of those that will be coming for training. The recruits' personal records would then be kept for future reference.
Some of the records were destroyed when bases came under attack from the enemy. I was fortunate in that when both Tembwe and Chimoio bases were attacked, I had left the bases barely weeks before the attacks. However, I was always deployed to the war zones where fighting was most intense. I worked closely with Cde Mupunzarima, who later became a member of the High Command. Sadly, we lost him after he was ambushed and killed when he was going for a Three Check-Ups exercise.
TC: So you were now stationed at Doroi?
JT: Yes, and that was in 1979 and the war, as you are aware, was coming to an end.
The commanders at Doroi told me that I was doing my job well and it was decided that I should go to Tanzania for further training. During that stint in Tanzania, we were also taught typewriting and secretarial services as we were being prepared for life after the war. From Tanzania, I returned to Doroi where I was stationed up until the end of the war.
TC: Tell us more about the Three Check-ups.
JT: It was a sort of an investigative exercise. We would interview new recruits, jotting down their history, such things as, where they were coming from and how they ended up at the bases and so forth. These were important background checks. From Doroi, we travelled to almost all the other bases in Mozambique, compiling such vital information. It was a thorough vetting exercise.
During this exercise, I was given other responsibilities and I was now also a detachment security officer. The information that we gathered on the new recruits would determine where each individual recruit would be posted. We were looking at a number of factors such as the level of education and other qualifications. We had a lot of students that were coming in from such schools as Mount Selinda, Sunnyside, Mutambara and St Augustine's among others. The war was fought by mostly the youths, from 14 years of age upwards.
The youths constituted the majority of the fighters. I am not saying older people did not take part in the actual fighting. I am saying the youths were in the majority. Like I said previously, there was a sort of a spirit, a wave that was driving the youths to join the war. At one time, Mutambara High School students abandoned their studies and crossed into Mozambique, resulting in the closure of the school.
TC: What were some of the problems that you faced as you travelled throughout Mozambique compiling this information?
JT: The biggest challenges were the lack of medical supplies and the acute food and clothing shortages. We did not have blankets so we were using sacks as blankets most of the times. We sometimes slept in the rain, with nowhere to find shelter. However, we were resilient and determined to win the war. We could rarely become sick despite the fact that we were living like wild animals.
As a medical officer, I sometimes had to carry injured comrades on my back for long distances during the exercise. We could also sometimes get ambushed. Since we often travelled long distances on foot, we could not carry enough medical supplies. We could only carry the basic medical tools and mostly painkillers and bandages.
TC: From Doroi, where did you go to?
JT: Using Doroi as our base, we were moving around bases doing the check-ups. I worked closely with Cde Vicky Mamvura, who was my classmate at Chipembere Primary School in Highfields. She is a close friend up until this day. As we were busy compiling the records, we were not even aware of the fact that a ceasefire had been agreed upon during the Lancaster House Conference.
It took us weeks to finally get wind of the latest developments. We were finally told about the ceasefire and I returned home using the same route that I had used when I was coming to Mozambique to join the war. We were taken to the Dzapasi Assembly Point, where I continued with my duties as a medical officer. Dzapasi was one of the major assembly points, we also had Dendera and others. I stayed at Dzapasi for three months, if I am not mistaken, before deserting the camp and hiking to Goromonzi and finally Harare.
TC: Why did you leave the assembly point without permission?
JT: We were both excited and impatient to go home. We heard that some of our fellow fighters had already returned to their homes, so we just decided to go home without being cleared.
I later trained as a secretary and typist before joining the Zimbabwe National Army where I served from 1981 up until 2006.
I was part of the group that spearheaded the land reform exercise as we moved around invading farms. We started by invading farms around the Goromonzi area before moving to Beatrice and subsequently Nyabira, in Mashonaland West.
In this pioneering group, we had the likes of Cdes Chemhere, Mutingwende, Sando Kano, George Rutanhire and George Rushiri among others. I am now a full-time farmer.