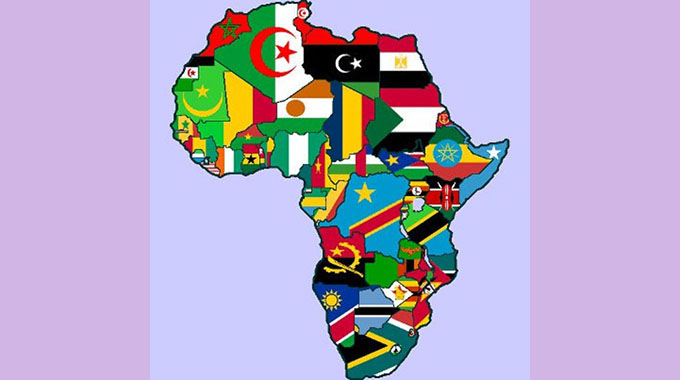 The Sunday Mail
Vision 2030
Allen Choruma
AS we celebrate Africa Day tomorrow, let it be a celebration of our heritage, diversity, solidarity, unity and development.
Let us be reminded to work tirelessly to build the "Africa we want", leveraging on our enormous natural resources and human capabilities for the benefit of current and future generations.
Africa Day celebrations are subdued this year due to fear and panic caused by the Covid-19 pandemic. As we battle the disease, we should remember to lift our eyes and see beyond this pandemic.
Nelson Mandela once said: "I learned that courage was not the absence of fear but the triumph over it."
The "Africa we want" cannot be created if we remain stuck in fear and despondency.
AU Agenda 2063
The African Union (AU) Agenda 2063 themed "The Africa we want" is anchored on seven aspirations: a prosperous Africa based on inclusive growth and sustainable development; an integrated continent based on ideals of Pan-Africanism and African Renaissance; an Africa of good governance; democracy and respect for human rights and rule of law; a peaceful and secure Africa; an Africa with strong cultural identity and common heritage and values; an Africa whose development is inclusive and people-driven and unleashing potential of its women and youths; and a strong, united, resilient and influential global player and partner.
But this Africa cannot be created if we do not change our mindset.
We need to start believing in ourselves and our capabilities. For if we do not trust ourselves, why should other people believe in us?
Single African story
We need to regain lost ground, reclaim the space that others have used and shatter the stereotypes.
Negative perceptions of Africa, portrayed in the so-called "single African story", that create the impression that Africa is one country, have tended to overshadow great things coming out of Africa. These perceptions have become the basis for racist attitudes displayed towards Africans to this day. Without a counter response from African journalists, scholars, writers, politicians, and others, these narratives about Africa will remain unchallenged, and many Africans will begin to believe them.
Take these words by Nigerian writer Chimamanda Ngozi Adichie, for instance: "If I had not grown up in Nigeria, and if all I knew about Africa were popular images, I too would think that Africa was a place of beautiful landscapes, beautiful animals, and incomprehensible people, fighting senseless wars, dying of poverty and Aids, unable to speak for themselves and waiting to be saved by a kind, white foreigner."
This single African narrative has not been authored by Africans — it has been written by people who enslaved Africans, colonised Africa, looted African resources and impoverished African people. As Professor Patrice Lumumba puts it: "The day will come when history will speak. Africa will write its own history, it will be a history of glory and dignity."
Sadly, that day may never come unless we take bold steps to rise up and tell our own stories, that reflect our rich and diverse languages and cultures from 54 countries that make up Africa.
Education
Colonialism may have gone, but the vestiges of colonial mentality and education systems are still around.
Learners are taught using education systems rooted in colonial education syllabi, an offshoot from Western cultures that seek to obliterate African civilisation and its rich cultural heritage.
Religion has also played its part in this systemic erasure of African civilisation and cultural heritage. African author, scholar and philosopher, Professor Mandivamba Rukuni, in his book "Being Afrikan", highlights that erosion of African civilisation came about with foreign education systems and religions imposed on Africans through colonialism.
This marked the birth of perennial conflicts between African cultures on one hand and foreign education systems and religions on the other. This created confusion among Africans where anything to do with African culture was seen as backward.
We need to make our education systems relevant to Africa and fit for our own purposes. Education systems across our diverse continent should reflect our great African heritage, inspired by our values.
Resources
Africa's underdevelopment is not due to scarcity of human capabilities and natural resources.
Statistics by the AU show that Africa holds a significant amount of the world's resources (12 percent oil, 42 percent gold, 80 to 90 percent chromium and platinum group metals, and 60 percent arable land).  We have not leveraged on these enormous resources for our own benefit, instead we have allowed people outside Africa to exploit our resources for a pittance.
Through corruption, we have allowed international corporations and oligarchs, unrestricted access to loot. Precious resources such as diamonds and gold are smuggled out of Africa and proceeds stashed offshore by individuals and companies instead of being used for development of our economies.
"It is well known that (African) central banks are sitting on almost US$500 billion of reserves and in general, these are held outside (Africa) financing US and European debt,"  said Benedict Oramah, President of Afreximbank, during a recent interview.
Paradoxically, Oramah says, "it is those same countries (US and European countries) that tell their banks that it is too risky to lend to Africa, and who subsequently withdraw their credit lines to the continent for compliance reasons".
It is high time we take control of our resources and bring them onshore to finance development and social transformation and reduce inequality and poverty across the continent.
Disrupting colonial economic models
Most African countries have perpetuated the colonial models that kept us in the extractive stage and export of low value primary products prone to price volatility on global markets, while factories and industries were built and jobs created in Europe, USA and elsewhere.
This model worked well for European countries as they used African raw materials and produced finished products which were sold back to Africa at higher prices.
Reliance on export of primary commodities, if perpetuated, will keep Africa poor.
According to Akinwumi Adesina, President of the African Development Bank (AfDB), Africa produces about 75 percent of world's cocoa but receives a paltry 5 percent (US$5 billion) of the US$100 billion global annual chocolate market share.
In a nutshell, the "Africa we want" can only be created if we think afresh and come up with innovative ideas that disrupt these inherited colonial economic models that serve the interests of former colonial states.
The AU commodities strategy, "value addition for global competitiveness", which seeks to leverage and add value to Africa's natural resources, is a game changer if African countries implement it fully.
Take the disruption being caused by Africa's richest man, Aliko Dangote, for instance. He has taken beneficiation of Nigeria's oil to another level.  Up until the Dangote project, Nigeria, the biggest crude oil producer in Africa, exported crude oil and imported, at higher cost, processed petroleum products.
The Dangote Group is constructing the biggest integrated oil refinery and petrochemical complex in Africa, at a cost US$15 billion (US$10 billion refinery, US$2,5 billion fertiliser plant and US$2,5 billion pipeline infrastructure), creating 9 000 direct jobs and 25 000 downstream jobs.
With capacity to process 650 000 crude oil barrels a day, the refinery is set to transform Nigeria into a producer and net exporter of petrochemical products and fertilisers by year 2022.
Not all doom and gloom
Africa has made great strides in a lot of areas, developments one would not ordinarily see in Western mainstream media.
The continent has made tremendous progress in infrastructure development, agriculture, Information Communication Technology, education, health, arts and sport, among other sectors. The face of Africa is rapidly changing — progressively reshaping its economic and social development contours. AfDB projects that Africa will be the next growth frontier, surpassing Asia.
African countries are looking for partnerships elsewhere after decades of US and European Union domination of global political and economic architecture. African countries now look at Western development aid with caution as it perpetuates the imperialistic donor-recipient, subservient legacy.
As the balance of power is shifting and being counterbalanced with the rise of China and other emerging economies such as Russia, India and Brazil, Africa now has options on who it wants to do business with and under what conditions.
According to an AfreximBank (Africa) and Exim Bank (India) 2018 report —"Developing South-South Collaboration: An Analysis of Africa and India's Trade and Investment" — trade between Africa and India is on the rise. India-Africa trade between 2001 and 2014 increased tenfold, making the Asian giant Africa's fourth largest trading partner.
Africa now accounts for close to 10 percent of India's total external trade.
China, however, remains the biggest partner in Africa's development programmes through the Belt and Road Initiative.
Leveraging on AfCFTA, youth
The African Continental Free Trade Area (AfCFTA) launched at the 12th Extraordinary Summit of the African Union (AU) in Niamey, Niger, in July 2019, is a milestone set to break trade barriers imposed on African states via colonialism. According to Afreximbank, intra-Africa trade is a paltry 15 percent (US$170 billion) of total continental trade compared to internal European trade, which stands at 70 percent (US$6 trillion).
African leaders, after decades of procrastination, have now come to accept the old adage that there is strength in numbers.
AfCFTA, which becomes operational in July 2020, with Ghana hosting its secretariat, is set to become the world's biggest economic trading bloc integrating 54 countries with 1,2 billion people and a combined GDP of US$3,4 trillion.
AfCFTA will allow free movement of people, goods, services, labour and capital cross Africa. What is needed now is strong political will to implement AfCFTA for it to start to bear fruits. As Africa scales greater heights we should not forget the aspirations of the youth.
Out of Africa's 1,2 billion people, 60 percent (720 million), are below the age of 24.
African countries need to create inclusive economies that provide opportunities, jobs and wealth for these young Africans.
African journalists
The voices of African journalists need to influence change, monitor progress and critique shortcomings of AU transformation programmes and give praise, where it is due.
There are so many things going right in Africa. African journalists should report on that progress and counter negative coverage on Africa from Western media.
African journalists should stop whining about wrongdoing and tell the world the good coming out of the motherland.
Unless African journalists learn to give praise where it is due, we will continue in the same mould of the so called "single African story" that others have used, for self-interest, to stereotype Africa as a spectacle of laughter in Western media.
The "Africa we want" is not hypothetical, it is real. But to create it, Africans need to unite and work tirelessly to guard our resources — leveraging on them for our common good, creating opportunities for the youth and reducing levels of inequality and poverty across Africa.
Feedback: [email protected]