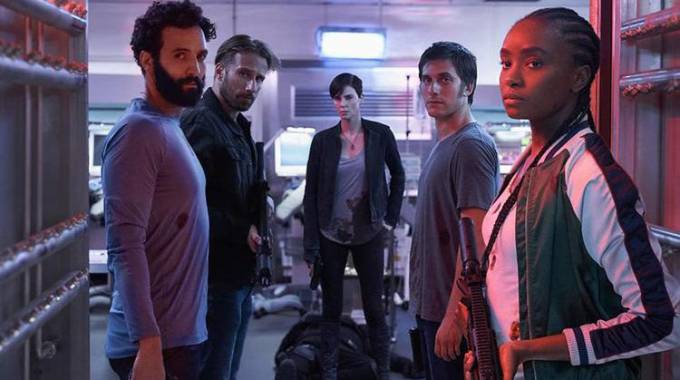 The Sunday Mail
Tinashe Kusema
LET me start with a confession.
I enjoyed "The Old Guard" more than I thought I would. The production is not so polished but still has a sting.
There were enough positives to justify excitement for a proper superhero trilogy, which I understand is Skydance Media's new thrust.
My gripe, however, is with the film's star Charlize Theron, who ran her mouth while promoting the movie.
She put too much pressure on her performance and the movie as a whole, and, in turn, failed to deliver.
But before going into details, let me give you a quick run-through of the movie.
"The Old Guard" tells the story of four-centuries-old warriors – Andy (Theron), Booker (Matthias Schoenaerts), Joe (Marwan Kenzari) and Nicky (Luca Marinelli) – who have regenerative healing abilities and have used their gifts to fight injustices for some time.
However, despite efforts to remain in the background, their existence has not gone unnoticed, as a former CIA operative James Copley (Chiwetel Ejiofor) enlists the help of a greedy pharmaceutical tycoon, Steven Merrick (Harry Melling), in the hope of capturing them and trying to use their gifts to heal the world.
Also, the four immortals are soon joined by a fifth member, Nile Freeman (Kiki Layne), who is a former US Marine who gets her throat slit and triggers her powers.
Insofar as plots go, this is as generic as it comes, but I am willing to let it slide if this forms an origins story and we get more captivating plots in the second and third installments of this Greg Rucka adaptation.
The film perfectly leaves a trail of breadcrumbs or clues for an even big and better story.
Performance-wise, the two leads, Theron (Andy) and Layne (Nile), stand head and shoulders above the rest.
Their mentor-mentee relationship forms the nucleus of the film.
It is sad that the film's antagonist Steven Merrick fails to live up to expectations.
After all, what is a good hero without a good foe?
Merrick has the swagger, some promising dialogue and nothing else to offer beyond that.
The film's biggest merit is the action sequences that are devoid of any CGI and I think the choice to employ the same trainers and team behind Keanu Reeves and the John Wick franchise was a masterstroke.
Back to Theron.
In anticipation of this movie, I came across an article clip in which Theron made some unsavoury words towards the nineties action star Steven Seagal.
She actually 'fat-shamed' the now 68-year-old American actor.
Appearing on Howard Stern's radio show, she said: "At night I'll go online to watch fighters or watch people fight and you always come across that odd Seagal video of him 'fighting' in Japan, but he really isn't," she said.
"He's just incredibly overweight and pushing people. He's overweight and can barely fight … look it up, it's ridiculous. He's shoving people by the face. It's a whole set-up."
"I have no problem talking s*** about him because he's not very nice to women……!" she quips.
Now, I do not have the nitty-gritty of their beef, if there is, but there is no excuse for fat-shaming.
I bet had the roles been reversed and it was a man saying nasty things about a nineties female star, this movie would have suffered a stillbirth.
Hashtag "metoo" placard-waving women would invade every one of the film's promotional events pushing for an apology.
But that is the least of my concerns.
I think that the South African-born actress, Theron, is not a top-grade action star to be making such statements.
Her stoic and lifeless performances in movies like "Atomic Blonde" and now "The Old Guard" sums it all up.
In my sleep, I can name two dozen actresses better-placed to be making such claims, and those with necessary credibility to speak on behalf of the gender and genre.
Linda Hamilton, Milla Jovovich, Uma Thuram, Maggie Q, Gina Carano, Cynthia Rothrock, Kelly Hu, Kate Beckinsale, Zoe Saldana and Michelle Rodriguez are just about a few of the more common names in the genre.
More than half of them know how to fight, or wield a weapon, and do not just pretend and rely on stunt doubles.
For someone who has no training whatsoever, it is beyond funny that she chooses to go for someone proficient in Aikido, karate, judo and Brazilian Jiu-Jitsu, among other disciplines.
Insofar as his weight goes, that is what happens to men with age, and when one stops working out.