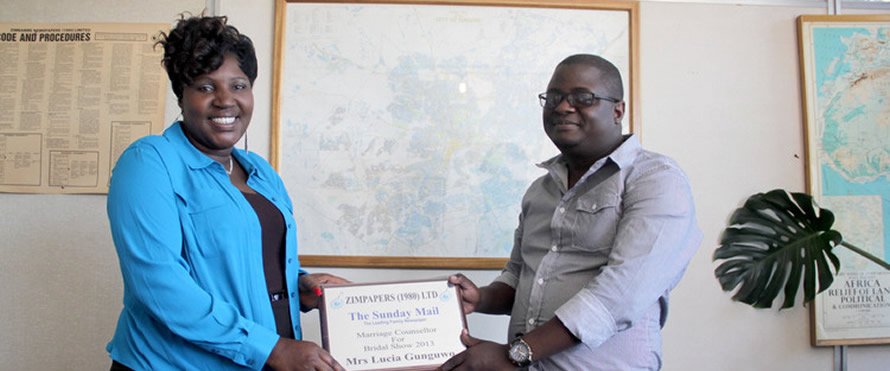 The Sunday Mail
Leisure Reporter
The Sunday Mail Bride of the Year competition wishes to extend gratitude to its sponsors who made last week's event a huge success.The sponsors include Rainbow Tourism Group, Exquisite Fragrances, Brides and Dames, VIP Hosting, Clare Events, Tonjis Hiring, Goldtech Electronics, Rose Bridal, Stephen Margolis, Serenity Village, KenChris Graphics, Just Wedding Cars, Events Gurus, Oreac Events, Jan Jam Fashions, Digital Moments, Bridal Essentials and Pandhari Hotel.
Stephen Margolis Resort
Stephen Margolis Resort is a conference and wedding resort and this year it has offered its support for this noble cause. They boast of a conference centre, multiple venues for different events, luxurious accommodation, secure parking and 24-hour back-up generator. The Stephen Margolis Resort provides for everyone's needs, offering a very personal service in a truly intimate atmosphere.
Stephen Margolis Resort is nestled away in a quiet corner of the capital city and it sits hidden from capital craze on a gently sloping valley in Waterfalls. The resort has beautifully manicured gardens surrounded by indigenous tress and stunning rock formations. Stephen Margolis Resort wedding package includes a PA system and DJ, tables and chairs, waiters, changing rooms, table linen and serviettes, cutlery, crockery and glassware, a full-time co-ordinator, a complimentary honeymoon suite stay on the evening of the wedding for the bridal couple as well as two accommodation lodges for the couple's guests.
Their conference package includes indoor and outdoor facilities in a beautiful auditorium and gardens which cater for up to 1 000 delegates. Equipment on offer for the conference package includes tables, chairs, flip chart and markers, projector and screen, notepads, pens, mints, cordials, mineral water while a PA system, television and DVD facilities are available for hire.
Clare Events
Clare Events (Pvt) Limited is an events management company registered under Zimbabwean law which is into managing and carrying out different types of events including corporate events, themed events and parties, private events, expos, wedding planning, workshops and décor.
The company is also into the hiring out of equipment which includes tables, chairs and tents. Clare has a large database of complimentary service providers who can make any event a success. Clare was formed early 2012 with a view to providing, planning and managing all types of events from the Hollywood Superstar style events to the very traditional African style events.
Rose Bridal
Rose Bridal Shop is based in Borrowdale West and specialises exclusively in the popular Alfred Angelo International bridal label. Alfred Angelo is the world's leading maker of wedding gowns and bridesmaid dresses from the USA. The Rose Bridal family has been dressing brides for over a decade. Rose Bridal has been making every bride's look stunning on her wedding day. From simple wedding dresses to elegant mermaid styles and dramatic ball gowns, Rose Bridal promises your Alfred Angelo wedding gown will be the most spectacular gown a bride can wear. A bride must be prepared to fall in love with our designs at first sight.
With their wonderful use of detailing, gorgeous modern styling, and spectacular looks, the gowns are truly one-of-a-kind. When you walk down the aisle, you will be glad to be wearing a design from this line.
The Bridal Collection includes a broad range of silhouettes, in beautiful fabrics, embellished with exquisite embroideries, beading and laces. Alfred Angelo has been dressing brides for almost 80 years .Thousands of women have shared in their great legacy.
Rose Bridal is proud to be bringing the best designer quality gown in the world to the doorstep of the Zimbabwean Bride at an affordable price.
Goldtech Electronics
Goldtech Electronics is a leading supplier of various cellphone handsets, cellphone accessories and electronic consumables. It is an integrated enterprise that has a well-defined and developed scope of operations.
They pride in a consistently high level of service and state-of-the art technology and their products are imported from reputable sources and are durable and of high quality.
Goldtech Electronics has a highly qualified pool of personnel to attend to everyone's needs. Goldtech Electronics exists to partner with their clients and provide a one-stop shop that delivers cellphones and electronic solutions to both domestic and industrial users. Their primary focus is to supply their valued customers with state-of-the-art solutions to all cellphone and electronic problems.
They dedicate their efforts to quality services through providing quality products. Their primary focus is to supply their valued customers with state-of-the-art solutions to all cellphone and electronic problems with a continuous cycle of technological upgrades and improvements, keeping you up to date with current and upcoming products.
Just Wedding Cars
As their specialty area, wedding car hire is something Just Wedding Cars takes great pride in. They are able to offer chauffeur-driven wedding car hire in all areas of Zimbabwe, and can offer brides and grooms-to-be the pick of the finest vehicles in the country. From state-of-the-art Range Rovers for the groom and best man, you won't find a larger choice of beautiful wedding cars with any other company. Just tell them the number of Range Rover, S-Class Mercedes, H2 Hummer, Chrysler 300c Hemi, GL Mercedes, Jeep Wrangler, motorbike escorts, and vintage cars you want and it's a done deal.
Just Wedding Cars is an established company with many years of experience. With their wealth of expertise, they are able to offer a highly professional and dedicated luxury chauffeur-driven car hire service.
At Just Wedding Cars, they say that experience has taught them that every occasion is different. For this reason, they don't offer a one-size-fits-all service. Instead they work with each individual client to create a bespoke transport package incorporating all of their specific needs.
Exquisite Fragrances
Exquisite Fragrances is a distributor of perfumes and roll-ons which are very popular with both men and women through direct selling in Zimbabwe. They strive to restore people's dignity, status and image through all-day freshness at a fair price. Exquisite Fragrances offers different types of scents suitable for everyone from smart, sport, romantic, sensual, seductive, exotic, sophisticated, dynamic and powerful.
Their perfumes come in 50ml for men and 30ml for women and roll-ons for both sexes in 50ml. Exquisite Fragrances has branches in Harare, Mutare and Bulawayo. Exquisite Fragrances has adopted the following values: their clients who use their products and services must always be of the highest quality and at a fair price, their agents must be fairly and adequately compensated and they uphold community responsibility values by supporting good deeds and charity.
Exquisite Fragrances' primary goals are "product availability through direct marketing as they bring the product to the client through their trained agents, ensure stakeholders' satisfaction by seeing to it that they have a win-win situation with everyone involved and provide business opportunities and additional income to alleviate poverty and reduce unemployment in Zimbabwe.
Serenity Village
Serenity Village is a fast-growing events management organisation which boasts of the serene environment and a beautiful landscape garden that is complemented by state-of-the-art design, lighting and unique fresh decorum.
Despite offering the exotic garden experience suitable for weddings, corporate events and private functions, Serenity Village also offers services such as tents, tables, chairs, full decoration, florist services, events management and wedding co-ordination.
The co-ordinators at Serenity Village strive to give each event or wedding a personalised feel, move with the current trends, think outside the box and maintain high standards of excellence in service delivery.
Helen Chirodza, the sales and administration executive for Serenity Village, added that at Serenity Village, they understand that people have different tastes and they endeavour to meet each and every person's needs.
"At Serenity Village we take into account that every person is unique and different from the other and to meet every person's needs we give a touch of diversity and individuality to every event we plan," explained Chirodza.
Pandhari Hotels
Pandhari Hotels pride in being a unique hotel group providing a rare combination of serenity within the city with the added convenience of full business facilities. Pandhari comprises of three different wings. The first is the chic Main Lodge, the Elegant White House and the luxurious Garden Court. All of them are within easy reach of each other and, where necessary, there is always a shuttle service available for use by their valued guests.
They have done some background work on their organisation and believe that they have a value proposition which one needs to look at as they believe that they should be enjoying the advantages of excellent services through Pandhari Hotels. They focus on the detail so that their clients can focus on the results. They have state-of-the–art conference rooms, the largest accommodating up to 500 and 30 people in the smallest.
Pandhari is a celebrated luxury hotel, famous for its spacious accommodation. It has three suites, four executive rooms and 68 standard rooms. Their luxurious accommodation has been lavishly designed and decorated for the comfort and pampering of their guests.
Pandhari Lodge boasts 3 wedding venues, a unique deck area overlooking the pool, taking up to 300 guests, the main deck overlooking the tennis and basketball courts accommodating 100 guests and the spacious thatched gazebo with a capacity of 500 guests. The hotel is situated in a mountainous locality and the guests enjoy walks around the scenic neighbourhood. They also offer tennis, basketball and swimming facilities under floodlight. For guests who love the wild, they can make arrangements for game drives at a local wildlife sanctuary.
VIP Hosting
Boasting of the largest and most unique lounge and cocktail inventory in the country, VIP Hosting, a full service event management and infrastructure firm, owes its success to taking great pride in the work they do for their clients.
Are you a discerning customer who is particular about the service offered to you and always require value for your money? Then VIP Hosting is your ultimate choice for exhibitions, design, décor and hire. Creative director Lungie Dlodlo said passion for this kind of business drove her to achieve her dreams to start an events management company which prides itself in having qualified flower arrangers, event managers and an in-house designer stand-building team for exhibitions. Dlodlo added that most of their products are made in-house and therefore they can be tailor made according to a client's particular taste and needs.
"Our products are innovative and technologically advanced, our client services team and the amount of effort we put into each event is what sets us apart, we always get very involved in the functions we are tasked with and take great care in making sure the customers' needs are met. Our huge inventory of the latest trends on the event industry market also helps," she said.
Events Gurus
Events Gurus Zimbabwe is an affordable specialist equipment hire company established in 2013 to supply special events equipment for diplomatic events, weddings, product launches, corporate cocktail parties, corporate dinners, birthday parties and funerals. Their inventory includes fancy chiavarri chairs in gold, silver and glass. Other chairs on their list are fancy white and red couches and a large stock of plastic chairs. They also have beautiful Wimbledon folding chairs in white and have exclusive table linen and décor material, cutlery, crockery, glass vases, red and white runners, an exquisite range of chandeliers and an amazing range of glassware.
Whether your function is large or small, the Events Gurus team will ensure that your event is a total success. Events Gurus turn ordinary events into unforgettable experiences. They believe that they are a team of perfectionists with an obsession for detail so they always ensure spectacular and top-notch events. They boast of a rare team that rises to any challenge and believes in creating lasting memories.
Jan Jam
Menswear, the company that sponsored Sabastian Magacha's performance at the bridal gala and dressed one of the emcees and two male models on the night, is a leading fashion house which specialises in men's clothing.
Located at corner of First Street and Nelson Mandela, Jan Jam strives to be the biggest fashion house in the country in the next five years by opening several branches around the country and continuing to be visible through partnering events like The Sunday Mail Bridal Gala, Expo and many other programmes.
Through endorsement deals with artistes such as Magacha and, recently, Soul Musaka aka Soul Jah Love, the company continues to appeal to men who seek to stay ahead in terms of style.
The company's managing director, Cynthia Sithole, said she was elated to be part of the bridal gala and would continue to be associated with The Sunday Mail and all of its activities such the Baby of the Year. "The Sunday Mail is a big brand and to be associated with such a company means that one does not plan to remain small. Our intention is to grow and be as big a brand as that of The Sunday Mail by ensuring that our shops are everywhere in Zimbabwe."