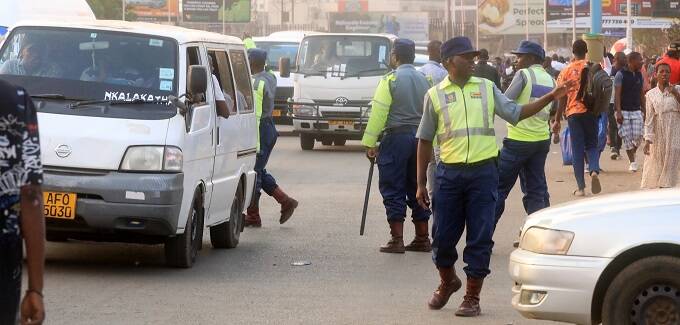 The Sunday Mail
Veronica Gwaze
IN recent years, most urban centres across the country have been turned into chaotic jungles, where lawlessness and disorderly conduct reign supreme.
Vendors, who go about their business in undesignated areas, have been the major drivers of chaos and confusion.
In most urban centres, illegal vendors have taken over pavements, where they sell all types of goods.
Some of the sellers even have the audacity to roast mealie cobs right in the middle of the crowded pavements.
They encroach on roads and shop entrances. Muggings are now a common occurrence in most urban areas, and so is littering.
Errant road users — some of whom are notorious for driving against oncoming traffic — have been giving the authorities sleepless nights.
Pirate taxis, commonly known as mishikashika, continue to be a menace, with urban councils seemingly failing to get a permanent solution to this scourge.
Pickpockets, who operate from areas that are overcrowded, have become a thorn in the flesh of residents.
The public does not feel safe anymore.
Of late, transport challenges have become common. Commuters struggle to get transport to and from work.
This has exposed commuters to robberies and even rape. Newly elected council officials, therefore, have a tall order to bring sanity to urban areas.
Noise
Noise pollution is now common in most urban settlements, with churches being the major contributors.
In Harare, churches are now conducting their services right in the middle of the city during working hours. Loud noise from city buildings where the churches are located has become the order of day.
Touts and vendors are also contributing significantly to noise pollution.
Street preachers and performers, who ply their trade using open-air sound systems, are making life unbearable for urban dwellers.
It is against this background that the Harare City Council and other urban local authorities throughout the country are mulling plans to conduct operations that seek to rid settlements of unwanted elements and bring order.
Harare City Council acting spokesperson Mr Hope Chizuzu said the local authority is concerned about the lawlessness that is taking place in the Central Business District (CBD).
The council, according to Mr Chizuzu, will soon embark on an operation that will bring sanity to the streets.
He singled out the proliferation of illegal liquor stores as one of the major issues the crackdown will try to address.
"We are aware of the mushrooming of Illegal liquor stores. Council will soon act and weed out the culprits," he said.
Liquor stores
The biggest challenge Harare is facing is the mushrooming of liquor stores in the CBD.
The rate at which these outlets are sprouting is alarming.
Liquor store operators are allowing their clients to consume alcohol outside their premises.
Revellers drink while standing on pavements, with their vehicles dangerously parked on road verges. They play loud music while enjoying themselves.
Without ablution facilities, the drinkers relieve themselves in alleys and dispose of empty beer bottles wherever they want.
The resulting acrid smells are unbearable.
In most cases, the liquor stores operate well beyond the stipulated operating hours.
Apart from dealing with the illegal liquor stores, the Harare City Council will also have to find ways of putting to an end the practice of selling alcohol from car boots.
The showground and City Sports Centre area is frequented by people who buy alcohol that is sold from car boots.
In the CBD, the former Ximex Mall area has also been turned into a thriving liquor selling point.
Alcohol is also being sold at the Copacabana bus terminus; along Kwame Nkrumah Avenue (adjacent to the Parkade); and along Robert Mugabe Way (between First Street and Second Street).
Residential areas are also not being spared. In most residential areas in Harare, illegal liquor outlets are sprouting.
The emergence of the liquor stores is exposing residents, including minor children, to some unruly elements.
Some of the liquor stores are being opened near school premises.
Investigations by The Sunday Mail Society confirmed that the majority of these liquor outlets are operating without licences.
This menace is not only confined to Harare.
In Bulawayo, there is a liquor store that operates close to Milton Junior School.
"I do not feel comfortable anymore. I am considering transferring my son to another school," said a parent whose child attends the educational institution.
Mr Gideon Ziwira, a Masvingo resident, said something must be done to stop the proliferation of liquor stores and illegal taverns.
"This must not be allowed to continue. We cannot be seen to be encouraging drunkenness and lawlessness," Mr Ziwira said.
Liquor store operator Mr Lincoln Mutongwizo said some of the people who run the illegal outlets are well-known.
The Ministry of Local Government and Public Works is concerned about the lawlessness in most urban settlements.
The rise in the number of illegal liquor stores is one of the developments the ministry is worried about.
Mr Gabriel Masvora, the ministry's spokesperson, said by-laws dictate that liquor stores should be less than 40 percent of the total number of retail shops in any particular city or town.
Currently, there are at least 11 000 licensed liquor stores countrywide.
"We are currently undertaking a verification exercise, which will establish the exact number since we have noted the proliferation of liquor outlets throughout the country," Mr Masvora said.
He said the increase in the number of liquor stores might be contributing to the drug and substance abuse menace across the country.
Most of these liquor outlets sell alcohol to teenagers. No wonder the rising cases in which learners get drunk or are caught with alcohol on school premises.
Mr Masvora said closing illegal liquor stores will contribute positively towards Government's fight against drug and substance abuse.
The culprits
From as early as 9am daily, most of the liquor stores in the Harare city centre will be open for business.
The majority of people who frequent the stores are touts, illegal money changers and vendors, among others.
While the law prohibits the selling of alcohol to those under the legal age of majority, liquor stores often sell beer to anyone, regardless of age.
When drunk, these people become a public nuisance, harassing whoever they come across. Some of the liquor store operators are believed to get their supplies from smugglers.
Earlier this year, police cracked a smuggling racket and seized an assortment of alcoholic beverages worth over US$100 000, which had been illegally brought into the country.
The contraband included gin, wines, lagers, ciders and mixers.
Last year, nine buses were intercepted and impounded for carrying smuggled alcohol and other goods worth thousands of US dollars.
"We also continue to act on culprits who operate beyond stipulated hours and those who consume alcohol in public. Once we spot the culprits, we enforce the law," said National police spokesperson Assistant Commissioner Paul Nyathi.
Blitz
The Liquor Licensing Board, in conjunction with the Zimbabwe Republic Police and other stakeholders, is set to launch an operation aimed at clamping down on the proliferation of liquor stores across towns and cities. Asst Comm Nyathi said unlicensed liquor stores will be shut down and those who sell alcohol from car boots will be arrested.
"We want to bring law and order and, as such, we are going to frequently conduct raids to weed out those who are breaking the law," Assist Comm Nyathi said.
Collective action
Harare Residents Trust executive director Mr Precious Shumba said most CBDs across the country have become unsafe places for the public.
He said there is an urgent need for the authorities to work jointly and put corrective measures in place to deal with the chaos.
"Government, municipalities, law-enforcement agencies and the general public must come together and make determined efforts to bring sanity to the urban areas," Mr Shumba said.