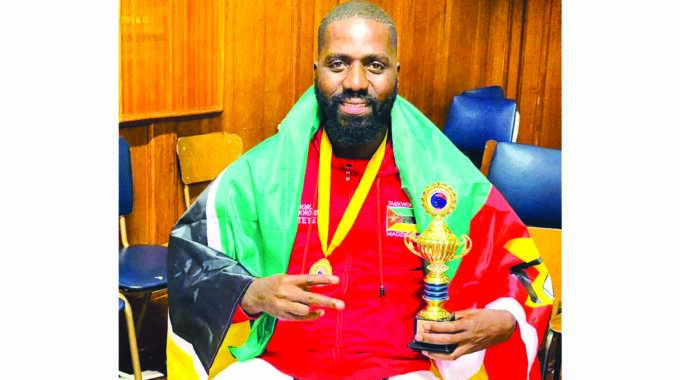 The Sunday Mail
Deputy Sports Editor
ITAYI SANGO won gold at the Zimbabwe Open Taekwondo Championship at the Bulawayo Milton Junior School Pavilion a fortnight ago before an appreciative crowd.
It turned out to be his first medal on home soil.
However, Sango is considered a Mozambican fighter and is also based in the neighbouring country.
At the recent tournament held in Zimbabwe, he was just happy to be home.
"Words cannot fully explain how it felt to be back home," said the 39-year-old prize-fighter.
"Just to be back home and to be able to speak in my mother tongue (Shona) again was just something else," he said.
"I remember, one of the first things I did on arriving in Zimbabwe was to order sadza and vegetables (no meat), as I had missed it so dearly.
"Given that my presence at the tournament had been widely covered, I managed to get as many of my old friends and acquaintances to come to watch me fight.
"It was also special as my parents were there to watch me fight live for the first time, while other people drove from as far as Mutare, Harare and Masvingo just to watch.
"The result was an electric atmosphere, one I felt as I walked onto the mat for the first time. I felt the ground shake."
The tournament had fighters from regional countries such as Botswana, Zambia, Malawi, Mozambique and Eswatini, including hosts Zimbabwe.
"I was pleasantly surprised by the high level of competition.
"The hosts (Zimbabwe) did a good job in entertaining us as visiting nations, and the fights were up there in terms of competitiveness. It felt good to win at home and in front of parents and friends," Sango said.
The trip back home was cathartic, especially after his previous attempt to fight in Zimbabwe, ironically for the same championships, did not end well.
Although he was invited for the 2018 edition of the tournament, Sango and three other Mozambique fighters were involved in a car accident that cost him six weeks of his career.
The accident occurred in Kotwa, some 50 kilometres from the Zimbabwe-Mozambique border.
They were lucky to escape with only minor injuries, which later required rehabilitation before they could fight again.
"Yes, we were lucky that God looked after us during this trip.
"We travelled safely to and from Bulawayo, and everyone arrived without any complaints or injuries," he said.