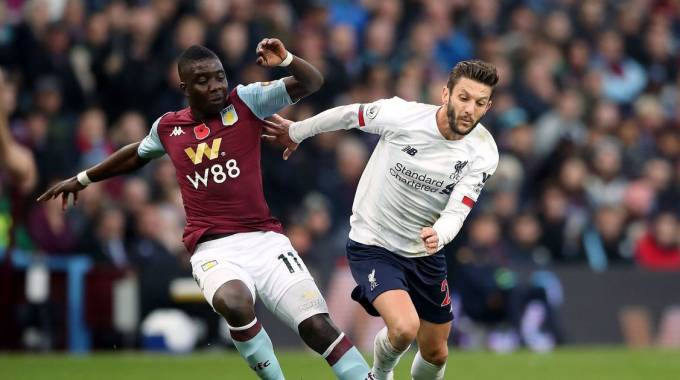 The Sunday Mail
Langton Nyakwenda
Sports Reporter
Perhaps it is fate, or simply a case of the football gods designing yet another Cinderella story. Marvelous Nakamba made his Premier League debut against West Ham on September 16, 2019 and will end an eventful season in a do-or-die match against the Hammers at 5pm today.
Nakamba's Aston Villa are in a battle to stay in the Premier League. With 34 points from 37 matches, Villa are one place above the relegation zone, courtesy of a mere goal difference, and need to beat West Ham at the London Stadium to ensure they remain in the world's most lucrative league.
A draw for Villa will do, provided Watford, who are third from bottom with 34 points, do not get a result at Arsenal.
Villa can still survive with a loss, if both Watford and AFC Bournemouth suffer defeats in their respective matches.
It has been dubbed a Super Sunday: A survival series that has seen the race to avoid relegation go to the wire.
It is also a day that sees the battle for a top-four finish featuring the highly anticipated Leicester City versus Manchester United clash, in which the Red Devils just require a point to confirm a Champions League place.
Chelsea also need a point against Wolves to confirm a top-four slot. It is a Super Sunday that has drawn widespread interest from Zimbabweans across the globe, given that one of their own — Nakamba — is in the thick of things. It has been a nervy week for the Warriors star, who spent over 30 minutes talking to his father on the phone after Aston Villa's crucial 1-0 home win against Arsenal last Tuesday night.
"It has been really hard and stressful for Marve," Nakamba's father, Antony, told The Sunday Mail Sport.
"Sometimes you could feel the boy was not well through his voice on the phone, but after the win against Arsenal, he seems to have regained the confidence.
"We talked for about 30 minutes on the phone after that win against Arsenal and the boy was so excited.
"Then he said, 'now let's wait for the final game on Sunday'," revealed Antony.
That win against Arsenal was Villa's first at home against the Gunners in almost 22 years. Nakamba came on for Connor Houriane in the 73rd minute and did enough to earn some praise from Birmingham Live, who cover Aston Villa extensively.
"(He) mopped up when needed to and was there to muck in as Arsenal piled it in late on," wrote Birmingham Live.
That victory against Arsenal, coupled with Watford's 4-0 hammering at Manchester City, revived Aston Villa's hope of survival.
And for the Nakamba family, whose son earns over £50 000 pounds a week at Villa, it has been a stressful season.
"In fact, all of us, the family, we started believing after that 1-1 draw against Everton. Otherwise this whole season has been very stressful.
"Hopefully Aston Villa stay up. If we pull through then next year expect fireworks," Antony Nakamba said.
Marvelous has 28 appearances, nine as a substitute,and has now played a total of 1 821 minutes for Villa since making his debut against West Ham on September 16 2019.
An injury that he incurred at the 2019 African Cup of Nations in Egypt ruled him out of Villa's opening matches of the 2019-2020 season until September when he finally made his Premiership bow.
His performances have drawn mixed reactions, with some questioning his forward play.
Nakamba is yet to score in the Premiership and at times he has been accused of shying away from play, preferring to get involved only when the team in defending.
He has come on as a late substitute in Villa's last six consecutive matches, after losing his place in the starting XI to Dean Smith's preferred trio of Douglas Luiz, John McGin and Houriane.
However, former Warriors coach Charles Mhlauri, who has seen Nakamba develop as he is close to Methembe Ndlovu, the player's mentor at Bantu Rovers Academy, thinks otherwise.
"I have seen Nakamba progress over the years because I am very close to his mentor, Methembe,"  Mhlauri said from his base in the United States.
"It would be nice if his club Aston Villa stay in the Premier League so that he can develop further.
"Playing in the Premier League is a great achievement for both the player and Zimbabwean football in general.
"I think he (Nakamba) has done exceptionally well, given that this was his debut season in this highly demanding league.
"He has been coming off the bench in recent games, but what is important is that he has been playing his role.
"As Zimbabwe, we should be proud of Nakamba because the Premier League is the leading league in the world. It's good for Zimbabwean football if he stays in this top division," said Mhlauri.
ZIFA's technical director, Wilson Mutekede, sees Nakamba as a good advert of the country's football products.
"It is quite inevitable that Marvelous should be in the Premiership. He is serving as an ambassador of Zimbabwean football.
"Given that he is a product of our own local developmental structures, he automatically becomes the epitome of what we as Zimbabwe can produce in terms of talent.
"If he stays up, then he will have another chance to market other Zimbabwean players. Through Nakamba, other top European clubs will have an idea of what Zimbabwean players can do.
"We hope he stays in the Premiership," said Mutekede.
Former Dynamos and Zimbabwe international defender Chamunoda Musanhu, now based in the United Kingdom, has also been following Nakamba and feels the player's critics have been unfair."We have been following his games with keen interest and I think the young boy has tried his best in his first season in one of the best and toughest leagues in the world.
"The Premier League is a tough league and one has to dig deep, but I can see that he is settling in well.
Probably we will see a different Nakamba next year because he now knows what's needed.
"When he came on as a substitute against Arsenal (last week), he was good.
His tackling was spot on and you could see he was playing according to his coach's instructions.
"Yes, at first it wasn't that easy for the boy, but personally I am noting some improvements," Musanhu said.
When making his Premiership bow, Nakamba became only the fourth Zimbabwean after legends Bruce Grobelaar, Peter Ndlovu and Benjani Mwaruwari to achieve that feat.
Now it is against West Ham today that Nakamba's Premiership fate could be decided, and Zimbabweans back home and abroad will, just like in September last year, be keenly following proceedings at the London Stadium.