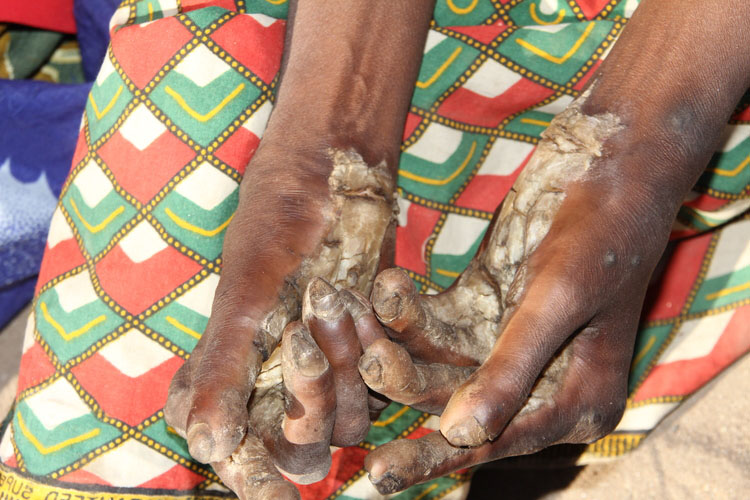 The Sunday Mail
Emmanuel Kafe recently in Nyanga
It is mid-afternoon and 49-year-old Ronica Kembo drags herself to a nearby shrub to answer the call of nature.
As she crawls, her eldest daughter, Chisina, sits in the sandy soil under a mango tree eating the only meal of the day. Not far from her, Nhamo, the second daughter, looks exhausted and in pain.
They all last walked upright as toddlers, when a rare condition resulted in hunched backs and disability. Most striking on the mother and her two daughters are bloody, cracked heels and palms.
Chisina and Nhamo, both in their 20s, sired children after an arrangement with two men that they would help them get pregnant and then move on with their own lives. The two ladies bore children with similar conditions to them.
The children, said to be aged eight – they do not have birth records – are not in school. Ronica says medical doctors have failed to explain the medical condition that seems to run in the family.
The Sunday Mail last week visited the family in Kagosa village in Nyanga under Ruwangwe district in Chief Malo's area.
"It all began when I was young, I developed some wounds on my heels and palms and my father thought they would heal," recounts Ronica. "They never bothered to send me to hospital at that time, but they got worse and I could not walk."
Ronica, like her two daughters, last walked before she turned three years old. She blames the condition on her mother, whom she alleges was involved in occultism and witchcraft.
"It is my mother who went to Malawi to look for goblins because she wanted to be rich and when she abandoned the goblins that is when I started having the problem," she alleges.
She says the day her father learned about what her mother had got the family into, he committed suicide. A few days after her father's burial, Ronica's mother died after a "short and strange illness".
"I have been to Nyanga and Regina Coeli, where a certain doctor tried to treat me, but was unsuccessful, before I was referred to Harare.
"In Harare, I saw some doctors who were open enough to suggest my condition was rare and advised that I also seek traditional interventions," said Ronica.
Elim Pentecostal Church Reverend Harry Mhlanga says the family's affliction is spiritual.
"These diseases have been there in the Bible and they need spiritual to cleansing," he says.
Dematologist Dr Donald Mutangadura said the condition is known as keratoderma – a marked thickening of the skin.
"This medical condition is also known as keratosis and it is inheritable," he said. The family – apart from blankets and food rations from Elim Pentecostal and the Emmanuel High School community – literally has nothing to survive on.
Food and clothes are limited, sanitary ware is a nightmare and there is a shortage of blankets. The family lives in two small pole and dagga structures with a poorly thatched roof. Nhamo insists the family can fend for itself if empowered.
She says is a seamstress and getting a sewing machine could transform their lives. She adds that their mother is a skilled potter.
Those wishing to assist the Kembo family can contact The Sunday Mail between Tuesday and Saturday on +26304702442 or visit Herald House, Fourth Floor, corner George Silundika Avenue and Sam Nujoma Street, Harare