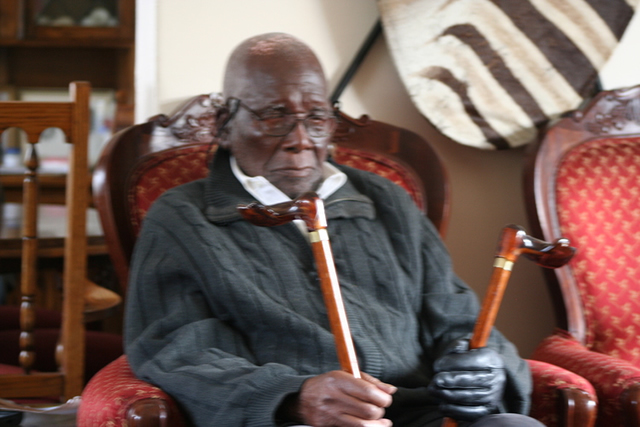 The Sunday Mail
Lawson Mabhena
He was reported by the Rhodesian Press as being the first "native millionaire" and was the first transport operator to bring a diesel-powered bus to Matabeleland.
Prior to that, Cde Tafi Moyo was an ordinary, oppressed black man in a country under a ruthless white minority government.
He had problems transporting his chickens to Bulawyo for sale as there was limited space in buses that were crowded with passengers and luggage.
To resolve this, he came up with the idea of loading goods atop the bus on a "carrier". One bus operator agreed to let him try out this idea, which led him to opening Perks and Crailer, a metal works company that was based in Bulawayo.
The carrier is now synonymous with "chicken" buses.
Now 108 years old, the pioneering businessman remembers his friend, Vice-President Joshua Nkomo, who died in this winter month 15 years ago.
"I met Nkomo at his father's homestead in Semokwe Reserve. He was a grown man then, although his siblings were very young and I would give them a lift to school. When he left the rural areas we remained close friends as his house in Barbourfields was near my home in Mzilikazi suburb's O Square.
"Whenever he wanted to travel in order to attend various meetings, I gave him my vehicle and a driver who drove him. I remember (one) time I drove him myself to Kezi, Mbembeswana and Malaba," Cde Moyo told us in an interview at his Bulawayo home last Thursday.
Cde Moyo worked with Dr Nkomo right at the start of the fight for Independence and saw the formation, banning and disbanding of all the political parties the late Vice President formed.
He and Dr Nkomo started their fight for equal rights before the formation of the country's first political party, the African National Congress in 1949.
When Sir Raphael "Roy" Welensky, who later became the second prime minister of the Federation of Rhodesia and Nyasaland, hosted a meeting in the early 1950s to drum up support for the union, Dr Nkomo, Cde Moyo and the late Cde Charlton Cezani Ngcebetsha represented Southern Rhodesian blacks as delegates to the meeting.
The three were among the first nationalists who protested creation of the federation.
"During the meeting at Lake Nyasa, all the delegates were asked about what they thought about federation except for us. I then raised my hand and said: 'What you are telling us is what you will do for us and not what we want. So why did you call us here? You want us (Southern Rhodesia) to be a path for Nyasaland, Northern Rhodesia and Botswana?' I immediately resigned from the meeting. I did not even eat their food. I bought some food and shared with the workers at the hotel.
"After the meeting, Ngcebetsha and Nkomo told me that they were in agreement with me," the humble Cde Moyo — who does not count himself among the country's liberators — says.
Perhaps one of his major contributions to the struggle for Independence was the 330 pounds he gave Dr Nkomo as airfare to attend the Federation Conference in London, a meeting that eventually led to the disbandment of the federation.
He strongly believes Dr Nkomo was an astute leader whose magnanimous character cannot be easily found. Dr Nkomo, he says, fought for the basic rights black Zimbabweans did not enjoy before taking up arms.
"We had no rights and we were not allowed to buy land, even if we had the money. I once bought a farm in Khami and after making all the payments the farm owner was so happy he even gave me some calves. But when I was about to move onto the farm, the white regime said I was not allowed to own such fertile land.
"I went to Harare where I was given someone who would show me the 'right' land for blacks. The man took me to Sedemanyemba, a place full of river sand. I was not even allowed to have a lot of cattle on the piece of land as there was a shortage of grazing space. I refused to settle there as I could keep more cattle at my rural home.
"It was events like these that would get Nkomo working. He started to mobilise the people using issues like that of land, which he was very passionate about."
Dr Nkomo's political work came at a price. He, and other nationalists like President Mugabe, would be confined to their rural homes and, eventually, prison.
The support services Cde Moyo gave nationalist leaders like Dr Nkomo landed him in Wha Wha, Gonakudzingwa and Marondera prisons.
"When Nkomo got detained at his brother's homestead in Simukwe and Mugabe got detained in Zvimba, we had to come up with a plan as to how the two would continue to communicate. I volunteered to transport letters between the two. I knew Semokwe very well and I had been to Zvimba once as a maselengwana (slave) for three years.
"Nkomo warned me about not taking this duty seriously as the Rhodesians would kill me if they caught me with the letters. The enemy eventually got wind of the fact that I was transporting letters between the two and I had to dump my typewriter – which they were using (to write letters) – in a river to conceal the evidence."
When the Rhodesian forces upped their war against freedom fighters, Cde Moyo cheated death after having visited Dr Nkomo's house in Zambia just before it was bombed. Rhodesian commandos disguised as Zambian troops attacked the home in a predawn raid on April 13, 1979.
On various occasions when Dr Nkomo was imprisoned, Cde Moyo was to assist his wife, MaFuyana, and their children with groceries and moral support.
"Sometimes when I was driving from the rural areas and happened to hit some hares along the way, I would take one to my family and one to Nkomo's family," he reminisces.
After Independence, Dr Nkomo and Cde Moyo would take separate paths – politics and business, respectively. However, they would remain close friends, brothers even, united by the marriage of their children; Dr Nkomo's son Sibangilizwe, and Mr Moyo's daughter, Sipiwo.
Dr Nkomo would also jokingly refer to his youngest daughter, Sehlule, as Cde Moyo's wife.
Mr Moyo, whose Try Again stores and buses have been a part of rural Matabeleland for decades, started with chickens before selling goats. He later went into cattle, which he drove all the way from Kezi to Bulawayo.
Before buying his first van, a Nissan Vanette, he got around by scotch cart. His first bus was an Albeon.
He had four wives, MaMnkandla, MaNdlovu, MaNcube and MaDube, who are all late, and 20 children. Five of the children died over the years.