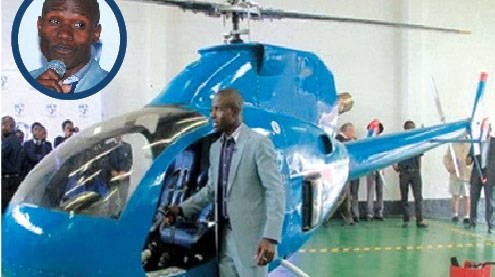 The Sunday Mail
Allen Choruma
Vision 2030
AS the world drives towards the Fourth Industrial Revolution (4IR) — Science, Technology, Engineering and Mathematics (STEM) subjects have become indispensable.
To become a higher middle-income country by 2030, Zimbabwe needs to invest significant financial and human resources in STEM.
Economic growth, job creation and poverty alleviation — the key aspects of Vision 2030, require significant investment of our national resources in STEM.
Zimbabweans cannot talk of industrialisation, beneficiation of mineral and agricultural resources and growth of critical economic sectors without a deliberate policy that supports the development of STEM.
Successful implementation of a national STEM programme will produce thinkers, innovators, problem solvers, creators, inventors, scientists and professionals such as engineers, astronauts, pilots, physicists, computer programmers, doctors, chemists and entrepreneurs whose skills are needed to steer the country towards attainment of Vision 2030.
The thrust for STEM should be on creativity, ingenuity, innovation, problem solving, development of new ideas, knowledge application, use of technology, improvement of quality of life, development and so on.
The 4IR is technologically driven, hence the need for Zimbabwe to restructure and re-orient its education sector so that learners from an early age, are exposed to STEM subjects.
Re-launch of STEM
The Minister of Higher and Tertiary Education, Science and Technology Development, Professor Amon Murwira, did well by re-launching STEM in 2018.
Prof Murwira's objective was to first focus on capacitating teachers in the fields of Science and Mathematics through training, hence the launch of the Science and Mathematics Secondary Teachers Training Programme, launched in Gweru in 2018.
According to the ministry's strategy, trained teachers would in turn be able train learners in various STEM disciplines.
Three teachers' training colleges —  Mkoba, Masvingo and Joshua Mqabuko Nkomo colleges were initially earmarked to enrol students under the STEM teachers training programme, with plans to roll out the training programme to all colleges across the country.
In order to promote STEM in our education system, there is a need to modify our education system and curriculum, and invest in significant resources.
These include financial, infrastructure, innovation hubs, training of STEM teachers (tutors and lecturers) and offer incentives to schools and colleges.
There is also a need to offer a stimulating environment and incentives to learners (scholarships, bursaries, grants, loans), reward innovators and create opportunities for innovators.
A lot of planning, resources, discipline and political will to implement STEM programmes is required so that it does not turn out to be "mere talk and less action".
Education 5.0
Government's innovation "priority" programme dubbed Education 5.0, is a policy intervention in the right direction.
Zimbabwe's Education 5.0 policy provides the foundation for a STEM-driven education system aimed at industrialisation of our economy in line with Vision 2030 and creation of jobs and opportunities for the youths.
Commercialisation
of technology
Innovative solutions coming out of our schools, colleges and universities should be commercialised as part of our industrialisation programme.
A lot of innovative ideas that are displayed by our students and innovators at fairs, shows and so on, do not end up being transformed into commercial products, goods and services that can be purchased for economic benefit.
We have seen of late innovative ICT products from the Harare Institute of Technology, like the ZUPCO tap and go card, which has enabled the bus company to digitise its ticketing system.
This is an example of an innovative product which can be commercialised.
In the wake of Covid-19, many of our colleges and universities have also come up with innovative products, in the form of sanitisers and personal protective equipment.
We expect innovation from our institutions of learning to go beyond that and produce high tech medical equipment, drugs and vaccines that can be used to combat and cure diseases.
Indigenous innovator
Zimbabwe has produced outstanding men and women in the field of innovation.
Sadly, most have not been able to go beyond "showcasing" of their technical skills and products at public events. We have seen very few commercial products on local and international markets that are designed or produced by our own indigenous innovators.
The Herald recently carried an article, titled: "Zim innovator breaks into global hi-tech commercial sector", which highlighted achievements of Maxwell Sangulani Chikumbutso.
According to the article, Chikumbutso, now based in California, United States of America is widely acclaimed for his innovations that include the world's first evergreen powered generator which can produce electricity using radio frequencies.
He has also designed and built an electric powered vehicle, hybrid helicopter and drone using rudimentary materials sourced locally. In the US he has designed hi-tech security and surveillance systems, traffic safety and lighting systems, MSED powered home lights, among other ground breaking innovations.
Chikumbutso, through his company, Saith Technologies, which he plans to list on the New York Stock Exchange (NYSE), is now moving into commercialisation of his innovative products and will soon launch his hi-tech products on global markets.
Sadly, Zimbabwe lost this innovation guru and entrepreneur to the US, which has offered him more opportunities and incentives to grow his innovative ideas into commercial products for global markets.
The US and not Zimbabwe, will benefit directly from our own innovation genius, but it is never too late for us, for starters, to simply recognise our local innovative talents and create a conducive environment at home for incubating, growing and retaining indigenous innovators and entrepreneurs.
Innovation
Innovation can change the face of Zimbabwe and bring about change in a relatively short period of time and even under the most extraordinary situations.
Zimbabwe's abundant natural and mineral resources, which we boast of, can only change our economic situation drastically if we are innovative enough to make these resources work to our benefit through value addition, setting up industrial plants, manufacturing industries at home, creating thousands of jobs and alleviating poverty in our beloved country.
Through innovation, science and technology, Zimbabwe can become a manufacturing hub and an exporter of finished products sold on regional and global markets earning us foreign currency needed for economic growth and sustainable development.
Vision 2030, among other interventions, can be realised quickly if we invest in STEM and come up with innovative ideas, plans, models, and products and services that disrupt inherited colonial legacies and economic models that make people dependent and rely
on importing goods and services from other countries draining the limited
foreign currency resources at our disposal.
Feedback: [email protected]