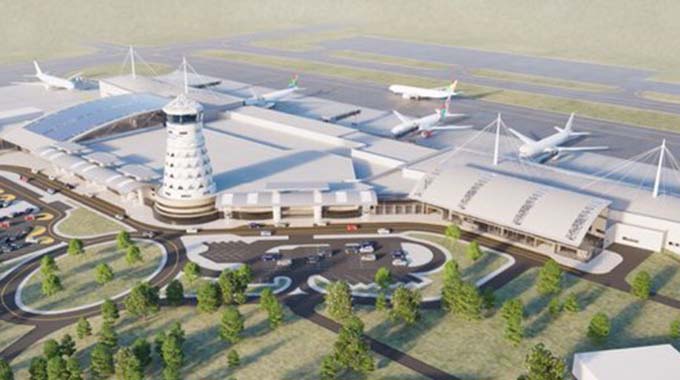 The Sunday Mail
Lea Mutanda
Chinese contractors who are working on the US$153 million expansion of Robert Gabriel Mugabe (RGM) International Airport have completed 96 percent of the foundation, while significant progress has been made on both the ground floor and concrete works, it has been learnt.
Modernising the country's main airport is part of Government efforts to spruce up aviation infrastructure across the country, which is expected to attract international airlines and passengers. The ongoing facelift of RGM International Airport by China Jiangsu International would increase passenger handling capacity to more than six million annually from the present 2,5 million.
Civil Aviation Authority of Zimbabwe (CAAZ) public relations and communications manager Mrs Annajulia Hungwe told The Sunday Mail that 30 percent of the project was now complete.
"In August 2018, we started the rehabilitation of Robert Gabriel Mugabe International Airport. The rehabilitation works are on course and going as planned," she said.
"The foundation works are now on 96 percent, with the ground floor at 62 percent and concrete works on schedule.
"We are facing few setbacks but we are moving as planned, and we are currently on the 30 percent mark, which is on track."
Overall, the project will be completed by next year.
The scope of the current works includes refurbishment of the domestic terminal building and construction of a new VVIP pavilion that has a separate apron and access roads.
Both the navigation equipment and airfield lighting will be upgraded, while the satellite fire station would be relocated.
Further, there will be additional aero-bridges to accommodate aircraft like the B777s and B787s. The car park will be transformed into a multi-storey facility with capacity to handle hundreds of vehicles.
CAAZ says although the current rains are slowing down progress, the project remains on course.
"The project is ongoing and currently in its infancy, with primary focus on the concrete works.
"Naturally, construction projects are affected by the weather. We are facing a few setbacks and the project in question is not spared by the rains currently being experienced.
"But besides that, the rehabilitation works at the airport are going as planned and we are hoping that by 2021 everything will be finished."