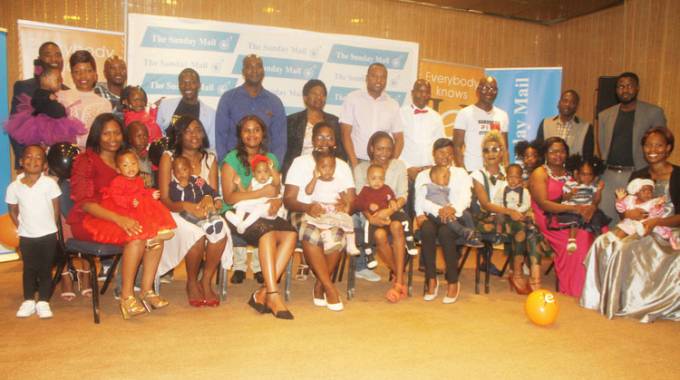 The Sunday Mail
Andrew Moyo
THE Sunday Mail Jet Baby of the Year 2018 competition reached its climax last weekend with lucky babies receiving their prizes at a glittering ceremony held at Rainbow Towers Hotel in Harare.
Those who came first in the various categories walked away with $300 cash prizes and certificates courtesy of The Sunday Mail, as well as $300 worth of shopping vouchers from Jet Stores.
Second placed winners received $200 cash prizes, certificates and $200 worth of shopping vouchers, also courtesy of The Sunday Mail and Jet Stores respectively.
This time around, there was also the breastfeeding and sponsors' choice categories, where winners received $100 cash prizes.
In running the competition, Jet Stores has been The Sunday Mail's traditional partner for the past few years. This time around, the Ministry of Health and Child Care also came on board, thereby added flair to this noble initiative. In the 0-12 months girls category, Makanaka Chipombo walked away with the first prize while Maita Khloe Tsikira came second.
Anenyasha Alvern Mutingwende and Kunashe Quinton Manyero won first and second prizes respectively in the boys category for this age group.
Tinayeishe Chirima clinched first place in the 13-24 months girls category while Angel-Rose Ruvarashe Chitakunye came second.
The victorious boys in this age group were Quinton Tadisa Ngwerume on first place and Kyle Madyike who came second.
Tatiana Rutendo Mutseura won in the breastfeeding category while Melusi Jayden Mahla and Skylar Manjera won in the sponsors' choice category.
The Sunday Mail, being the leading family newspaper in the country, has for many years collaborated with various partners to promote family values through initiatives such as its baby and bridal competitions.
Over the years, the number of entries into the competitions have been steadily increasing.