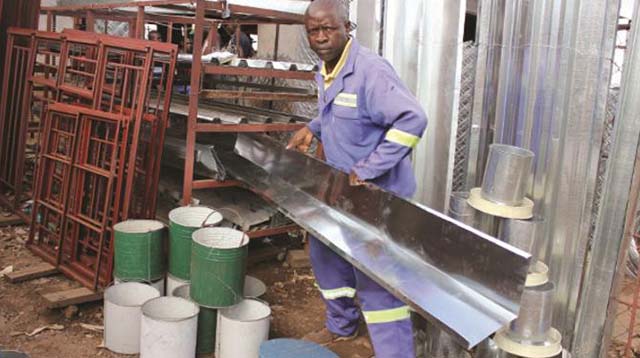 The Sunday Mail
Entrepreneurship Matters
Dr Kudzanai Vere
The role of small and medium enterprises (SMEs) in any economy can never be underestimated. Even in the remotest of areas where big corporate see as if there is no business that match their size, we find SMEs taking up the space, proffering solutions in the form of products or services.
Ideally such a sector needs maximum support as it is servicing even the marginalised areas of the country. Although there are efforts by a number of stakeholders to support this sector, the support hasn't been good enough.
It's equally good to understand the make-up of small and medium enterprises before we proceed. There is no universally accepted and agreed definition of SMEs world over but the World Bank defines them as businesses that employ less than 300 employees and have an annual turnover below US$15 million.
You will find that the definition slightly changes with country, place and environment. In the United Kingdom, SMEs employs less than 250 people and same applies to the United States and China. Zimbabwe Revenue Authority (ZIMRA) classifies SMEs as businesses employing between 5-40 people with an annual turnover of between $50 000 and $2 million.
Relevance of SMEs to the Zimbabwean economy
The year 2008 had it all clear that indeed SMEs are a strong economic force. Most big companies closed doors but this sector remained steadfast. SMEs contributed $8,58 billion to the country's GDP in 2016 and employed more than 5,9 million people (over 75 percent of the total workforce of 7,8 million) as reported by Bulawayo24. Over the past years the figures have been on an increase.
Additionally, SMEs now make up over 70 percent of Zimbabwe Revenue Authority database of registered tax payers while contributing only 20 percent in taxes. This is something that ZIMRA need to work on. I have also seen that it can only achieve this by collaborating with the private sector, especially those in the business advisory business, for there has not been a good relationship between the authority and these SMEs.
Most commercial banks, if not all of them, now have designated desks and executives in charge of this SMEs sector all this pointing to the relevance of the same in the country's economics matrix.
The major challenge with Zimbabwean SMEs, however, is that only a few transition to big businesses that can be talked about. Research have shown lack of honest support from those that are trying to support the sector including the banks themselves despite having designated desks and executives.
For the record, other countries are taking an honest approach that is seeing their sectors growing and their players transitioning into large conglomerates.
If the sector is the backbone of the economy, the country must stop talking about supporting it and be seen to be doing so in a more pragmatic and transformational way.
There has been and is still being said about banks and funds being channelled to SMEs but there should be some checks and balances to see whether these are going to the deserving, passionate and able people.
The sector has helped Government mop up the unemployed from the streets by affording them some form of jobs while others are now working on exporting their products, adding some digits to the envisaged export growth rate.
Just across Limpopo in South Africa, SMEs account for 91 percent of businesses, 60 percent of employment and contribute 52 percent of total GDP. In Nigeria, SMEs contribute 48 percent of national GDP, account for 96 percent of businesses and 84 percent of employment.
Despite the significant contribution of SMEs to the Zimbabwean economy, challenges still persist that hinder the growth and development of the sector.
There is need to reconstitute the sector and get it organised. The sector needs great assistance for it takes time to leave unproductive ways of doing things.
Major challenges in the SMEs sector in Zimbabwe
Literature is abound with factors that militate against SME growth and these include their assimilation of information with regards to formal business operating processes.
SMEs takes time to come on board when it comes to having proper information systems that talks to them about their businesses. This is the major reason why it has been difficult for them to access funding from financial institutions.
If ever you have some financials submitted, they will be tailor made to suit the requirement without any backing of actual activity on the ground. General understanding of how businesses are sustainably run is another factor that impedes growth of this important sector and that also plays against their transition to big corporates.
Basic formal business management skills
No one was born knowing almost everything.
Neither should we just rely on what we saw our grandfathers doing in the rural areas which led to them running down those shops which have since changed ownership countless times. Business management is structured and can be learnt by those willing to transform their businesses.
It is good and cheap to learn from your peers but you risk replicating their failures. You must identify those that are really making it in business and are using the right systems and processing in getting their results. Most SMEs undermine the importance of business systems and processes.
What they are worried more about is having some cash in the till without investing in the processes.
This is the major cause of SME failure for there is no strong foundation on which their businesses are built.
Issues of planning, organising, leading and controlling are real and when implemented to the letter can help one manage, support and sustain their business. These are basically known as the functions of managers within an organisation.
Lack of proper financial management skills
Most SMEs fail on financial management. The biggest challenge emanates from separating personal and business issues. Personal money and business money must be separated, they contaminate each other.
This is one area that all our institutions, Institute of Entrepreneurs Zimbabwe and Transformational Mindset Institute have taken a deliberate stance on. SMEs need financial management education.
Once you fail to manage that which you have, it will be difficult for anyone including the financial institutions to extend a credit facility to you. Once we start talking about money, the issues of proper records kicks in and this is a big challenge with the majority of SMEs in Zimbabwe and other African countries.
In terms of money, there must be a visible trail of what transpired. Without proper financial records one is not in a position to plan and decide for the growth and sustainability of the organisation. It makes it difficult for an external person to assess the level of activity the business is involved in. investors want record in order to make a decision and the same applies to lenders of money.
Lack of funding
It is a fact that any business needs funding and within the Zimbabwe SMEs, funding has been and is still a challenge. I have visited some SMEs in Zimbabwe whose operations are smooth on and almost everything is in place but they are failing to access funding from the financial institutions. They showed me the documentary evidence of their efforts on sourcing some funds to boost production for they had some orders for the export market but they couldn't get help.
Banks must desist from a tendency of wanting to come when all is now in order. They must support these SMEs at their point of need not wait for them to grow organically which can take a bit of some time. A number of them need that jump start capital to fulfil their genuine orders while others would even want to procure some production machines to boost production in line with genuine demand from the market.
As mentioned on management of both the business and funds, when these two are not in place, banks will find it difficult to extend their funds to this sector for these are also depositor funds which must be handled with great care. SMEs must therefore make sure that they get the necessary education to professionally and formally manage their businesses.
Financial discipline
Financial discipline comes from financial planning which is known as budgeting. In the absence of a budget money is spend willy-nilly. The most important cancer in most African business people is spending more than we invest and killing that which we would have hunted. We must develop a mental disposition to at times catch the animal alive and put it in a cage to multiply before thinking of frying it.
There is need to plough back more into business than spending. The business has to grow to certain levels before we starting enjoying the fruits. But we often times need to quickly change our lifestyle once we start operating a business which is evidence of lack of financial discipline. This is a whole program that SMEs need to be schooled in.
Conclusion
SMEs are the backbone of our Zimbabwean economy and as such there must be a deliberate focus on their welfare at a national level and on the other hand, they must strive to embrace change as it comes so that they can remain relevant.
The writer, Dr. Kudzanai Vere is an entrepreneur, author of four books, business and personal development, multiple award winning entrepreneurship and business coach. Dr. Vere has coached more than 5000 entrepreneurs globally and continues to impact people in the areas of entrepreneurship, business and personal development. He is the CEO of Kudfort Group./Contact Dr Kudzanai Vere for transformational entrepreneurship and business coaching and training on [email protected] or +263 719 592232