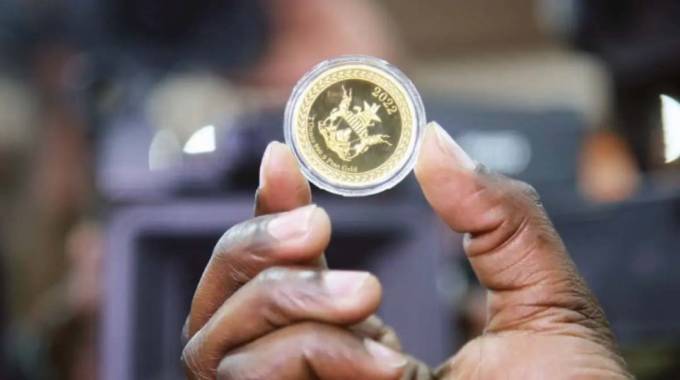 The Sunday Mail
Business Reporters
The introduction of small gold coins last week is expected to further stabilise the exchange rate, Reserve Bank of Zimbabwe (RBZ) governor Dr John Mangudya has said.
Large-denomination bullion coins worth $12 billion have already been sold over the past four months.
The small gold coins, which are open to both corporates and individuals, were unveiled on Tuesday, four months after the coins — also known as Mosi-Oa-Tunya coins — debuted on the market.
Dr John Mangudya told The Sunday Mail Business that the uptake of gold coins was encouraging.
"Gold coins are real money," he said.
"It is a good substitute for foreign currency; we are using gold coins as an instrument to ensure that it provides the market with what (it) needs, while at the same time it also mops (up) money from the economy . . . as the sterilisation instrument, (and) by so doing, we are killing two birds with one stone — it will provide an alternative investment product, while, at the same time, it mops (up) excess money from the market."
The $12 billion that had been mopped up from the market through the gold coins thus far, he said, would have fed into market volatility.
"So, the end game is stability," he said.
Economist Mr Prosper Chitambara said the small gold coins would naturally be accessible and affordable for individuals and small and medium enterprises.
"They will definitely have a stabilising effect and will help mop up excess money," he said.
The gold coins provide an alternative investment option for individuals and corporates holding excess liquidity.
They have been partly credited for mopping up excess liquidity in the market and stabilising the exchange rate and inflation.
Value-for-money audits of Government contracts and high interest rates to curb speculative borrowing have also helped to bring stability.
The gold coins have reduced demand for the US dollar – the currency mostly preferred for value preservation – and presented a relatively safe haven for investors.
Gold coins have traditionally been a good hedge during inflationary periods. Even global investors look at gold as a haven during times of political and economic uncertainty.
At the time the gold coins were introduced on July 24, 2022, the monthly inflation rate was 16,1 percent.
It has, however, since progressively declined to 3,2 percent in October.
Similarly, the parallel market exchange rate has stabilised around $850 to the US$1 and nearing convergence with the official exchange rates (interbank and auction rates).