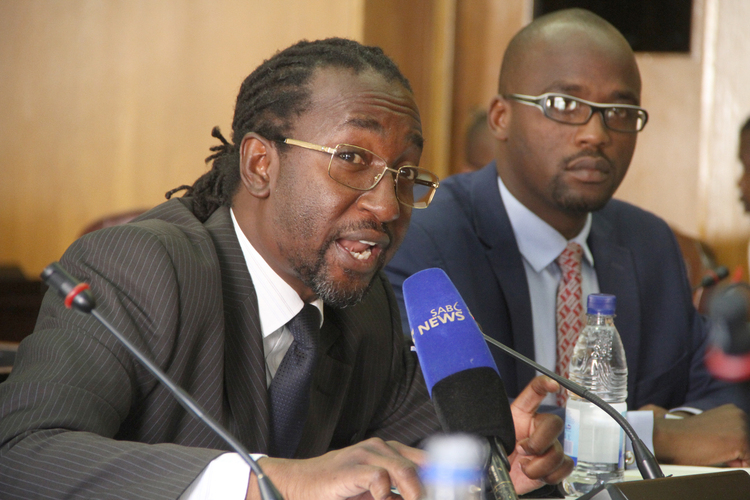 The Sunday Mail
The greatest misconception in the global economy today is that business and politics must be separated.
Unfortunately, this separation often finds intellectual obedience in countries where the alignment of enterprise and political ideology is needed the most.
The last couple of months have offered intriguing case studies within this context in the United Sates.
As the American fiscal year draws to a close on April 15, heated argument in US Congress centred on the topic of corporate inversions; US companies threatening to change their domicile due to dissatisfaction with a comparatively unfavourable tax regime.
Simultaneously, the popular Apple brand of consumer electronics had been at odds with the military branch of the US government over unlocking an identified iPhone used in a terrorist assault.
Apple argued that its corporate practice of privacy protection did not allow for the company to offer the military access into what was a private consumer device.
All these instances raised an often overlooked question of whether there is such a thing as corporate patriotism.
While all these cases ended in different ways as directed by their respective fundamental issues, what came out to be universal in all resolutions was that at the moment of enterprise versus political ideology, the US shines as an example of a bonded nation where enterprise and politics converge through corporate patriotism.
Corporate patriotism is not an element monopolised by the US; many developed nations along with successful emerging nations have benefited by steering their economies on the strength of corporate patriotism.
For developing nations, particularly in South America and Africa, the two continents with the highest poverty rates and lowest indigenous economic influence, corporate patriotism is overshadowed by the intellectual misguidance that business and politics should not converge.
Last Friday was the deadline for compliance with the Indigenisation and Economic Empowerment Act.
My chosen perspective was to use this day to evaluate the extent to which foreign-owned enterprise would show their corporate patriotism to Zimbabwe.
I was disappointed.
Regrettably, my disappointment was not in foreign-owned companies as much as it was in fellow indigenous Zimbabweans who seemed to have missed our very own interest in assessing to what extent foreign companies pledge allegiance, not to our country, but to the socio-economic ideals that we stand for in Zimbabwe!
Perhaps this is due to a misinterpretation of what the IEE Act aims to achieve on our part.
The Indigenisation and Economic Empowerment Act is an instrument of socio-economic direction.
Governments do not allocate the distribution of capital in an economy (even their budgets are secondary).
They can only influence where capital goes through incentives and appeasing enterprise impulses.
Governments do not necessarily give people jobs or assimilate people into economic value chains.
They can only influence how work is to be done and how enterprises perceive the value contribution of other economic agents.
The most common instruments through which governments do this is through fiscal and monetary policy.
Cognisant of Zimbabwe's present limitations in both policy instruments, astute economic observers would find greater utility in the IEE law.
This is why simply placing emphasis on the equity ownership element of the IEE Act, especially without looking at specific sectors, misses the point of the law!
The IEE Act is an instrument that works to direct capital towards otherwise excluded economic agents.
For instance, the 2016 Monetary Policy Statement avails indigenisation credits to banks that invest in sectors with marginalised citizens, especially small-scale agricultural producers.
Contrary to superficial notions that indigenisation and economic empowerment are bad for the economy, indigenisation credits for financial inclusion are a significantly more effective means of fixing our liquidity shortfall than the exhaustive search for FDI.
If more than 70 percent of our labour force is in agriculture, and more than half of it is financially excluded, how are we surprised that we have shrinking formal liquidity in the economy?
If more than 80 percent of our economy lives on less than US$400 a month, can we not comprehend that thousands of small-scale farmers sitting on assets that potentially produce US$80 000 a month are the main cause for the depressed aggregate demand in our economy?
Similar dynamics are working in the mining sector where value chains and corporate profits could do more to be inclusive of indigenous economic agents.
Opponents of indigenisation and economic empowerment fail to admit that liquidity shortfalls are being exacerbated by purposefully excluded indigenous economic agents from production value chains such as agriculture and mining.
I have chosen to direct my disappointment to indigenous economic agents — ourselves — because we have allowed polarised narratives and a few rotten apples that have abused the IEE Act to cloud and influence our perception of the law's intent.
Yet we stand the greatest benefit by its proper and most effective implementation — all this without pressing on the predominant equity context.
Ultimately, compliance with the IEE Act is a measure of corporate patriotism because while, concededly, most Zimbabweans do not have capital to invest in equity, foreign companies have been offered accommodative time to structure their operations in a manner that satisfies our socio-economic ideals of empowerment and socio-economic transformation.
Moreover, they have been offered incentives to do so through credits and rebates!
Yet, all along, up to eight years now, they did not submit or go through with indigenisation implementation plans of which they have been given full discretion to design by Government!
The question then should not be whether Government is being business friendly or not.
It has been.
The question Zimbabweans should be asking is whether foreign companies have proven to be socio-economically friendly or not.
The ones that have clearly have nothing to worry about and should be well on their way into implementation plans.
The ones that haven't, well, maybe shut them down, Honourable Minister!