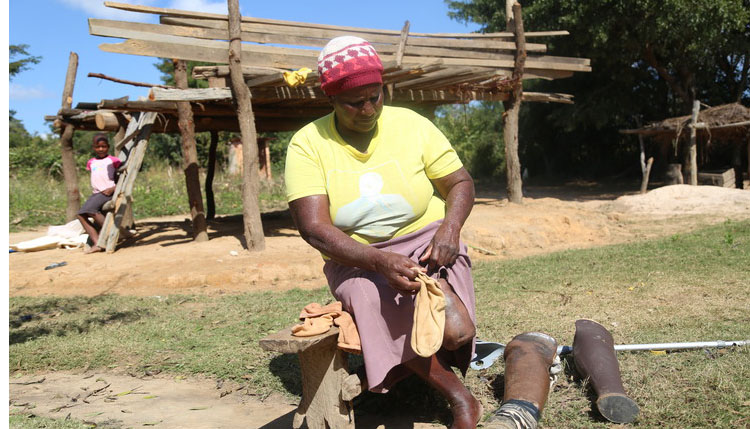 The Sunday Mail
Whenever victims of landmines, most of them amputees, meet at Mt Selinda Hospital, 76-year-old Gogo Edna Makuyana should be the envy of many.
Though she is one-legged, like most of her compatriots, she, in fact, boasts of two artificial legs.
And it must be a secret that she guards so jealously, that she has one leg for home use and another for travel, a fashion leg you might call it.
In a community which has been devastated by landmines, Gogo Makuyana met her fate on October 16 1979, just a day apart from another landmine victim, Hilda Bangira (profiled on this page), as she was looking for firewood.
"There were four of us, and we were around the Southdowns border area, looking for firewood when I stepped on the landmine," she recalled last week.
Far away from medical facilities, she had to spend a whole day without any attention, until a "Puma", an euphemism for the Rhodesian army truck, came in to collect her for Chipinge district hospital.
After the amputations, she had to use crutches, until soon after independence when she got an artificial limb courtesy of some donors.
She uses that one mainly around the Muguruzo homestead. But when it is time to travel, she switches to the one she got in 2016, the new one, the more fashionable leg.
"I got this one in 2016 through Plan International. This is the one I use when I am boarding the bus, visiting my relatives.
"Otherwise when I am at home, I use the old one I got in 1991."
Like most victims, Gogo Makuyana has not received any meaningful compensation for her injuries.
"The last time I received some money must have been around 2005, and at that time I used about $5."
Her hopes, however, were raised recently, "must have been in March", when they were summoned to Mt Selinda Mission Hospital for measurements.
"Hopefully they will do something with the measurements they took, it is not the first time they have measured us."
Gogo Makuyana, whose husband passed away in 1992, is staying with her son and his wife and relies on the couple for subsistence.