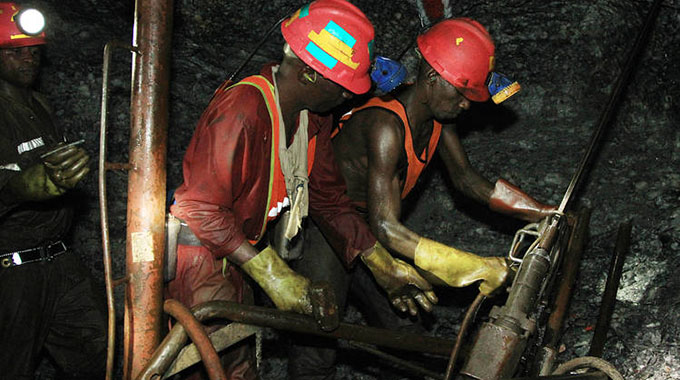 The Sunday Mail
Leroy Dzenga
Senior Reporter
ZIMBABWEAN workers who contracted respiratory diseases while working in South African mines will have to wait longer to get compensation, as the organisation facilitating the release of their funds has asked for additional details which are hard to find.
Tshiamiso Trust, which is handling claims by workers who used to be employed by African Rainbow Minerals, Anglo American South Africa, AngloGold Ashanti, Gold Fields, Harmony Gold and Sibanye-Stillwater, recently wrote to the Ex-Wenela Miners Association of Zimbabwe asking that they provide industrial numbers.
An industrial number is a mining industry identity which workers were given immediately after being confirmed to be fit for employment.
Many lost the cards bearing details and have to follow a lengthy process to obtain them.
Speaking to The Sunday Mail, ex-Wenela Miners Association of Zimbabwe president Mr Lungelwe Mkhwananzi said indications are that, from the potential beneficiaries, only about two percent have the required details at hand.
"You may remember that Zimbabwe, Namibia and Malawi have not had miners at Wenela from around 1983.
"This means that the databases are harder to find compared to workers from countries like Eswatini, which still has workers there until now.
"So, this means that we do not automatically appear in the Tshiamiso database because we were no longer there, we are currently engaging on how best we can proceed to ensure that the records are found," Mr Mkhwananzi said.
About 10 000 ex-mine workers are expected to get the funds once the industry number obstacle is out of the way.
However, most of the intended beneficiaries are old and cannot individually travel to South Africa to obtain the records.
"Only one or two percent would be in a position to avail the industry numbers.
"We however, believe that TEBA Trust —one of the longest standing mine industry database holders— has those records and we are in conversation with Tshiamiso Trust to see how we can access the records because we know they have them," said Mr Mkhwananzi.
Some of the eligible beneficiaries have died and their families, who have the onus to follow up on the funds, may not know the intricate details which aid tracing the required information.
There is a fear that as a result of the delays, intended beneficiaries may suffer prejudice as the agreement between the workers and Tshiamiso Trust says posthumous compensations are significantly lower.
"I am in pain talking about this. Right now I have a number of people who after being ascertained by medical tests that they indeed contracted silicosis, they went on to die.
"On average they were supposed to get around 70 000 rands, but their families will get around 10 000 rands," said Mr Mkhwananzi.
In 2019, the Johannesburg High Court ruled that workers who contracted either Silicosis or Tuberculosis will get compensated upon receiving diagnosis.
The pay-outs will cover workers from 1965 to 2019.