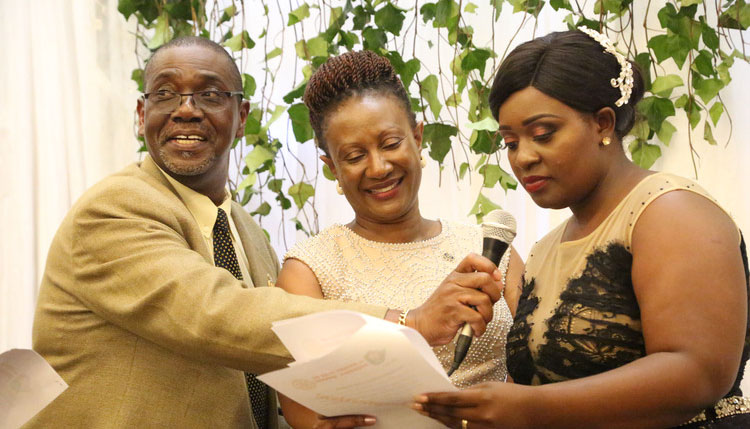 The Sunday Mail
The Rotary Club of Avondale has embraced calls to support women empowerment through assigning them influential positions.
Its purpose is to bring together business and professional leaders in order to provide humanitarian services and to advance goodwill and peace in communities.
The organisation is an affiliate of Rotary International, which has more than 35 000 member clubs worldwide and over a million individual members.
Recently, Dr Fungai Mtisi was inaugurated as the club's new president, making her the fourth female to hold such a post since the association's inception in 2012. Dr Mtisi went on to select a working committee that is dominated by female Rotarians.
This, indeed, was history considering that world over, rotary activities have been dominated by men since time immemorial.
In fact, when rotary was founded more than 100 years ago as a Men Only Club by Attorney Paul P. Harris, women had to go to court to force the "Men's Club" to accept them as equals.
Dr Mtisi's tenure as Rotary Club of Avondale president stretches up to mid-2019, running under the theme "Be the Inspiration".
"I'm happy with this honour. It means a lot not only to myself but my fellow female Rotarians. Men and women need each other and no one is better than the other, we are all equal and therefore must be given equal opportunities. I'm glad women are getting chances to lead such organisations," she said during her inauguration.
Past president of the club, Mr Max Tshuma weighed in saying, "The new political dispensation is calling for women empowerment and we are supporting their thrust through such initiatives. Men and women deserve equal treatment."
What exactly does Dr Mtisi wish to achieve during her reign?
"I wish to double up the membership, increase service hours and projects. My major focus will be fundraising for rotary foundation and contribute to polio eradication in Africa, youth leadership development and service projects that are aimed at improving marginalised communities.
Together with the club I will be focusing on developing rural schools," said Dr Mtisi.
"The world would be a better place if each and every person conditions their hearts to solve human kind challenges despite their age, financial status or race."
More than US$10 000 worth of donations, including money, food, curtains and sanitary pads for a hospital(s) of Dr Mtisi's choice were made on the inauguration day.
Standards Association 0f Zimbabwe director Dr Eve Gadzikwa, who graced the event as guest of honour, donated 50 blankets.
Also in attendance was Ms Tyra Chikocho, aka Madam Boss (a popular comedian), who happens to be Dr Mtisi's biological sister; Rotary assistant governor Mr Albert Nduna; Mr Gillian Rusike, the secretary general for Marketers Association of Zimbabwe and Ms Angela Machonesa, who represented Plan International.
Dr Mtisi joined rotary in 2011 with the aim to network with professionals and subsequently secure employment.
The following year, she was voted the outstanding Rotarian for the year 2011/2012. Over the years, Dr Mtisi has been involved in various programmes which include sponsoring youth exchange programmes.
She is also involved in charity work at Eden Village in Mhangura, Goromonzi Orphanage, Ruvimbo Children's Home, Cleft Lip Palate project and many fundraising dinner events for charity.
The Rotary Club of Avondale president has attended various Rotary Fellowship programmes in Mozambique, Zambia and the United States.
The First Lady Amai Auxillia Mnangagwa recently repeated calls for the empowerment of women, children and vulnerable groups when she met with the First Lady of the People's Republic of China, Madame Peng Liyuan, and the All China Women's Federation in China.