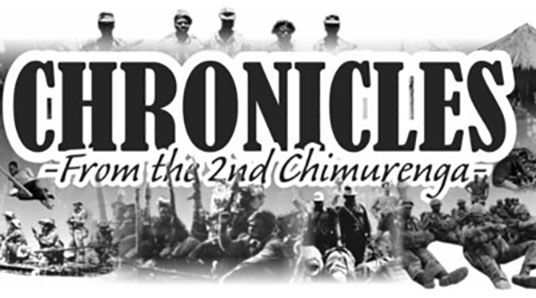 The Sunday Mail
Tendai Chara
THE history of the Zimbabwe's liberation struggle is littered with so many dark episodes. One of the war of liberation's darkest periods was between November 23-25, 1977 when the Rhodesian army conducted their gruesome operation code-named Operation Dingo against Zanla combatants.
During the operation, the Rhodesian army, which had armed itself to the teeth, used ground forces and warplanes to attack the unsuspecting liberation war fighters at their bases at Chimoio and Tembue in Mozambique.
Thousands of men, women and children lost their lives, with others getting wounded. Up to this day, those that survived the massacres are still suffering from the psychological effects of the heavy bombardments.
This week, as we mark the Chimoio and Tembue massacres, we feature Cde Chapungu Chehondo, a legendary figure of the war of liberation who operated in Mberengwa. For those that worked closely with Cde Chapungu in Gaza province, which stretched from Chiredzi to Beitbridge, his daring heroic acts in Mberengwa will forever be ingrained in their memories.
Cde Chapungu's rollicking adventures are the stuff that make legends. He earned cult status after breaking away from his group and started to operate alone.
Initially, Cde Chapungu belonged to a unit of seven guerrillas that operated in Mberengwa.
In July 1976, Cde Chapungu was among the first freedom fighters to operate in this area which had a heavy Rhodesian army presence and had been declared a no-go-area for liberation war fighters. Up until his death in December 1976, Cde Chapungu had become a thorn in the Rhodesian army's flesh.
Unlike other fighters who often ambushed enemy forces during the dead of the night, Cde Chapungu was altogether a different kettle of fish. He conducted his surprising and daring operations in broad daylight, when the enemy least expected them.
Controversy followed Cde Chapungu, with the circumstances that led to him operating alone being interpreted differently by those that worked with him. Interviews conducted with two former freedom fighters that at one time worked with the renegade fighter gave different versions of how Cde Chapungu became a lone ranger.
Cde Liston Gapara, whose Chimurenga name was Mabhunu Muchapera, insisted that Cde Chapungu's rebellion and the circumstances that culminated in his death were a result of the late freedom fighter's love for the fairer sex.
"Chapungu rebelled after he was caught in a compromising position with a married woman at a Pungwe in Nyamhondo. He was supposed to be disciplined but Chapungu could not have none of it. He packed his bags and left to go it alone," Cde Muchapera said.
According to Cde Mabhunu Muchapera, futile efforts were made to try and lure Chapungu back. Chapungu could not stand the punishment that awaited him.
On the contrary, Cde Sando Kano, who also operated with Cde Chapungu in Mberengwa, disputed this version, insisting that Cde Chapungu decided to go it alone because he was against some of his leaders' decisions on how the raids against the enemy should be carried out. According to Cde Sando Kano, Chapungu felt that the pace at which his superiors were moving in confronting the Rhodesian army was slow.
"Cde Chapungu desperately wanted action. Sadly, some of his commanders were not willing to engage the Rhodesian army as frequently as Chapungu desired. After a discussion with the other fighters and after failing to reach a compromise, he simply disappeared and became a lone fighter," Cde Sando Kano said.
He said Chapungu would sometimes single-handedly attack the Rhodesian forces then draw the enemy towards the other group of freedom fighters, forcing them into a battle they had not anticipated or planned.
Added Cde Sando Kano: "For a long time, I worked closely with Cde Chapungu. He was a quiet, unassuming character who often kept to himself. However, like they say, quiet waters run deep. He was not only as brave as a lion but was also intelligent and had a sound educational background."
Cde Chapungu's preferred weapon, the RPG 2, which is commonly known as the bazooka, brought untold suffering to the Rhodesians who desperately wanted to win the war. Within a short period of time, Cde Chapungu had become a hero and a darling of the masses.
His lone attacks against the enemy were highly successful, resulting in the enemy putting him on the list of the most wanted guerrillas. The fact that Cde Chapungu was operating in a zone where the Rhodesian government had special economic interests made him a prime target.
Apart from the then Salisbury-Beitbrigde road, which linked Rhodesia to South Africa, Mberengwa, where Cde Chapungu was causing havoc, is rich in such minerals as emeralds, gold and platinum among other others.
As a result of the damage that he was inflicting on the Rhodesian army, Cde Chapungu became the most wanted guerrilla in Mberengwa. Apart from undertaking highly successful lone strikes, Cde Chapungu endeared himself to the masses by distributing to them groceries, clothes, shoes and the other items that he often collected after raiding local shops. In one of Cde Chapungu's most daring attacks, the lone ranger ambushed a Rhodesian Bata Shoe Company delivery van in broad daylight.
Guerrilla fighters usually hit their targets during the night and they did so while they were in groups of at most eight fighters.
The Bata Shoe Company was a target because it produced military boots for the Rhodesian army. Cde Sando Kano is familiar with the story relating to the delivery van attack.
"This is an all too familiar story which spread like veld fire. My group was now operating in a different sector, but the delivery van ambush was not only classical, but mind-boggling. A single fighter ambushing a van in broad daylight was something that the Rhodesians would least expect," Cde Sando Kano said.
The shoes were eventually distributed to the cheering masses.
Cde Sando Kano's group also benefited from Cde Chapungu's "goodwill."
"The attack on the delivery van boosted our moral and confidence. The enemy forces in Mberengwa were scratching their heads as they tried to figure out how they were going to deal with this unusual menace," added Cde Sando.
Apart from the delivery van, Cde Chapungu also attacked several shops and, like the fabled Robin Hood, distributed groceries and cash to the poor masses.
What Cde Chapungu was doing was tantamount to suicide since he was, at one time or the other, going to run out of ammunition.
Barely two months after becoming a lone ranger, Cde Chapungu's adventures were brought to a screeching halt when he was ambushed and killed by the Rhodesian soldiers at Chegato Mission. Several students lost their lives as they were caught in the cross fire.
As it was in the beginning when Cde Chapungu deserted his other fellow fighters and chose to go it alone, his demise was also equally controversial.
Cde Sando Kano summarised what he heard with regards to the death of the feared fighter.
"Like I said, I was now operating in a different sector. From what I heard, Cde Chapungu had, for whatever reasons, developed a habit of regularly visiting boarding students at both Mnene and Chegato Mission schools. He was finally cornered by the Rhodesians and was shot and killed," Cde Sando Kano said.
According to those that worked with the late fighter, Cde Chapungu might have been engaging in sexual activities with the school children, which was considered an abomination during the war.
As controversial as Cde Chapungu might have been, his legendary antics, without doubt, contributed immensely to the war effort.
With their superior weapons, an air force and the help from sell-outs, the Rhodesian army was, on countless occasions, forced to eat humble pie by such brave fighters as Cde Chapungu.