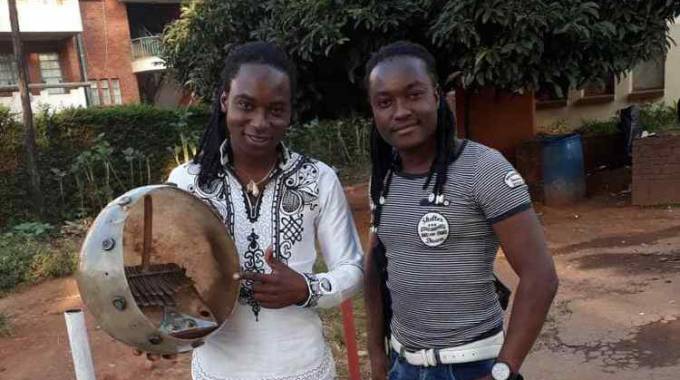 The Sunday Mail
Prince Mushawevato
VIRIMAI "Vee Mhofu" Nhedega and the Dziva ReMbira traditional ensemble want to put some oomph in hardcore mbira music, which has slowed in recent years.
The group has a permanent slot at Red Café in Harare, headlining the "The Executive Mbira Sunday".
Revellers from across the generational divide are warming up to The Executive Mbira Sunday, signalling hope for a genre that has largely remained a side show.
Seasoned groups in the mould of Hard Nut to Crack, led by the late Master Chivero, Mbira DzeNharira, Mawungira Enharira, Zemba Nembira Dzetsokoto, Hwevambira, etcetera, have done a lot to bring mbira to the limelight.
Time was at the turn of the millennium when mbira vibes were the in-thing.
Songs like "Saramugomo" and "Kumatendera" by Mbira DzeNharira were fixtures, getting massive rotation on national radio.
But the rise of computer-generated sounds has taken its toll and mbira music is no longer what it once was.
Virimai, the Dziva ReMbira frontman, argues that the nation is far from seeing the last of the instrument.
The vocally gifted youngster refuses to be seduced by ephemeral pop culture fads.
"I have mastered and grown to love the mbira instrument over the years. Together with like-minded youths, I am going to make sure the legacy of the instrument lives.
"I am glad Devine Assignments, through Red Café, has guaranteed us a weekly platform to showcase the wonders of mbira. It is my wish to have a pure mbira sound dominate local music one day," said Virimai.
Since its establishment early this year, Red Café has fast become a popular arts and culture hangout for upcoming and seasoned artistes.
Live music, poetry and comedy have been given a platform to either revive waning careers or market new acts throughout the week.
"We play at different venues around the country, be it for ordinary shows or private functions. But I must admit the Sunday slot in Harare is opening new avenues for us," Virimai said.
Virimai's brother and fellow group member, Tapiwa, added: "Many people love mbira music but have little or no options for live performances, particularly in the CBD. Venue proprietors prefer other genres. I guess this is the reason why our Red Café sessions are growing in popularity."
The mbira has mystical and mythical roots, having been played both ritually and for entertainment by the Shona.
Mbira music has for a long time been associated with tapping the ancestral realm, all-night biras and rainmaking ceremonies; as well as at weddings and the installation of traditional leaders.
Virimai has had his mystical encounters with the instrument.
"It's a long story, but the short of it is my first mbira instrument mysteriously appeared from underwater at a river called Mudotwe where I usually went for swimming with my older brother, Edson.
"I was in Grade Five then. This was followed by numerous dreams and subsequently my learning to play the instrument," revealed Virimai.
The name of his group, Dziva ReMbira, literally translates to River of the Mbira.
Born in 1986, Virimai has released two albums — "Makurutese" and "Chidhamu Dhamu" — and a third is expected in early 2019.
Before forming Dziva ReMbira, Virimai played for Akurara Mbira and the famed Mbira DzeNharira.
He is also an actor and aspiring film producer.
Virimai has featured on television series "Tiriparwendo" as Tavirai, a mbira music player in King Chabvonga's court; and also played the lead character on "Tale of the Box" starring as Walter.