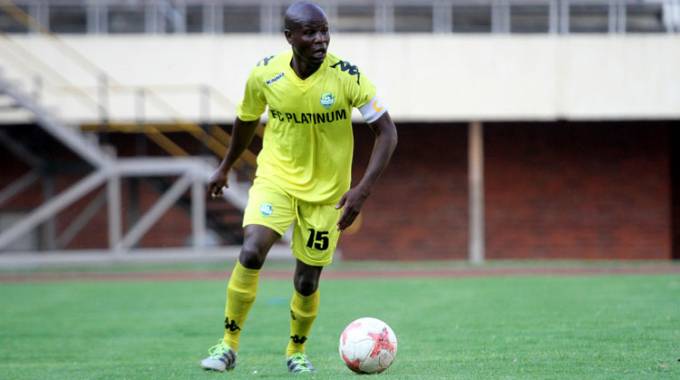 The Sunday Mail
Langton Nyakwenda
Sports Reporter
HE has forgiven Kenny Mubaiwa for labelling him a rebel and has made up with Norman Mapeza, but Gift Bello remains one of the most underrated defenders in the domestic Premiership.
Former Dynamos chairperson Mubaiwa branded Bello a rebel after the pint-sized defender dumped DeMbare for cash-rich FC Platinum at the beginning of the 2014 season.
When Mapeza was unveiled as the new FC Platinum gaffer in August 2014, he made Bello the pivot of a stubborn rearguard that has grown to become the league's meanest in the last six seasons.
However, Bello's relationship with former coach Mapeza ebbed to the lowest point when the duo clashed after a CAF Champions League match on December 22, 2018.
Mapeza assaulted a visibly drunk Bello, who was ineligible for a first round second-leg clash against Congo side AS Otoho soon after the match in a much-publicised fallout.
But the gifted Bello, whose absence from the Soccer Stars of the Year calendar in recent seasons has baffled many, has taken it all in his stride and found time to talk about his Premiership career that spans more than a decade.
Bello turned 36 on May 23, but had little time and few friends to celebrate this personal milestone with due to the Covid-19 restrictions.
"What happened with coach Mapeza happened; it is now in the past. We talked about it and got over it. He actually sent me a happy birthday message. He is a very good guy. Our relationship is just fine. We talk a lot and he still gives me some tips on how to train and play as a defender,'' Bello said.
Mapeza built a powerful and mean FC Platinum side, whose main attribute is a well-marshalled defence that features Bello as the main actor.
FC Platinum, who have won the league title in the last three seasons, have kept 33 clean sheets in their last 50 league games.
They have conceded 31 goals in the last three seasons (in 102 games), translating to a 0,3 goals per game concession rate.
Although the Zvishavane side's success story in the last three years has been built on a strong defence, what has surprised many is the absence of their defensive players, especially Bello, from the Soccer Stars calendar.
The last time Bello was on the calendar was in 2013, when he was still at Dynamos, who had just won a third consecutive league title under Kallisto Pasuwa.
That was the year his former teammate Tawanda Muparati won the top gong ahead of hot favourite Silas Songani, who had starred for a Harare City side that nearly wrestled the championship title from Dynamos.
George Chigova (Dynamos), Charles Sibanda (FC Platinum), Eric Chipeta (Hwange), Kuda Mahachi, Tendai Ndoro (Chicken Inn), Hardlife Zvirekwi (CAPS United), Menard Mupera (How Mine) and Munyaradzi Diya (Highlanders) completed the 2013 Soccer Stars calendar.
"You guys (football writers) have your own way of seeing things or criteria that you follow when choosing stars, so I respect that.
"Sometimes you feel you have played well, but people as usual, have different views. But get it clear, I have no bad feelings about that.
"I have achieved a lot. I have won six league titles with Dynamos and FC Platinum, plus a number of cups like the Mbada Diamonds, Chibuku and the Castle Challenge.
"I have also played in the CAF Champions League and reached the mini-league with FC Platinum, so I guess I have done quite a lot," he said.
Bello made his Premiership debut with the now-defunct Kiglon in 2008, before moving to Dynamos in 2011, after the former were relegated at the end of the 2010 season.
He has 12 seasons under his belt, but even at 36, Bello is showing no signs of slowing down.
Bello's love for the bottle is no secret, just as much as his work ethic is well documented.
"Training and resting have been the key aspects for me. I train hard and rest well," he said.
"Above all you need to be disciplined as a player. Besides, I just love this game."
Bello's history
Bello was born in Harare's high-density suburb of Rugare, before moving to Mbare when he was 10.
It was in Mbare where he transformed from a school traditional dancer into a serious footballer, thanks to the late Jack Shamhu, who coached juniors back then.
In 2005, Bello joined Kiglon from Golden Kopje and in 2008, he made his Premiership debut when Kiglon beat Underhill 3-1 on March 15. That Kiglon side included players like Tawanda Nyamandwe, Isaac Pitamuja, Brighton Pamhirwa, Nelson Maziwisa and Tawanda Munyanduri.
After Kiglon appointed Lloyd Mutasa as coach, the team attracted some talented players such as Denver Mukamba, Devon Chafa, Dominic Benati and Thomas Magorimbo.
When Kiglon were relegated in 2010, Mutasa moved to DeMbare and took with him Mukamba, Chafa, Magorimbo, Benati and Bello.
"At first I was worried with my height, but later on realised I could even outjump taller strikers. It is not about the height, but timing of the ball."
Although the devastating Covid-19 restricted the number of guests at his 36th birthday celebrations in Zvishavane last week, at least Bello had some fine moments with his wife and kids.
Bello is married to Gamuchirai Mamutse, a teacher by profession, and the couple is blessed with two children — Tyler (4) and Taraj (2).
"My wife has a teaching certificate, but she is not fully employed. She sells clothes to augment the family's earnings."
Despite his consistency in the past decade, Bello has not been lucky when it comes to national team selection.
He earned his solitary cap in a four-minute appearance when Zimbabwe beat Malawi 4-1 in a friendly match at Kamuzu Stadium in Blantyre on March 5 2014.
However, there is no doubt Bello has turned out to be a "rebel" with a cause.
"Kenny Mubaiwa called me a rebel after I left DeMbare in 2014. However, I feel I have achieved a lot with FC Platinum and I have no regrets about leaving Dynamos.
"I made a good decision and I have no hard feelings for Mubaiwa. I have since forgiven him."