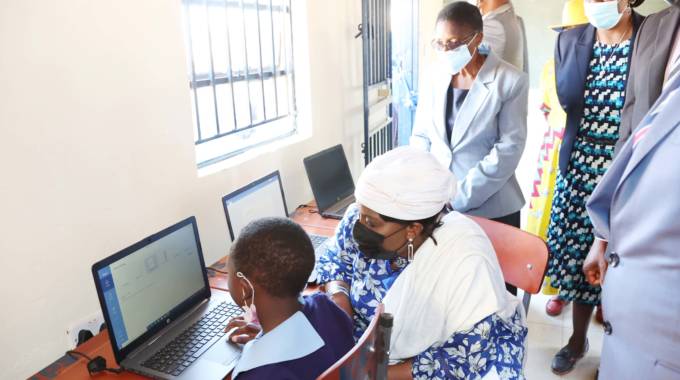 The Sunday Mail
Tendai Rupapa in CHIWESHE
President Mnangagwa is leaving no one and no place behind in pushing through Government's digital transformation thrust through setting up fully-equipped Information Communication Technology (ICT) laboratories countrywide including at rural schools.
On Friday, the President lived up to his pledge by donating ICT laboratories and renovating infrastructure at Kakora Primary and Secondary schools in Chiweshe, Mashonaland Central Province, where First Lady Dr Auxillia Mnangagwa is a former pupil.
In March, the President pledged to give computers to the two schools while on his way to the installation of the 13th substantive Chief Negomo who is Mr Paradzai Kutyauripo. Chief Negomo is the First Lady's brother.
During the visit in March, the President promised to develop and modernise the First Lady's former schools as a gesture of love for his wife. The schools were in a dilapidated state which needed attention hence the President's intervention. The First Lady attended the labs handover ceremony as guest of honour in what was a memorable day for the community she grew up in.
Besides the ICT labs, the First Lady also commissioned a solar-powered borehole that was drilled by NetOne.
The mother of the nation went down memory lane as she toured the schools, reminiscing her days at school. She said the occasion marked another critical milestone in the digital transformation agenda of the country as it undergoes rapid technological change.
"ICT labs and ICT-enabled learning are integral in preparing the girl and boy child for a digital economy as envisaged in the National Development Strategy 1 (NDS1).
"This initiative is one of the main ingredients for ensuring that our youths are ICT enabled and ready to participate in the digital economy," she said.
In the context of the Fourth Industrial Revolution, the First Lady said Zimbabwe was expected to create an army of tech-savvy citizens who are vital drivers of economic growth and job creation in the digital economy.
"This is why the President of the Republic of Zimbabwe, his Excellency Cde Dr E.D. Mnangagwa has tasked the Minister of ICT, Postal and Courier Services Honourable Dr Jenfan Muswere to take a deliberate trajectory of helping our schools establish state-of-the-art ICT labs throughout the country through the ICT lab per school project. The project is an all-inclusive and thoughtful effort meant to bridge the digital divide within our communities where no one and no place will be left behind in creating ICT enabled citizens."
The establishment of ICT labs in schools comes at a time when the nation has realised the importance of ICTs due to the Covid-19 pandemic. The pandemic has facilitated rapid growth of tele-working and demand for digital solutions and digital skills in the economy.
"Developing critical digital skills and building the ICT capabilities of the girl and boy child will go a long way in keeping the same from social ills since they are going to be digitally-enabled to navigate and participate in the digital economy. It is my hope that establishing ICT labs in all our schools including the ones in marginalised communities where Kakora Secondary and Kakora Primary schools are located will create an opportunity for the youths to access world-class learning environment and content which will serve to bridge two divides: inequalities in the digital literacy space, as well as inequalities created by lack of access to digital literacy platforms."
Dr Mnangagwa expressed gratitude to the Minister of ICT Dr Muswere under whose Ministry the ICT lab per school project is being implemented, the Minister of Primary and Secondary Education under whose custody the equipped schools' ICT equipment has been given and Minister of State for Provincial Affairs and Devolution for Mashonaland Central Province under whose area the schools are located.
"Really this is a well-timed initiative to catch the girl and boy child young and nurture them into responsible citizens who are digitally-enabled. Let us all take a lesson from the famous Chinese proverb thus says, I quote: 'Do not confine your children to your own learning, for they were born in another time.'
"As we make great strides towards achieving the digital economy aspirations of the National Development Strategy 1 (NDS1) pillar of e-learning and the smart Zimbabwe blueprint pillar of smart education through the schools' ICT laboratories, we must all be willing to prepare our youths to be ready to work and operate in a high-tech economy. A community that does not invest in digital skills capacity building of its youths will not see the benefits of digitalisation coming to fruition."
Dr Mnangagwa also had words for the community and school children.
"I want to say to you parents now that you have found these enablers for your children to learn, you have to ask what they would have learnt when they come back home. That is also a way of assisting teachers because we are leaving them alone to address our children at schools. We are saying let us help each other at school and at home. It is at home that children learn good behaviour. We do not want to point at teachers that a child has gone to school and the teacher will see him there. As parents we tend to say 'teacher so and so is bad, he must be changed.' Why must we also not be changed and leave our homes because a child's manners begin at home," she said to applause.
Amai Mnangagwa said children must be trained well at home and be polished at school.
"If we train our children at home and the teacher carries forward we would have moulded a child we want in this country and your clan progresses."
Dr Mnangagwa emphasised the need for learners to concentrate on their schoolwork and not to fall in love at school.
"As parents we must be vigilant and look at these children. We must know their timetables and the time they come back home. Some of our children are taking drugs. I thought the problem was confined to urban areas, but the problem has come to rural areas as well. Maybe you as parents, you may not know that your children are into drugs but the next door neighbour knows. Because you do not relate with the neighbour, he or she will not tell you that your child is taking drugs. However, the child will be losing morals. Let us build long-lasting relations let us know if one another is okay in communities we live in. Among us there are some who do not see eye-to eye and this is not good," she said.
She spelt out the need for women in communities to start income-generating projects to augment their family earnings and improve their lives. After officially opening the primary ICT laboratory and commissioning the solar-powered borehole she said to the students: "Mudzidze nesimba vanangu and muchengetedze your lab. When I learnt here back then we did not know of ICT labs, hence you should take this seriously. Also this borehole will benefit communities around the area, take care of your borehole because during our time we did not have these and we would go far away to do abstraction on riverbeds. This is a big milestone at this school. Water is life."
After officially opening the Secondary School's ICT lab, Dr Mnangagwa also gave wise counsel.
"My children, your career is shaped from here. These computers help you search for information which is beneficial to your studies. This is my home and this is the school I attended. Your time vanangu, has brought these good gadgets that we did not have during our time. The whole country needs your expertise when you finish your education, therefore, work hard and cast aside the search for boys and girls when the time is not ripe. For now, focus on your education. We want to see influential people in future coming from this school," she said.
Minister Muswere said no one and no place should remain behind in ICT-development, hence the donation to Kakora primary and secondary schools.
"When the President Dr ED Mnangagwa launched NDS1 he identified two critical areas which include human capital development and a digital economy. So our coming here today and the coming of the First Lady to address this particular occasion is in line with the National Development Strategy 1 in that the digital economy is the catalyst that is going to drive, to transform the macro-economic landscape of this country and in particular the Smart Zimbabwe Masterplan," he said.
Mashonaland West Provincial Affairs and Devolution Minister Monica Mavhunga said: "Allow me to take this opportunity to thank our listening President, His Excellency, Dr ED Mnangagwa for honouring his pledge to have computers at Kakora schools. He passed through Kakora school on his way to Chief Negomo's installation ceremony and pledged that he would give computers to the school which he has done.
"Amai, kindly convey our gratitude to Baba for this gesture and even for the computers donated to Chimanikire school in Guruve, Centre Africa school in Madziwa, LDV in Shamva and other schools in the province."
She said ICT will allow learners to gather information, create, learn and communicate while developing digital skills.
"The Covid-19 pandemic hit our communities badly given that as a global pandemic we were unprepared for its ravaging effects. Normal life was disrupted and technology saved the situation as activities such as education had to continue through ICT. Most schools resorted to online lessons, but it was only possible with the necessary resources such as computers and internet connectivity. Today, the Kakora schools have been ushered into the ICT era, which will see our learners joining in the modern trends therefore buttressing the President's vision of leaving no one and no place behind," she said.
In an interview on the sidelines of the event, Kakora Secondary School headmaster, Mr Kuda Chikwekwete, expressed gratitude to the President and the First Lady.
"I am so thankful to President ED Mnangagwa for this generous donation to our two schools which will go a long way in enhancing learning and exposing our students to the global village. I can't find the right words to express our appreciation for the commissioning which has taken place today headed by our mother because she was educated here. She showed deep appreciation by coming with this donation and also renovating dilapidated infrastructure that we had. We sincerely thank the President and our mother for remembering us," he said.
Equally elated was Mrs Rudo Bhunu, the Kakora Primary School head.
"I want to thank our father his Excellency ED Mnangagwa for the programme he is implementing which has been backed by Amai at Kakora Primary School with the Ministry of ICT for bringing us technology through this fully equipped ICT lab.
"This will surely help our children and they will learn a lot. I thank our mother, the First Lady, for the borehole which will provide running water and help us in our projects like gardening. If we do gardening, this will help our feeding programme. This is an old school but it now looks new because of the renovations," she said with happiness written all over her face.
A representative of the learners, Angel Maponga, who is in Form 4 spoke glowingly of the development and the First Lady.
"I would like to thank the President for bringing us ICT gadgets and renovating the infrastructure at our school. Secondly, I would like to thank Amai vedu Dr Auxillia Mnangagwa for teaching us to stop having boyfriends at an early stage, which will lead us to early child marriages because we are the future leaders," she said.