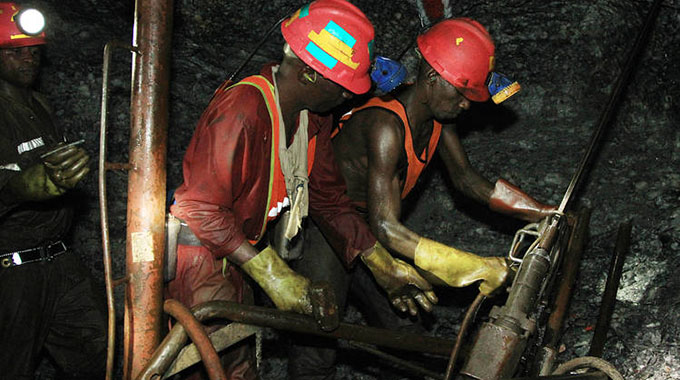 The Sunday Mail
Business Reporter
Zimbabwe's mining sector power consumption is expected to increase by 20 percent in 2023 — driven by ongoing capital projects — and a number of players are planning to invest in alternative power sources such as solar projects to supplement their energy requirements.
The mining industry continues to be an important sector in the Zimbabwean economy. No wonder the Government's economic blueprint — the National Development Strategy 1 (NDS1) — accords the mining industry a critical role.
According to the latest Chamber of Mines of Zimbabwe (CMZ) 2023 state of the mining industry survey report, the mining industry contributes 73 percent to foreign direct investment, 83 percent to exports, 19 percent to Government revenues, 2 percent to direct formal employment and 11 percent national income.
The chamber said these figures are on the upper end of the contribution ranges for middle-income and lower-income economies. It further said the Zimbabwean mining industry's contribution to the economy is generally higher than the average for Sub-Saharan countries with significant mining activities.
In the report, CMZ president Mr Collins Chibafa, said most mining executives are expecting power supply shortages to persist, and electricity tariffs to increase, but the companies are looking at alternative sources of energy.
"About 86 percent of mining executives are expecting the infrastructure and energy situation for the mining sector to either remain depressed, however, almost all respondents indicated that they are using diesel-powered generators during times of power supply disruptions to sustain their operations.
"About 18 percent indicated that they are planning to invest in solar projects to supplement their power requirements," he said.
According to Mr Chibafa, projected capital expenditure across the mining industry is cumulatively expected at US$1 billion in 2023, and of these capital projects, only 15 percent will be completed in 2023, with the rest expected to be completed after 2023.
He said, while electricity consumption is expected to increase by 20 percent in 2023, diesel consumption is expected to rise by 39 percent largely due to ongoing capital projects, the major drivers of energy usage in 2023.
Generate electricity
In an effort to augment Government efforts in power generation, mining industry players are investing in solar plants.
Caledonia Mining Corporation Plc invested in a 12,2-megawatt solar power plant at Blanket Mine, which has already started to generate electricity.
Caledonia said Blanket currently gets its power from ZESA, and in recent years, this supply has been unstable and marked by load shedding, which has economic and safety implications for an underground mine such as Blanket.
The company said, during outages or low voltage supply, the power at Blanket had to be supplemented by standby diesel generators to enable uninterrupted mining and capital operations. However, diesel-generated electricity is expensive, is subject to an unpredictable supply of the fuel and creates an unfavourable environmental footprint, the company added.
"Recognising the economic, environmental and logistical challenges of running large-scale diesel generators for extended periods, Caledonia started constructing the 12,2MW solar plant late in 2021.
"The solar plant will provide power to Blanket in due course. It is expected that the solar plant will provide approximately 27 percent of Blanket's average daily electricity demand."
Mr Mark Learmonth, the chief executive officer of the mine, said, with 21 percent of Blanket's on-mine costs relating to energy usage, the solar plant is a very important project for the company, as it will improve the quality and security of Blanket's electricity supply and provide environmental benefits through cleaner energy.
"The solar power will displace more expensive power from the grid and from the diesel generators and is expected to reduce Caledonia's consolidated cost per ounce of gold produced by approximately US$37," he said.
Zimbabwe's largest platinum producer, Zimplats, is currently implementing a 35MW solar plant, which is Phase 1 of its 185MW solar project.
During the quarter to September 30, 2022, the company had spent US$0,5 million against a budget of US$37 million on the project.
The solar plant is being constructed at the Selous Metallurgical Complex.
Overall, the project has four implementation phases, with the last one scheduled for completion in 2027.
The total cost of the project is estimated to be US$201 million.
Karo Mining Holdings' project, an upcoming Tier 1 Platinum Group Metals mining operation situated on the Great Dyke, has since identified land for a 300MW solar plant.
The project, valued at $4,2 billion, will consist of a coal mine and a 300MW solar power station. The company is expected to deliver its first ore to mill in July 2024.
China's giant Tsingshan Group, through its Zimbabwe subsidiary, Dinson Iron and Steel Company, has since signed a joint venture agreement with the Zimbabwe Electricity Transmission and Distribution Company for the construction of a 100km power line from Sherwood to its Mvuma- based US$1 billion steel plant.
Meanwhile, Mr Chibafa said mining executives are concerned about the increase in the electricity tariff to about USc12,21/ kWh, which is expected to increase the overall cost of production.
He said the increase in the cost of electricity will consume, on average, 20 percent of mining companies' stay in business capital budget, which is largely funded from retained earnings.
He noted that the power outages were affecting those connected to dedicated power lines, resulting in output losses.
Mr Chibafa said the average level of optimal tariff increase is approximately 4 percent, equivalent to a tariff increase to USc10,2/kWh.
He said players in the ferro-chrome sector indicated that they require a lower tariff of between USc6/kWh and USc7/kWh for competitiveness in the export markets because of the extensive use of electricity at their smelting facilities.
Meanwhile, Power and Energy Development Minister Zhemu Soda recently said the country was now looking forward to the commissioning of Unit 7 at Hwange, expected to feed 300MW.
Kariba South, a 1 050MW hydropower plant, is Zimbabwe's largest power station, but is currently unable to produce electricity consistently at optimal capacity due to the critically low water level.
Unit 8, for an additional 300MW, is expected to come online during the first quarter of next year.
After the commissioning of Hwange units 7 and 8, Zesa intends to start major rehabilitation of the existing units to restore the plant's rated capacity to 920MW. Already, the Government has secured US$310 million from the Export-Import Bank of India for the work. The rehabilitation will be done in phases.
The Government contracted Sino-Hydro to fund the expansion of Hwange in a deal worth US$1,2 billion.
Economist Clemence Machadu said the Government, through the 2023 National Budget, should enhance efficiency in energy supply and continue to apply zero duty for energy products.
He said the Government should move to incentivise companies willing to invest in renewable energy through cost reflective tariffs.
Currently, there are over 100 licensed independent power producers who are at different stages of project implementation.