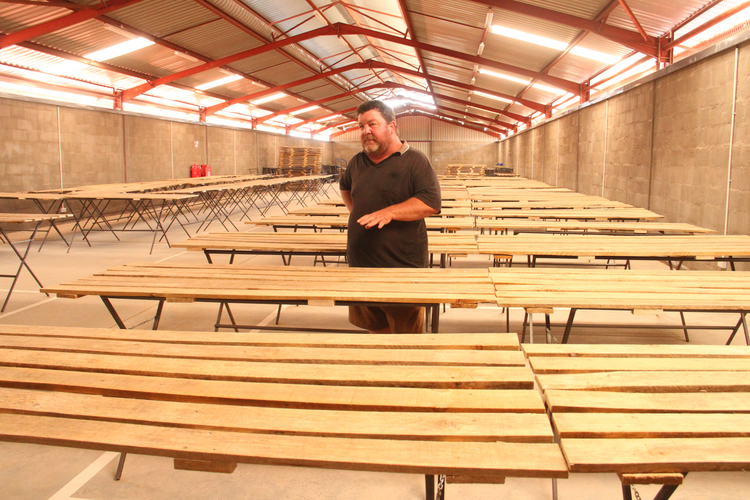 The Sunday Mail
Tendai Chara
Excitement is reaching fever pitch as Harare awaits the opening of two vending malls — the Mbudzi People's Market in Waterfalls and another one near Mbare, along the Harare/ Masvingo highway. The construction of the vending malls is widely regarded as one of the many practical solutions to the capital city's nagging congestion and vending menaces.
A public-private partnership (PPP) arrangement between a local company, Augur Investments and the City of Harare, the Mbudzi People's Market will also be used as a test case to measure the success or failure of PPPs.
If implemented under the right circumstances, PPPs improve service provision and facilitate economic growth.
Mr Percy Toriro, a town planning expert, noted that the establishment of designated vending sites outside Harare's central business district (CBD) will, to a greater extent, help de-congest the city centre.
"The construction of vending sites in areas that are outside the CBD is a sure way of de-congesting the city centre, both in terms of human and vehicle traffic," Mr Toriro said.
The establishment of Mbudzi People's Market will also create employment opportunities for people living in Chitungwiza, Waterfalls, Southlea Park, Glen Norah and areas surrounding the Mbudzi round-about area.
Demand for vending space at Mupedzanhamo and other "prime" vending sites in the CBD is set to ease as vendors will focus on the sites nearer to them.
Currently, traders at Mupedzanhamo are paying up to $150 per month to a cartel of table owners who in turn only pay $60 to the municipality each month. The syndicates are realising thousands of dollars as they milk desperate vendors.
According to the Zimbabwe Informal Sector Organisation (ZISO), a few "space barons" own most of the tables and sub-let them at exorbitant charges.
Mr Michael Chideme, the Harare City Council principal communications officer acknowledged the presence of space barons, adding that council will soon descend on them.
"We are moving into Mupedzanhamo and other markets as we aim to bring order and sanity. Council is aware of the presence of space barons and soon we will conduct an operation to weed them out," Mr Chideme said.
When The Sunday Mail Extra visited the Mbudzi People's Market last week, construction workers were busy putting final touches.
Mr Neill Wilbur, the site manager said the mall, which is a first of its kind in the country, will be operational within the next three weeks.
"As you can see, construction workers are putting the touch-ups. The electrification process is a bit complicated, otherwise the mall should have been operational by now," Mr Wilbur said.
According to Mr Wilbur, the mall will service more than 250 000 people residing in surrounding areas.
"We would like to de-congest the city centre and also decentralise both transport and vending activities. A major bus terminus will be constructed and it will no-longer be necessary for locals to go to town to board long-distance buses," added Mr Wilbur.
With a massive 6 000 square metres of shopping space, a supermarket is set to occupy 1 200 square metres. Banks, a fast food outlet and other businesses are to set up shop at this mall which boast of 10 massive blocks. Hair dressers, butcheries and a pharmacy are among the businesses that have already occupied space.
According to Mr Wilbur, 64 percent of shopping space has already been taken up. Monthly rentals for compartments have been pegged between $400 and $500, depending on location.
In a move that proved that businesses have faith in the project, a motor spares concern had already acquired three compartments whilst a fast food outlet was already making specific designs to suit its requirements.
Market stalls for vegetables and farm produce cost $5 per day, the same as a flea market table. The market will accommodate 435 table vendors and 100 shopping units.
Unlike other malls where vendors will have to provide their own tables, those that will be using the People's Market will not be required to bring their stalls since they are provided.
Asked if the vendors will withstand competition from prime vending sites such as Mupedzanhamo and Mbare Musika, Mr Wilbur said the Mbudzi vending mall is different from other places in many aspects.
"This is unlike other vending malls. Customers will get all they want under one roof. Vendors will sell anything, and I mean anything – from vegetables to motor spares, as long as they are not flouting the regulations," Mr Wilbur said.
Mr Wilbur called upon vendors that are currently operating by the roadsides to occupy space at the new complex.
However, vending bays are still under construction at the vending site that is located along the Masvingo/Harare highway near Mbare.
A few months ago, the vending crisis reached alarming levels as vendors invaded pavements. Some of the vendors even set base at the front doors of established formal businesses.
The Zimbabwe Vendors Union estimates that more than one million people in Harare survive directly from vending.
According to the union, the country has an estimated six million vendors.