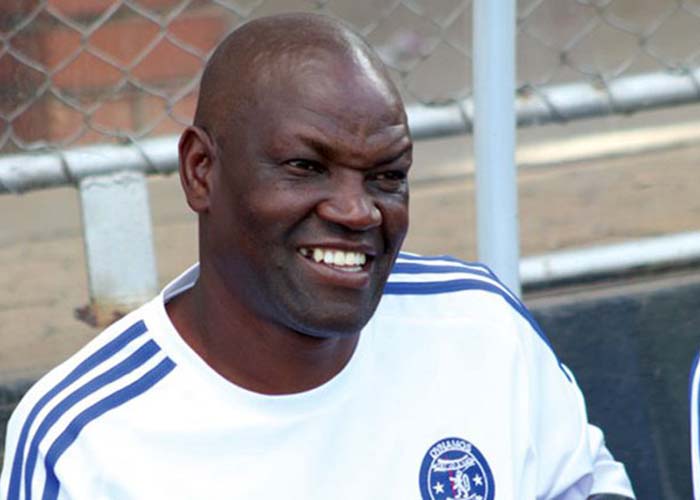 The Sunday Mail
Makomborero Mutimukulu Sports Editor
IN the end it all fell into the hands, or feet, of Peace Makaha.
The rookie had the mandate to decide whether peace or pandemonium visited the Dynamos camp in an Uhuru Cup final that was full value for money.
DeMbare should have seen off the match in regulation time but a rush of blood to Elisha Muroiwa's head gave Highlanders an escape valve.
A floodlit and full to the rafters National Sports Stadium created a dream setting.
The singing on the DeMbare bench – led by coach Lloyd Mutasa himself – was somewhat bewildering but played its part in making the moment even more beautiful.
This was the moment when a battle between two old foes was to be settled by one decisive kick.
As Makaha made his way from the centre circle towards the Mabelreign end of the stadium, the Highlanders players tried to unnerve him.
"Roddy (Mutuma) was the most vocal," revealed the 19–year-old Dynamos defender. "The Highlanders players were saying that I would miss and the crowd would turn against me. However, that didn't unsettle me: I knew what I wanted to do and that was to go for power.
"As I walked up to take the penalty I reminded myself that the coaches as well as the fans were looking up to me to convert the penalty and win the cup. Everything was mapped up in my head"
One thing Makaha did not envisage was the part when the ball and the penalty spot refused to co-operate.
The ball continuously rolled away from that small white circle and referee Brighton Chimene insisted on following the rules to the letter.
After a bit of a struggle, Makaha got the ball to settle and blasted his effort to the left of Aerial Sibanda without much of a run-up.
There was no chance in hell that the Bosso goalie would have saved it, even if he had been told before hand where Makaha was going to place his effort.
History will record it as the moment that Makaha earned his stripes and gave his coach breathing space.
"Like what Father (Mutasa) has said, the games against Caps United and Highlanders are defining moments for us. We showed that we have what it takes to play for Dynamos," he said.
"Some people say we are too young but we are the players that are there and we have to defend the shirt and its badge. Seeing the fans going wild in the stands after I converted that penalty made me realise what this team really means to them. The players we have at the club this year are young but they are ready to die for Dynamos."