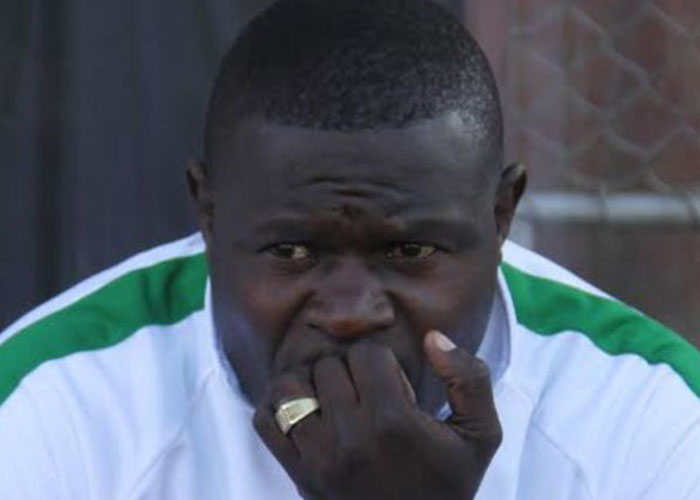 The Sunday Mail
Makomborero Mutimukulu Sports Editor
IT took Lloyd Chitembwe 353 days to repeat his "I may quit" song.
Unlike the last time, the latest rendition – delivered at Morris Depot last Tuesday – had the Caps United players telling him some home truths.
The first threat came on July 9, 2016. After a goalless draw with FC Platinum at Mandava, Chitembwe talked about walking away amid a barrage of criticism from a section of the team's fans who felt he was not the right man to operate the Green Machine.
"There comes a point where you think maybe the good you are doing is not good enough for others," the Caps United coach told The Sunday Mail Sport then. "There are a lot of positives, the team is now in a better position than I found it. But let us not speculate, I am not saying I am leaving. "What I am saying is if I leave, I will leave a happy man and if I make such a decision definitely it will be communicated to you."
A lot happened between July 9, 2016 and June 27, 2017. Makepekepe won the Castle lager Premier Soccer League title and Chitembwe had the last laugh. Devon Chafa who made his debut in the goalless draw with Pure Platinum Play, grew into a key member of the team. Caps United made it to the group stages of the CAF Champions League for the first time in their green history.
Hardlife Zvirekwi was re-appointed skipper. But Chitembwe still sounds the same as he talks of walking away whenever the temperature rises. There are signs that he is his biggest critic while an effort is made to flavour the message with a hint of humility.  "I think I need to look at myself and my position critically," the reigning Coach of the Year said on Tuesday after goals from Jimmy Dzingai and Munyaradzi Chiwara had gave Yadah Stars victory.
"I think this is a great club, they deserve more, they deserve better. Maybe out there, there is someone with the capacity to take the club further. "As someone who is very responsible, you need to look at yourself critically. You analyse on things that you are supposed to do and the expectation out there and if your effort is not matching the expectations, there is also need to review your position."
Unlike last season when his threat to quit had the dressing room speculating on who would come in to replace him, this latest stunt nudged his players into a united front in an effort to knock some sense into their coach's head.
At Morris Depot, news that he was contemplating quitting reached the dressing room long before Chitembwe had completed his post-match interviews. After the media duties, an emotional Chitembwe forced a smile, shook a few hands and made his way to a dressing room where the Caps United players sat stone-faced. Prior to the arrival of an informant with news that their coach was mulling quitting, there was pandemonium in the Makepekepe dressing room as players accused each other of not pulling their weight.
This group doesn't take losing easily. And this is what makes them champions, that intrinsic desire to win even when they have gone unpaid for two months. However, news that Coach Lo, as Chitembwe is called in the champions' locker room, had told the media that he was walking away made the players realise that there was a bigger fish to fry.
The inquest started the moment the Makepekepe coach set foot in the dressing room. "Is it true," Chitembwe was asked by several players at one go. "What?" the gaffer's answer was a also a question.
There was further pandemonium as everyone sought to have their say. Assistant coach Fungai "Tostao" Kwashi, the one man who always sees the glass as half full at Makepekepe, had a tough time trying to bring back some order.
When coach Tossy finally won the battle the Caps United players told Chitembwe what he really needed to hear. "The players urged the coach not to be emotional," said a source plugged into Makepekepe. "They argued it was unfair for the coach to quit now when he is always at the forefront of urging them to ignore the problems at the club and do their job."
After the events at Morris Depot Chitembwe went on to take charge of training ahead of this afternoon's clash with Zamalek amid growing confidence that – just like was the case after the Mandava threat – the gaffer will stay on.