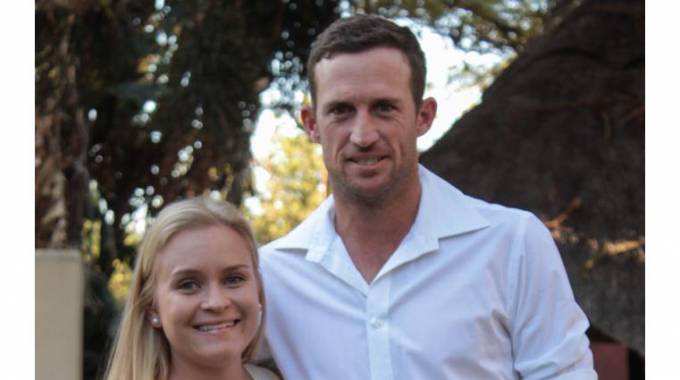 The Sunday Mail
Brighton Zhawi
Zimbabwe's new Test skipper is an avid  cricket follower, who spends just as much time on the television set watching the game, as he does playing it.
He is a passionate man, who wears his heart on his sleeve, and absolutely hates losing.
This fellow thought he would lead the country in white ball cricket after his interim appointment during a T20 series in Singapore last year.
Meet Sean Williams, Zimbabwe's 11th Test captain.
He says family will come first during his tenure, and for now he wants his Test team family to clock in the hours, embrace the underdog tag and claim as many scalps as possible along the way.
Williams was drenched in sweat when he met up with this reporter last Thursday at Harare Sports Club for his first interview since being appointed Zimbabwe's Test capain.
The 33-year-old had already clocked in a couple of hours on the pitch and was coming from a sprint session with his best buddy, Craig Ervine, under the supervision of burly fitness trainer Walter Karimanzira.
Straight from the run, "Willo" went for a quick chat with Tendai Chatara, who was clutching the  results of his bicep scan. From there, the new captain went to congratulate Brian Mudzinganyama on his Test squad call-up.
It was then time for the interview, where Williams was accompanied by his wife Chantelle who revealed: "He is always watching (cricket) highlights, if it's not Zimbabwe it's any other team."
So what does Test captaincy mean to this cricket nuffie?
"It's an amazing feeling, a privilege and a great honour.
"Some high quality players have led Zimbabwe in Test cricket. These include Flower (Andy), (Tatenda) Taibu, (Alistar) Campbell, (Brendan) Taylor, (Hamilton Masakadza) Hammy and then myself.
"I have got some big boots to fill.
"Being captain doesn't make me untouchable, I am still one of the team. Obviously I have to make the decisions, making them on behalf of the team.
"I would like them to still treat me as normal as possible. Nothing changes," he said.
The left-handed all-rounder wants Zimbabwe to move on from previous struggles and embrace a winning mindset.
"Uniting the team is my number one priority," he said.
"I hate losing and that's going to be a big thing in the change room, from now onwards.
"We are going to play to win. Getting everybody to buy into that is going to be huge. We have to pull together and move forward as one.
"It is a comeback year for Zimbabwe cricket, we have been through a lot and I have learnt a lot from it."
He added: "We are the underdogs, it's as simple as that. It's a fact, but If we work hard and train hard, we will achieve big  things.
"It will make people believe in us. In Zimbabwe, there are a lot of people that don't believe in us, they don't believe we are talented and they criticise us a lot of times.
"It's time to change that.
"Those are my goals and that is my vision.
"However, I am not going to do that alone. The team should buy into that. We need to change the mindset and our work  ethic.
"Unity is key and the will to win has to be there. Never give up, no matter what hap- pens.
In Chantelle, Williams has a number one supporter.
She revealed the challenges that sportsmen endure on and off the field.
"I think it's a great challenge for Sean. Obviously I am 100 percent there to support him," said Williams' better half.
"Whenever possible, I am there to support him during each game.
"With this captaincy, it will be a privilege to watch him play.
"But it is difficult because whatever happens on the field, in the office or anywhere else, I am the first available person.
"But at the end of the day, that's my role — to support him," she said.
Williams averages 27.65 in 10 Tests with a one ton and two fifties.
Inasmuch as he wants to improve on his stats, he is a team-first skipper.
"I have my own personal goals, but my job is to lift the others.
"No matter how down I am, I have to pick myself up and pick them up as well.
"I have a lot of help from the support staff, I am open to opinions and ideas. Listening is a big part of being a good leader, and I want to see people flourish.
"If I get a test hundred in this game, I will be over the moon.
"But if a young guy walks into the team on his debut and gets a hundred, I am going to be extremely happy," he said.
Williams describes himself as a fiery character. He says this comes from his parents, who believe in excellence.
"My character has a lot to do with the way I was brought up.
''My mom (Patricia McKillop) is an Olympic gold medallist (1980 field hockey) while my father (Collin), all my uncles and my brothers also play hockey.
"My parents are very tough, they expect nothing but the best. They never settle for mediocrity," he said.
As the new Test captain, what are Williams' thoughts on ICC's plan to make Tests four-dayers? The move has been disapproved by India's skipper Virat Kohli, former Australia captain Ricky Ponting and a couple of other players.
"I haven't really looked into it much.
"Due to what is going on here, I have tried to focus my undivided attention on Zimbabwe Cricket. However, Test cricket is the purest form of the game, and as it stands right now, I fully disagree with that plan.
"I think it should remain five-day cricket.
"Games are still going on for the full five days, Test matches are still being drawn, guys are still scoring big double hundreds and now you have a possibility of taking all that away," he said.
Being a family man, Williams' final words were, "Family is number one. I am going to give a lot of support to the guys and their families," he said.