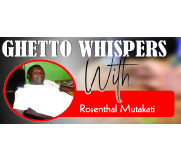 The Sunday Mail
WE were basking in the sun and sharing jokes after having lunch in the canteen when a junior workmate budged into the group demanding to know when a colleague of mine would pay for the chickens he took on credit.
The cornered bloke tried to brush the complainant aside, but this was not to be.
The young man had summoned enough courage to demand that which belonged to him, against the backdrop of a generally challenging macroeconomic environment.
"Please pay for the chickens because I am now in trouble with my wife who thinks I squandered the money on beer. You have not honoured previous promises to pay up and I am now between a rock and a hard place," the guy charged in a voice filled with emotion.
We literally had to play the role of the United Nations (UN) — that of promoting peace among warring nations.
Welcome to the world of office vending where goods of various shapes, quality and sizes are exchanging hands on a daily basis.
People have converted workspaces into huge markets like Timbuktu in Mali which was known for massive trade.
Workmates are selling sweets, biscuits, chickens, clothes, cars and even houses to each other.
Cakes, wedding gowns, herbs, aphrodisiacs and eggs are also in the matrix.
To give some of the workers their due, they have strong marketing skills which can prompt someone to even buy things they do not need. This is, however, done with a measure of blackmail.
"Ever since I started selling chickens, you have not bothered to buy one from me even though you claim to be my friend. Maybe you want me to start stealing so that you will appreciate I am in distress," some of the sellers will tell you straight in the face.
Others will just leave textbooks, notebooks and covers on your desk, and make you feel lucky to be working with them.
"I know times are hard and every parent needs these textbooks and covers. This is why I thought of sparing you the trouble of hunting for these things on the streets. You know you can pay me within three months and if you have any challenges we can always talk," you are told when it is still negotiation time.
But wait until you default and you start being called names or being threatened with assault or a report to management.
"Despite my efforts to collect this money from you, you have shown no interest in paying up and I am now left with no option but to report to the authorities. At least ndivo vanoziva zvekuzoita kana tarwa," some people will tell you.
But not everyone has the muscle to demand their money violently.
Some do so by coining nicknames for you.
People with a record of not honouring their debts are often referred to as "chapungu", "chipikiri", "gwagwagwa", "vharazi" or simply "zero-zero".
Those who easily accept to take things on credit are named "mawira", "easy-easy" or "soft".
Gentle reader, a lot is happening in workspaces owing to the need to survive the challenging economic climate with some companies now offering workers space to trade, while others maintain that office vending is illegal.
"It is known that where you have people living and working together, they are bound to sell things to each other. But as a company, we cannot have a policy on that. Once we do so, we will be forced to act on disputes that may arise as a result of the transactions.
"We have nothing to do with the vending practices but we always remind our workers that it is illegal to conduct personal transactions during working hours," said a personnel officer who spoke on condition of anonymity.
Gentle reader, whether regulated or unregulated, office vending has been part of life since time immemorial.
However, it must never be allowed to take precedence over the employer's needs.
Inotambika mughetto.
Feedback: [email protected]