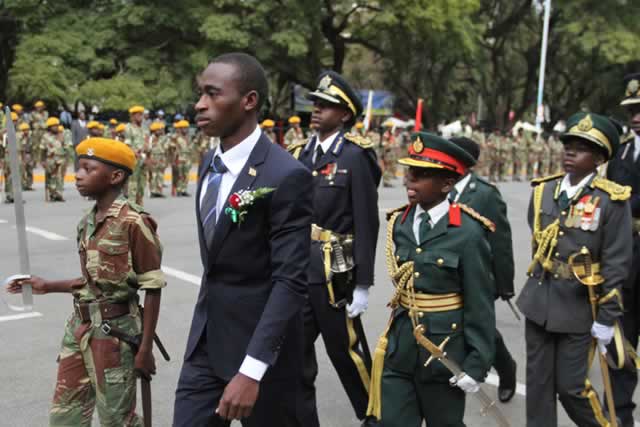 The Sunday Mail
It is a few minutes past mid-day at Muriuki homestead in Mukumbura.
Upon returning home from a village meeting, a man carefully inspects the deserted compound before entering his house to find his 15-year-old step-daughter Kundai struggling with algebra.
Under the girl's terrified gaze, the man hastily locks the main door and orders her to follow him to his bedroom. He closes the window curtains as soon as they get into the bedroom and locks the bedroom door.
A few minutes later, the girl's 11-year-old half brother, who is seated under a nearby mango tree fixing a catapult, hear sobs from the room. He ignores the sobs and quickly return to his mundane task.
Since her mother succumbed to cancer six months ago, Kundai has been constantly subjected to sexual abuse by her step-father.
Since she has nowhere else to go, she slowly withers away in the midst of her nightmare, slowly losing her self-worth with each encounter.
Though an inept dramatisation, this case rings true for countless girls whose cries are falling on deaf ears as neighbours and guardians turn a blind eye to the abuse.
Child sexual abuse has since come under the spotlight as Government, non-government organisations and other relevant partners begin to act against this scourge that is currently threatening the future of the girl child.
According the Girl Child Network, at least 100 girls are raped daily in Zimbabwe.
The figures follow revelations by Zimbabwe Republic Police Victim Friendly Unit that an average of about 10 girls were raped daily during 2013.
Put into context, this means that during the year 2013; approximately 70 girls were raped weekly, over 300 monthly and about 36 400, give or take a couple of thousands, during the course of the entire year.
Research shows that sexual touching, kissing, grabbing, fondling, attempted sex, sexual penetration and pressured sex against children through the use of threats, luring, harassment or trickery has become common practice in Zimbabwe.
Statistics show that about 21 percent of school children have at some point or another been abused during their adolescence.
It is not only the girls who are falling victim to abuse. Women are also abusing young boys with such reports on the increase.
However, child rights organisations sadly pointed out that girls are at least three times more likely to be sexually abused than their male counterparts.
A recent survey by the United Nations Population Fund (UNFPA) revealed that 31 percent of Zimbabwean girls under the age of 18 were in forced marriages.
The increased population of children orphaned by HIV/AIDS was among the reasons given for such startling statistics.
Zimbabwe has about one million children who have lost at least one parent and studies show that they are the ones who are particularly vulnerable to abuse.
It has almost become apparent that society, just as mentioned by President Robert Mugabe, is now tightly shackled with an "epidemic" of child abuse.
The question has since been poised; how can we as a people combat this epidemic in the making?
Experts say the fight against child sexual abuse has not been yielding desired results because it has been narrowly focused on adults rather than the children themselves.
There is need to focus on rape from the children's point of view.
It has also been stated that the relevant stakeholders need to engage children as active players in the fight against rape. The Children's Parliament is one such organ that has been identified as a potential difference maker.
In an interview with the custodians of Junior Parliament, Zimbabwe Youth Council Director Mr Livingstone Dzikira said Children's Parliament contributes more significantly in the fight against child abuse than most people think.
"The Junior Parliament has a big role to play in the fight against child abuse. One of those roles is to raise momentum in pushing for amendments of laws that deal with child abuse," he said.
"You will realize that they are the ones who have been fighting vigorously against child marriages and other forms of abuse.
"And it is evident that the Government is beginning to take hid as various ministers have pledged their support to Junior Parliament. The Junior Parliament can be used as a key method for ensuring that children have a voice in the decisions that affect them," he said.
Justice for Children's Trust programmes Director Mr Caleb Mutandwa said the Junior Parliament's role in the fight against abuse involves raising awareness of child sexual abuse in communities, identifying cases of children who have been sexually abused and assisting them in making reports and getting services.
However, Mr Mutandwa said the Junior parliament should be adequately funded in order to increase its efficiency.
"Ideally this Parliament (Junior Parliament) is supposed to represent children on all issues affecting them. Its effectiveness is however determined by a number of factors, chief among them being resources," he said.
"For instance, it only meets at national level once for about two days which coincide with the Day of the African Child. It rarely interacts with the Senior Parliament and in their constituencies they do not have resources to interact with children they are supposed to represent."
According to Justice for Children's fund, abuse continues to rise due to factors such as poverty, weak enforcements of laws, culture and religion.
"Most children who are sexually abused are affected by poverty. For instance, cases are increasing where those sharing crowded accommodation end up abusing children.
"There are some who use culture and religion to abuse children.
"Weak enforcement and implementation of the law is another area that needs attention as offenders seem to be getting away with abusing children.
"With all the above, we recommend that resources are committed to the implementation of laws such as the Criminal Code, Domestic Violence Act which protect children from sexual abuse."
At the opening of the 22nd Session of the Children's Parliament and commemorations to mark the Day of the African Child in Harare last week, President Mugabe denounced child sexual abuse saying society had failed to deal with moral decadency.
"It is happening and it is terrible. We don't know what is happening. So where have our morals gone? If we are letting you down, we are saying learn from us how not to do the bad things we are doing and how to do the good we are not doing," he said.
"Something has gone wrong. What has happened to our moral and social fibre? As Government, we are working on enhancing our policing interventions to eradicate what has turned into an epidemic."
Children in Zimbabwe are protected by the Children's Act (Chapter 5:06), however children's rights groups say law enforcement in the country has been weak in their implementation of the law.