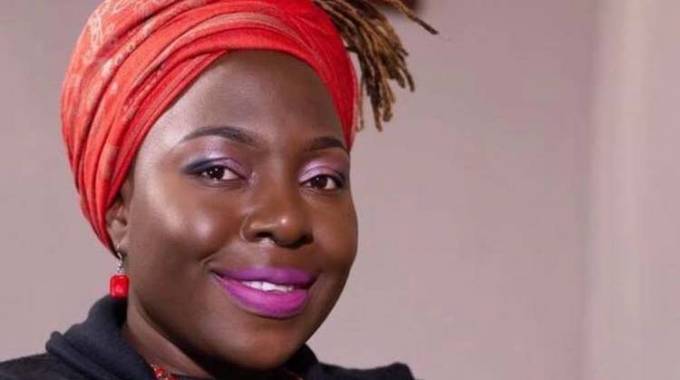 The Sunday Mail
Society Reporter
SHE is known as the fearless defender of women's rights, and with that comes, to her advantage, a rhino-thick skin.
In a country where women's issues are sometimes trivialised, even by other women, she finds herself increasingly in the thick of things — standing for what she believes in.
Her name is Nyaradzo Mashayamombe, (pictured) and she wears many caps.
Some have even said her tactics border on being dangerously combative. She has lost some of her friends owing to her no-nonsense approach.
But this is Nyaradzo Mashayamombe. She is here to make her cause heard and not to be popular. If she wanted to be popular, she probably would have chosen a career selling ice-cream!
"It has not been easy doing what I do. But good people always come around. I want to salute ZBC for giving me space as a member of the civil society to be an independent producer of Identities Umhlobo TV Show," said Nyarie, adding, "I also want to acknowledge my partners, sponsors of the show and my producer Tinashe Ziswa for believing in my vision."
Nyarie's story goes beyond the issues that have made her famous, that have rubbed institutions and individuals alike the wrong way, and sometimes even made her look like she was an activist for opposition politics in Zimbabwe — she is so much more.
She is a human rights activist, a musician, television show host and founder of Tag a Life International, among the many other hats she wears.
In Shurugwi, where she comes from, they know her for initiating projects that have changed communities and people's lives.
Her programme on ZBC-TV airs every Monday evening at 5 — Identities Umhlobo Zvatiri — and has thrust her into people's homes and given her a much bigger platform.
As the executive producer of the television programme, Nyarie is responsible for shaping its content, sourcing partners and ensuring that ideologically, the programme suits ZBC-TV's content policy.
Identities Umhlobo Zvatiri first went on air on April 20, 2018. The TV show is uploaded on Facebook and YouTube soon after airing on ZBC-TV.
Nyarie says as one of the few women owning media spaces, she is determined to work hard to see her company to the top.
Surprisingly, despite being seen as an anti-establishment civil society activist, Nyarie identifies herself as a Pan-Africanist at heart.
"I am a Pan-Africanist philanthropist, who believes that Africans, especially the youngsters, must be the solution to the continent's problems," she says.
She believes in the need for "collective self-reliance", an Ubuntuist/Pan-Africanistic principle for grassroots and governments.
Although her non-profit organisation is largely dependent on donor funding, Nyarie acknowledges that in its entirety, the model does not work. She draws some of this truth from Dambisa Moyo's Dead Aid Book.
"Aid is needed in Africa, but it was never meant to be the primary source of development, it was meant to complement Government and local efforts. That is why I have decided to participate in business, social enterprise and contribute in funding development and issues I care about in Africa," said Nyarie.
ln accordance with the fact that aid has to aid itself sometimes, this new philosophy will no doubt change the way civil-society operates, thereby making it self-sufficient.
Nyarie also emphasises that depending on aid compromises the sovereignty of a nation as well as its development since donors will always put the beneficiary countries' interests after their own priorities and interests.
She argues that Africans are intelligent and have their own values, therefore, there is no reason for them to continue carrying a begging bowl.
"Africans should engage in sustainable development through innovation, enterprise and proper management of natural resources in order to create jobs, fund own development and ultimately improve communities," she said.
She believes that local indigenous philanthropists can attract better resources to fund their initiatives for community development from fellow business people as they will inspire others to invest in community development.
She draws her inspiration from Strive Masiyiwa, founder of Econet Wireless, who is now responsible for sending hundreds of thousands of African children to school through his HigherLife Foundation.
She believes this also improves relationships with donors, where one is viewed as an equal partner rather than a beneficiary, and ensures that one can easily raise their voice where necessary.
But who is this Nyaradzo Mashayamombe?
She is the last child in a family of eight and was educated at Chekenyu and Ndawora primary schools before proceeding to Rusununguko High School in rural Shurugwi.
Having grown up in the rural areas, Nyarie believes that since she managed to overcome the difficulty of her upbringing, she can succeed in anything.
She credits her mother Florence Mashayamombe for instilling strength and good character in her. At a young age, she lost her father, leaving her mother to take care of eight children and send all of them to school.
She says she has always been a human rights activist, starting her activism while still at school where she would stand up for other girls before teachers or boys. She has managed to educate herself to the level of a Master of Science in Development Studies with the Women's University in Africa. She holds a Degree in Marketing Management, a Diploma in People Management and Counselling, among other courses.
She is an alumni of various international organisations such as The US State Department's Community Solutions, Vital Voices and the Reagan Fascel Fellowship.
She has sat on local and international governance boards that include the Women's Coalition of Zimbabwe and is currently a board member at CIVICUS, a Global Alliance for Human Rights and Citizens participation.
She has also won local and international awards through her work that champions girls and young women's rights.