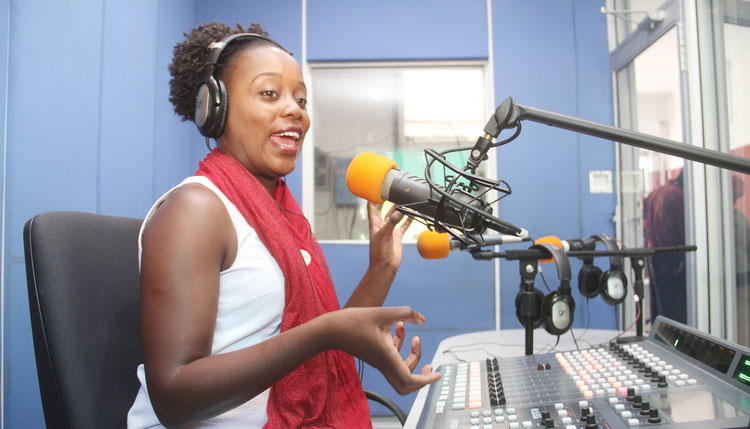 The Sunday Mail
NAMED after the fabled Zambezi river god, whose legend has stood the test of time and continues to unite the BaTonga people, Nyaminyami FM is quickly building a reputation akin to the creature its named after.
Maybe the radio station is the "second coming of the Nyaminyami" that BaTonda have been waiting for for decades. Nyaminyami, the river god, was known by BaTonga for protecting them and giving them sustenance in difficult times. It appears the radio station has come to do just that, to protect, and give sustenance.
The role of the radio station in Kariba urban, Nyaminyami Rural District Council area and Mashonaland West at large, is aptly captured in its programming.
As an outbreak of cholera was reported in Zambia with two cases confirmed across the Zambezi river in Siavonga — panic spread through the tourism and fishing hub of Kariba. But Nyaminyami FM station manager Maxton Kanhema and his team quickly moved in to have Ministry of Health and Child Care officials, immigration department and other leaders in the small town to explain the situation obtaining.
The Sunday Mail Society team was on the ground in Kariba recently.
In conjunction with Ministry of Health officials, the station runs programmes on ways to avoid contracting the disease, early detection, prevention and even containing.
Most residents we spoke to expressed satisfaction with the availability of information and felt safe knowing what systems the responsible officials have put on the ground. That is not all, many aspects of the community are being shaped by the programmes running on the radio station.
Below, Precious Muza, the marketing and sales supervisor at Nyaminyami FM, who is also in charge of public relations, gives details on some of their programmes.
Agriculture
Agriculture is big business in Mashonaland West. Most of our listeners, in fact, most people in this province are farmers of some kind and they depend on it. We have partnered with Agriseeds on a programme that has seen our presenters and Agriseeds officials going to different areas like Mola, Siyakobvu and other wards in our rural district. Because of the availability of information both from the seed supplier and the farmers — people no longer have to travel up to 200 kilometres just to buy seed. We also cover things like crop varieties, rainfall pattens and pesticides, among others. We want to continue to empower our farmers through information that is key in their business.
 Uplifting the girl child
As a radio station, we have a mandate to help develop our community. We have partnered a lot of companies and NGOs where, for instance, we are tackling the issue of early child marriages that is so common in these parts. Young girls of 14 and 15, even younger at times, are resorting to marriage to escape poverty.
We have programmes with one organisation where we talk about the importance of education, especially educating the girl child. The programme also discusses ways of empowering the girl child through projects like sewing, knitting and cookery to ensure that the girl child makes that extra income to fend for herself and not resort to marriage. In this region, it is common for menstruating girls to use tree bark, cow and elephant dung as sanitary pads. This is detrimental to their health and we have experts coming in to discuss other ways of using healthier, cheaper alternatives. We even facilitate donations by NGOs, individuals and other corporates as a way of ensuring that the girl child is empowered through information, skills and materials.
Literacy
We are not just about the girl child when it comes to education — we want to educate and inform our community. There is a low literacy rate in this region, we want to change that. We are making great strides in that direction. We have programmes that encourage reading and acquiring knowledge for the betterment of one's life. We also focus on reading books and religion, not just Christianity but Islam and the traditional African religion.
We have partnered with the Ministry of Primary and Secondary Education, particularly on issues to do with the BaTonga, their language, culture, etcetera. Tonga has been introduced in schools, we have a number of Tonga presenters that we are utilising in our partnership with the ministry. We believe we have the capacity to ensure that the Tonga culture is preserved and they in turn accept formal education since it can now also be taught using their own language.
Environment
In 2016 there was an increase in veld fires in Mashonaland West. We introduced a programme with the Environmental Management Agency (EMA) and they have reported that there have been a significant decrease in veld fires in this province. We are happy with that because it shows we are having an impact in our community. The officer we deal with from EMA says they want to continue with this programme as it has brought them good results. That programme also covers extensive environmental conservation issues, which we feel are very beneficial to the community.
Kariba Dam Rehabilitation
With the dam rehabilitation project — there is a lot of activity that is going to be taking place. There are many opportunities, threats and challenges that come with a project of this magnitude. While there is a lot of employment taking place because of the rehabilitation of the dam, we need to warn people of the possible dangers – HIV and Aids, malaria, crime, etcetera. We need also to address any misconceptions that people, especially outsiders, may have about our town, its people and culture. The programme will be teaching the people how Kariba came to be and why this rehabilitation exercise is necessary.
Tourism
We are in talks with the Zimbabwe Tourism Authority (ZTA). We want to ensure that we market Kariba extensively. Through us, both domestic and international tourists will get relevant information regarding destination Kariba, what it has to offer in terms of activities, the pricing of those products and general information on the tourism and hospitality environment. We will do this in partnership with hotels, lodges, safari operators and other service providers that make this resort area what it is.
Nyaminyami FM is a commercial radio station situated and licenced to broadcast in Kariba. It has, however, grown to become the voice of Mashonaland West as it reaches places such as include Karoi, Hurungwe and the whole of Nyaminyami Rural District Council.
The community radio station was established in January 2017 and uses four main languages — Shona and its many dialects, Tonga, English and is currently introducing some Ndebele programmes. The radio station broadcasts on regional Frequency 94.5.