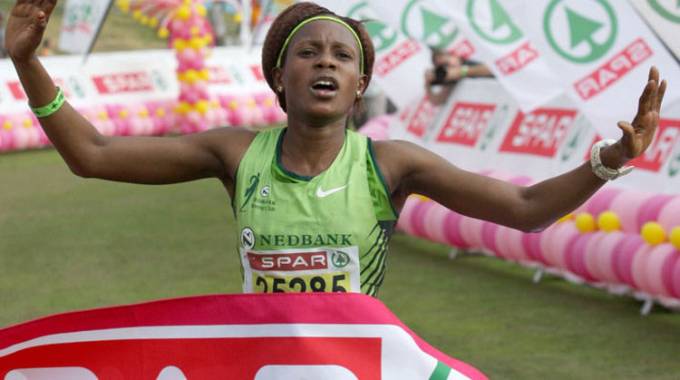 The Sunday Mail
Petros Kausiyo
THREE years after making her mark at the Olympics in Rio de Janeiro, Brazil, Zimbabwe's Rutendo Nyahora has set her sights on returning to the global sports showcase for the women's marathon.
The 2020 Games will be held in Tokyo, Japan.
Nyahora was Zimbabwe's sole female Olympic representative in athletics at the Summer Games in 2016.
The 30-year-old athlete is hoping to represent the country again next year, saying that it is every athlete's wish to be an Olympian.
But, before the Olympics, Nyahora will join Team Zimbabwe at the 2019 IAAF World Athletics Championships, scheduled for September 27 to October in Doha, Qatar.
The championships will take place at the renovated multi-purpose Khalifa International Stadium.
Nyahora, a half-marathon athelete, who has come of age in the sport, has dominated in Zimbabwe and South Africa.
Nyahora told The Sunday Mail Sport that she has upped the tempo of her preparations after shaking off injuries that had threatened to derail her career.
She also paid tribute to the National Athletics Association of Zimbabwe president Tendai Tagara, the Association's management and the Zimbabwe Olympic Committee. She said they have played a big role in helping her work towards returning to the Olympics stage.
With regards to preparing athletes for the Olympics, ZOC works hand in glove with national associations.
Nyahora is bracing herself for the tough conditions in Doha, where she will have to contend with the heat and the time difference. The marathon race is slated for midnight when temperatures are forecast to be more bearable.
"My preparations are going on very well and I am happy that I am now injury free. For the past weeks, my coach and l have been training around 2pm, just to get used to the heat.
"I am also trying to watch movies from 10pm to 1am, just to stay awake. I will be running at midnight so l need to adjust.
"In Doha, l hope to do the best for me and my country. I know it is going to be tough, but I have trained for it and I am ready for victory. I am just praying to stay injury free."
With athletics running through her home, Nyahora's husband Lewis Masunda is a retired long distance star. Masunda is always around to provide a helping hand.
Nyahora, who is based in South Africa, has been victorious in her recent races.
On April 7, she ran her personal best time of 2hrs:34min:49sec, which secured her a berth at the 17th edition of the World Athletics Championships.
"I was seventh in the Vienna marathon and in April I ran my personal best and qualified for the World Championships in Doha.
"On July 27, I won one of the biggest half-marathon races here in South Africa – the Pharaborwa half-marathon.
"On the 3rd of August, I came third at the Spar ladies race in Pretoria. Last weekend, I won the Mandela half-marathon,'' Nyahora said.
Nyahora said the Rio Games left her high on confidence, while equipping her with some valuable lessons.
"I have gained a lot of experience after Rio 2016. l have met world class elite runners and I was motivated a lot after Brazil,' she said.