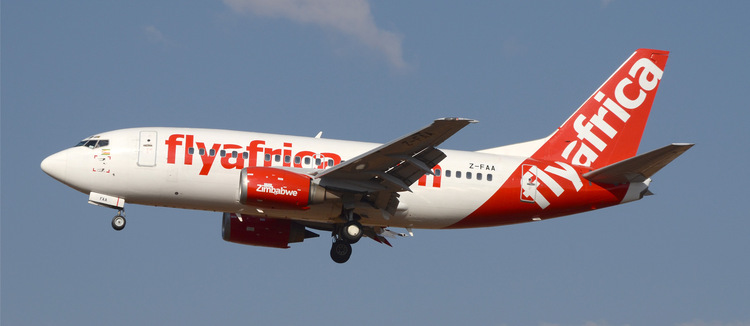 The Sunday Mail
l To launch class action suit
NU AERO, the local shareholders of a low-fare airline that used to trade under the franchise of Mauritian-based Fly Africa Limited, is going to dump the latter and launch a lawsuit to recover an estimated $350 000 in client's funds that were paid through a web-based platform.
It is understood that the operations of the business will now be consolidated locally.
Nu Aero, through its agent, Air Connect, has since refunded more than $180 000 owed to customers who made their bookings through the company's bank account.
About $35 000 in payments are however, still outstanding.
But bookings that were made with credit cards through Fly Africa Limited's web-based system are still unknown.
A verification exercise will be conducted and will form part of the lawsuit that will be launched against the Mauritian business.
Last year, the Civil Aviation Authority of Zimbabwe (CAAZ) suspended Fly Africa Zimbabwe's Air Operating Certificate (AOC) following a bitter shareholders' dispute pitting the Karase family that owns Nu Aero and South African shareholders led by Mr Mike Bond, a former director in SA's collapsed airline, One Time.
The licence has since been re-instated.
There are indications that the low-cost airline, which is planning to re-launch flights in mid-April, will subsequently be rebranded.
Last week, Fly Africa Zimbabwe's chairman Mr Cassidy Mugwagwa said the business was previously run down by a management that was operating it in typical "cowboy style."
"There was indeed a shareholders' dispute, with allegations of fraud from both the local shareholders as well as the foreign shareholders. Ours is not to judge; however, from where we sit now, it appears that FlyAfrica was run in a "cowboy" style. One could say it was grab-all-the-money and let's not pay the creditors.
"We are still ploughing through the mess they left to try and assemble some sense of order . . .
"Nu Aero will be launching a class action against FlyAfrica Limited to recover these funds on behalf of the travellers. To assist us gather this information, we will place adverts in the papers with details of where to email the original bookings to. We will then include this with the class action. We estimate there is about $300 000 worth of bookings not refunded," said Mr Mugwagwa.
Nu Aero is understood to have found a suitor in February this year.
The new investor has purchased all the debt incurred by Fly Africa.
Although the company had negotiated to operate under a franchise agreement from FlyAfrica in its second coming, it now looks increasingly unclear owing to an alleged breach in the franchising agreement by the latter.
Through the agreement, Fly Africa was supposed to supply Nu-Aero with web services, reservation systems and airplanes.
Explained Mr Mugwagwa: "They have done none of this and in fact have taken payments on the web and again not remitted the funds to Nu-Aero. In addition, they have failed to pay for the website as well as reservation system, so Nu-Aero has been left with no system so we in fact do not know who has booked.
"As for bookings taken on the web, we have not received those funds, yet (we) are having to either refund or put our valued passengers on other flights."
The company has since secured alternative but larger planes such as the 737-500 which it was using and is in the process of having them placed on its AOC.
Fly Africa's franchises, particularly in South Africa and Namibia, are seriously troubled.
Last month, associate director in the corporate finance department at South Africa Deloitte & Touche, Mr Daniel Ternblanche, who was appointed as the rescue practitioner of the SA business, indicated that Fly Africa SA will be liquidated as it was beyond salvation.
The affected staff haven't been paid since the beginning of the year.
There are also indications that the Namibia unit, which was a partnership with Namibian firm Nomad Aviation or Bay Air and Fly Africa, might also not take off.
Nomad had an agreement with Fly Africa through which the company was expected to provide the brand name and expertise.
It however, allegedly never honoured its side of the bargain.